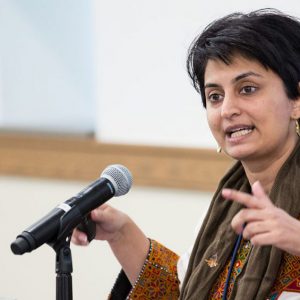 For this podcast, we talk to Prof. Nosheen Ali, a Pakistani sociologist, author, and activist about the state of education in Gilgit-Baltistan, the threats to activism, and the influence of the military. Ali is a part of the Global Faculty in Residence at New York University's Gallatin School of Indivualized Studies. She works and writes across a wide range of themes, including feminist theories of the state, seed justice, and Muslim cultural politics.
Nosheen Ali is the author of Delusional States: Feeling Rule and Development in Pakistan's Northern Frontier (Cambridge University Press, 2019), a book that explores state-making and social change in Gilgit-Baltistan, a Shia-majority region of Sunni-dominated Pakistan and a contested border area that forms part of disputed Kashmir. The book offers an in-depth study of state power, citizenship, and social struggle in the region. Her other recent publications include The LOC at Wartime: India, Pakistan and the Liberation of Kashmir (2019), Decolonizing Nature/Knowledge: Indigenous Environmental Thought and Feminist Praxis (2019), and From Hallaj to Heer: Poetic Knowledge and the Muslim Tradition (2016).
This podcast is available in audio and video formats.
---
If you like the work we do, consider supporting us on Patreon.