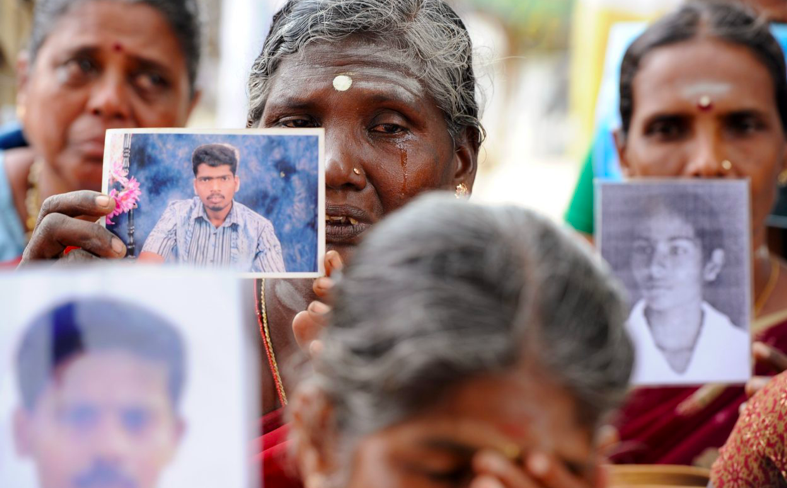 A military mindset: Sri Lanka's response to the coronavirus pandemic
This is part of a series of conversations interrogating militarization of medicine and public health and its adverse effects as various communities deal with COVID19. You can watch the video of this conversation with Dr Thusiyan Nandakumar on our Instagram handle.
20 March 2020
Dr. Thusiyan Nandakumar is the editor-in-chief of the Tamil Guardian, an English-language news website that covers Tamil affairs on the island and around the world. He has been part of the editorial board of the Tamil Guardian since 2011 and has been engaged in advocacy on Tamil rights for over a decade. He works as a General Practitioner in London and is a regular guest lecturer in the Masters of Public Health at Imperial College, London.
In the wake of the coronavirus pandemic (COVID-19), governments around the world have been rushed into action. Emergency plans have been drawn up, embargoes imposed, and healthcare workers have been mobilized to the frontline. In Sri Lanka though, a familiar spectre has led the charge. Armed Sri Lankan soldiers have been deployed as the government's first responders. From screening for symptoms in foreigners upon arrival to the construction and running of quarantine centers, Colombo's coronavirus counter-strategy has been a highly militarized and politicized one. Whilst having the armed forces respond to a global pandemic may at first glance seem to result in a more efficient response, in Sri Lanka there is a more insidious and deeper lasting impact. By calling on a military accused of egregious rights abuses to lead a public health operation, the government risks exacerbating existing ethnic divides, endangering human rights and civil liberties even further, and furthering the violent militarization of the island.
As governments grapple with the outbreak, security forces have been deployed in some states to ensure the maintenance of essential services and carry out emergency operations. In Italy, the military establishment has been mobilized to help produce masks and collect dead bodies from badly affected towns. In Germany, the military has been called on to supply vehicles in the face of transport disruption and in France, the armed forces have helped evacuate seriously ill patients. Whilst in these cases troops have been deployed to support and relieve the burden on overwhelmed civilian agencies, rarely has the military been leading the strategy to tackle the outbreak, which has instead been formulated by civilian leaders and health professionals. Yet in Sri Lanka the military is on the frontline of this health crisis from the offset, overseeing policy and acting as the state's first responders.
This did not happen overnight. The Sri Lankan military, with a combined strength of more than 240,000 personnel, remains one of the largest per capita in the world even though it has been almost eleven years since the end of the armed conflict. Tens of thousands of civilians were killed in a final offensive in 2009, with the military accused of a litany of human rights abuses and healthcare workers frequently targeted. During this last phase of the conflict, essential medicines were embargoed, hospitals were repeatedly shelled by the military and doctors were forced to recant their testimonies of the gruesome conditions they operated in. The violence did not stop there. In the years that followed, the regime continued to systemically use enforced disappearances and torture to police journalists, human rights defenders and the island's Tamils. The steady trickle of asylum seekers that continue to flee the island demonstrate the stark reality of how Sri Lanka's security forces continue to routinely deploy violence amidst a climate of impunity.
Nowhere is the military's presence felt more acutely than in the primarily Tamil North-East. The armed forces, which remain almost exclusively ethnically Sinhalese, continue to occupy vast swathes of land in the North-East. In Mullaitivu, for instance, a 2017 study reported as many as one soldiers for every two civilians in the district. The presence of the military in the North-East has become so pervasive that soldiers now run canteens, grocery stores and even tourist resorts. It is not unusual to see uniformed commanders at school events with Tamil toddlers or to see military medics manage health clinics. Despite repeated calls from Tamil organizations and politicians for demilitarization of the North-East, the Sri Lankan military continues to impinge on social, political and economic aspects of civilian life. This is all whilst the state refuses to punish perpetrators of rights abuses, or even acknowledge that such atrocities took place.
It is in that context, just weeks after Sri Lanka roundly rejected a UN resolution on accountability for war crimes, that the coronavirus outbreak arrived on the island. As the first locally transmitted cases started appearing in early March 2020, the military swiftly kicked into gear. The man chosen to lead the state's response is the head of the Sri Lankan Army, Lieutenant General Shavendra Silva, a credibly accused war criminal. "We are an Army which has won a war that was considered unwinnable and gained the full confidence of the public," he said in a public address, as head of Sri Lanka's Coronavirus Task Force. "We repeatedly urge you to confide in members of the armed forces as guardians of the country."
Under the current emergency circumstances, gaining the trust of local populations is a key requirement of the various proposed public health initiatives. Many of the measures needed to prevent the spread of the coronavirus require widespread public compliance. From handwashing and hygiene measures to social distancing, individual actions play a significant role in tackling the proliferation of the disease. Silva though, a military man with almost no experience of public health initiatives, is not a figure that inspires trust, particularly amongst Tamil and minority communities on the island. His role as commander of the 58th Division of the army during Sri Lanka's 2009 offensive led to him being subjected to US travel sanctions earlier this year, with US Secretary of State Mike Pompeo stating "the allegations of gross human rights violations against Shavendra Silva, documented by the United Nations and other organizations, are serious and credible." Amongst crimes he is alleged to have overseen is the execution of surrendering Tamils.
When someone such as Silva, who is greatly feared by Tamils, is selected to lead what even the military has acknowledged is a "mega public health exercise", it will be difficult to build faith in the Tamil community in the measures his task force deploys. Instead, with this appointment, Sri Lankan president Gotabaya Rajapaksa showed his continued disregard of human rights. He has already come under criticism for his earlier insistence that parliamentary elections would continue despite the global health crisis, as he looks to ride a wave of Sinhala-nationalist populism. A known hardliner, who was Defense Secretary during the 2009 military offensive and also stands accused of war crimes, Rajapaksa is signalling the path he intends to take – ruling Sri Lanka through military authoritarianism.
This was evident as soon as Colombo's response got underway, with the deployment of a large and visible military presence. The Army announced that "foreigners and Sri Lankan expatriates" were to be housed in "improvised quarantine centers," with armed and uniformed soldiers inspecting passengers as they disembarked at Colombo's International Airport. An official press release shows camouflaged soldiers peering over the shoulders of passengers as they wash their hands and troops shepherding arrivals onto buses and into the "quarantine centers."
One such "quarantine center" was initially to be housed on the island's leprosy center in Hendala, located in the South. Though the site was described as "ideal" by the Director-General of Health Services, within days the local, largely Sinhala population, mounted protests. Local politicians joined, with one former minister vowing that he would not allow such a center to be opened in the town. The military swiftly changed location to Batticaloa, 200 miles to the East and with a significantly different demographic, as it is home to a largely Tamil and Muslim population. In the city, the military issued an order to take over the campus of a local private university. "They have allocated these quarantine centers in the North-East and other areas," a local epidemiology expert told the Tamil Guardian. "When selecting institutions for isolation or treatment centers, the South was completely excluded. There is obvious discrimination." An angry Tamil protest also erupted in the town, just days before the Batticaloa Teaching Hospital confirmed its first positive coronavirus patient. "They are trying to keep any outbreak far away from their [Sinhalese] areas," added the epidemiologist. "By putting these detention centers in Tamil areas and other regions they are discriminating and intentionally creating panic." Given Sri Lanka's history of Tamil repression and deadly violence, those fears are not unfounded. Whilst the Sinhala protests in Hendala prompted a response, the Tamil protest and complaints from Tamil politicians has had little reaction from the State.
The consequences of Sri Lanka's militarized public health response are far-reaching. Instead of developing a holistic and human rights-based response that strengthens civil society organizations, improves health education and builds health infrastructure, Sri Lanka's actions further cements a state-led narrative that normalizes militarized methods for what should be civilian-led processes. The leading of health initiatives through the armed forces also contributes to ongoing efforts to normalize a military occupation that locals vehemently oppose in the North while reinforcing multiple hierarchies of oppression, including of ethnicity and gender.
Whilst restrictive approaches may be required to contain the COVID-19 outbreak, approaches like Sri Lanka's should be viewed critically and in context. Responding to a global health crisis through an occupying military with a checkered history will not only be ineffective from a public health perspective, but it may also contribute to a further deterioration in human rights.