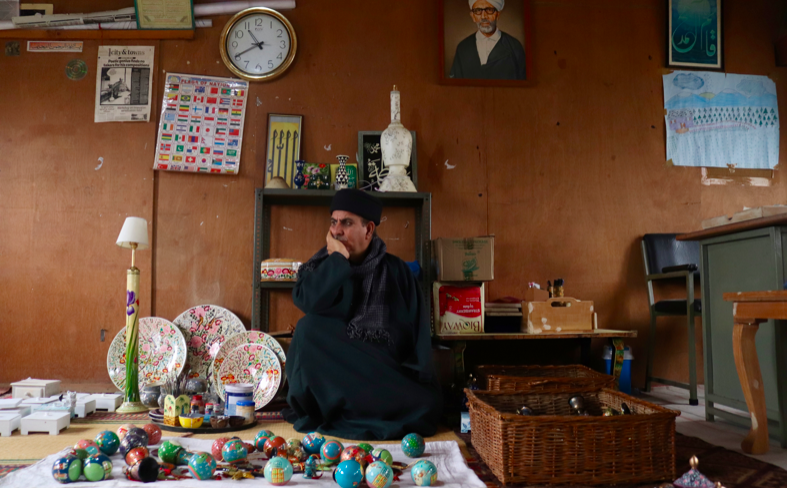 A months' long siege wreaks the craft industries in Indian occupied Kashmir
22 March 2020
Zaid Bashir is a journalist from Srinagar, Indian-occupied Kashmir. He is completing his Masters Degree in Mass Communication and Journalism at the University of Kashmir. He tweets at @ZaidBashir10
Sheikh Saqib is an independent writer reporting from Indian-occupied Kashmir. He tweets at @Sheikhsaqib1233
On a cold December morning, Arshid is busy doing talim, a series of hieroglyphic patterns written on paper, which someone in the group reads out loud to guide the fellow workers on the handloom. It's been just two months since Arshid and his associates returned back to work after being locked up at home on 5 August 2019.
"I couldn't get out of my house for two consecutive months," said Arshid Ahmed Sheikh, 36, a carpet weaver who works in a workshop in Rainawari area of Srinagar, Indian occupied Kashmir.
On 5 August, the ruling Indian Hindu nationalist party, the Bhartiya Janata Party (BJP), introduced a resolution in India's upper house of the Parliament, the Rajya Sabha, seeking the revocation of Article 370 and Article 35A of the Indian Constitution that guaranteed the autonomy of the Muslim-majority state of Jammu and Kashmir (J&K). The BJP also presented the J&K Redistribution Bill, which recommended depriving the region of its statehood and its division into two Union Territories, J&K and Ladakh. The resolution and the Bill were immediately passed in the Parliament. Fearing public protest against the move, Modi's regime had beforehand deployed additional tens of thousands of Indian troops in Kashmir, already the world's highest militarized zone, and arranged for an emergency evacuation from the Valley of Amarnath Yatra pilgrims, tourists and other non-residents.
Since the night of 4 August, the whole Jammu and Kashmir was kept under an indefinite civilian curfew and telecommunications and internet blockade. Thousand of Kashmiri children were tortured and incarcerated. Modi's regime also came heavily on hundreds of mainstream and pro-freedom leaders, who were either put under house arrest or imprisoned in makeshift detentions centres across the Valley to prevent them from challenging the government's plan of changing the Constitution. In the meantime, the number of military vehicles circulating on the roads multiplied, troops were placed on every road intersection and drones started flying over villages and city areas.
*
Arshid is a daily wager and earns a maximum of 150 Indian rupees ($2.10) per day. "In the past few months, I have taken daily essentials on credit from provision stores around my home. I owe them a lot of money and find it hard to repay the debts now," Arshid said while puffing on his cigarette. He also owes Rs. 40,000 ($560.85) to his employer – a debt he has taken over the years whenever he faced financial instability at home.
We put our blood into making such fine pieces of carpetArshid and his colleagues spend the whole day in the freezing premises of their workplace weaving, looming, clipping, and straightening the edges of carpets. "We put our blood into making such fine pieces of carpet," his co-worker, Abdul Majeed, 55, said.
It was in 1339, the year that the Shah Mir dynasty was established in Kashmir when Persian and Central Asian people started arriving in the Valley of Kashmir – particularly during the reign of Sultan Zain-ul-Abidin, who ruled from 1420 to 1470 A.D. Among these Persian and Central Asian people were carpet weavers and other skilful artists invited by the Sultans to train local people in carpet weaving and other cottage arts and crafts to contrast the abject poverty in which many lived.
The dynasty fell into decline after Zain-ul-Abidin's death. This paved way for a new invasion of the Valley by Mughal Empire in 1589. "During this period art and craft received great impetus, particularly during the reign of Jahangir (1605-1628) when carpet industry revived and flourished too"[1]. Afterwards the Afghans took power (1753-1819) and their rule was characterized by great brutality; Kashmiris lived in fear – many were sent to Afghanistan as slaves – and "the carpet industry decayed."[2] Under the following rules of the Sikhs (1891-1846) and the Dogras (1846-1947) oppression continued. The Sikhs taxed every trade from bakers to artisans. Similarly, Gulab Singh- who bought Kashmir from the British East India Company for 7.5 million rupees- and the successive Dogra rulers imposed further extortionate taxes to raise the funds they had paid to buy Kashmir. "During the Dogra rule, Kashmiri freedom fighters and their supporters voiced the downfall of the Kashmiri handicrafts and the resultant pathetic condition of the artisan class as all the artisans and craftsmen were hit hard by the economic depression."[3]
"The France-German war of 1870 and the 1929 economic depression also contributed to the downfall of handicraft in Kashmir as the demand for Kashmiri goods on the European markets declined. Later, machine-made goods also caused severe blow to the cottage industries, throwing many out of employment while the State showed no interest to preserve the traditional crafts of Kashmir".[4]
*
In spite of centuries of oppression, around 190 households in the Rainawari locality of Srinagar were still engaged in carpet weaving until- according to the artisans we interviewed- the Indian government started employing numerous ways to muscle their spaces of livelihood with the Goods and Services Tax in July 2017 and the 2008, 2009, 2010 and 2016 strict lockdowns imposed while hundreds of civilians, including rebel leaders, were killed by the Indian armed forces.
"Today, only 15 households are involved in carpet weaving here," Arshid told us.
"The decline of carpet industry goes beyond the recent GST, the start of the Intifada in 2008 or the insurgency of 1990s, when the Indian State subjected the Kashmiri population to the worst form of oppression human kind can ever go through," argued an economic commentator (who spoke on condition of anonymity) during an interview in Srinagar in December 2019. "When the handicraft industry was in its boom in Kashmir before the 1990s, and artisans had established contacts with other artisans and dealers around the globe, the Indian government started feeling insecure, thinking that they would soon lose grip on the people of Kashmir and its rising economy. To tackle this, India started making carpets on machines, imitating Kashmiri patterns with inferior materials. These machines [power looms] increased the production of the carpets, but they were no match to the Kashmiri carpets that are woven on hand looms and take months to produce. Later, [labeled as] Kashmiri carpets, the global markets were flooded with substandard carpets, this created embarrassment and thus brought shame to the Kashmiri industry."
The commentator also believes that such tactics have prevented most of the local exporters from expanding further and limited them to export to Gulf countries. "This was the start of decline in the handicraft and carpet industry in Kashmir," he added.
Sheikh Ashiq Hussain, President of the Kashmir Chamber of Commerce and Industry (KCC&I), told us that the siege has further broken the back of the handicraft and carpet industry in Kashmir. "Artisans and weavers have been rendered jobless because of the political siege in the Kashmir Valley since 5 August. Carpet and handicraft industry have alone suffered Rs. 250 and 300 crores ($34.98 million and $41.98 million) respectively," Ashiq said.
The Preliminary Economic Loss Assessment Report by KCC&I- covering the period between 5 August and 3 December 2019 – reveals that the Valley's overall economy has suffered losses of around Rs. 17,878.18 crore ($2.5 billion) (p.8) and lost almost 5 lakh jobs (p.9) in the first 120 days of the lockdown in the wake of abrogation of the special status on 5 August.
The study notes that since 5 August, the Valley has been losing over Rs. 119 crores ($16.6 million) each day in 11 major sectors the Valley's fragile economy roots into. To have a better understanding of the existing condition of the economy, the Report places the current situation in relation to the events and hardships of the previous years: including the September 2014 floods that had a devastating impact on the economy and the 2016 six-month-long shutdown and protests over the killing of a famous rebel leader, Burhan Muzzafar Wani. The Report also observes that the impact of demonetization in 2016 and the GST in 2017 created financial stress on the economy of Kashmir and the continuing political instability has brought the business community to the verge of breakdown.
According to the Report, handicraft and carpet industries have suffered a loss of Rs. 7,209,800,040 ($100.9 million) in the first 120 days of lockdown in the Valley and 70,000 people associated with these industries lost their jobs (p. 9).
According to the Directorate of Handicraft in Kashmir, there are nearly 250,000 artisans directly dependent on the handicraft sector for their livelihood. Independent commentators put the figure higher and say that around 65 percent of households are connected with handicraft in Kashmir, including shawl weaving, wood carving, chain stitching, and papier-mâché among others.
*
At Srinagar's Alamgari Bazar- the hub of the papier-mâché artists' community- Syed Maqbool Hussain sits idle on the stairs of his house. Since India's lockdown, he has been facing loss in the business and says that every morning he wakes up and feels like setting his entire papier-mâché work on fire and destroy all the things he produced since early the beginning of 2019.
"After the government took this sudden decision, I don't think handicraft sector will survive long here," said Hussain, 48, who believes he is one of the very few active artists left in the handicraft industry in Kashmir.
In his room, Hussain would spend his entire day figuring out designs and later applying them on flower vases, dry-fruit bowls, jewel boxes and other items; since August, however, he starts the day with clearing the dust off these items and goes on desperately waiting for customers.
"I have not earned a single penny since the enforced lockdown," said Hussain who, for his work, has received a State award and a national award in 2013 and 2014 respectively.
Today he is facing a loss of over Rs. 1 lakh ($ 1,350): "The whole year I worked hard, spent sleepless nights producing my art in the hope to present it on different platforms on the internet or on local stalls here, but my dreams were short lived. Whatever I produced this year is just lying in this room."
At night, Hussain is caught by the fear that he might not be able to clear the school fees of his daughter, Fatima, and son, Muazzam. "These days my brother, a retired government employee, is spending his savings to take care of my family," Hussain whispered.
Close to Hussain's house is the papier-mâché galley of Parvez Ahmed. Parvez, an artist and exporter, is in his late forties and exports his production to around 43 countries. Since the enforced lockdown, however, he has been in complete depression because of the loss his business has suffered during the siege.
After receiving an order of Rs. 3 crore 50 lakh ($ 489,000) from a showroom owner based in the Middle East, Parvez started packing papier-mâché items for shipping, but after 5 August he lost contact with his costumer due to the complete communication gag. "I went to New Delhi on 10 August in order to keep up with the order but found out that it had already been cancelled. The client was not sure about a safe passage of the order, and neither was I, as there was a heavy military presence in the streets. Anything could have happened in that situation," he said.
These days, Parvez divides his time between Kashmir and New Delhi, in order to access high-speed Internet and other mobile services so that he doesn't lose track of his other costumers. "Imagine the expenses I am facing," Parvez told us.
The communications embargo continued for over 70 days until Indian government resumed post-paid mobile services on 14 October 2019, whereas prepaid mobile services were made operational on 18 January 2020 and SMS services on 1 January 2020. Internet services were temporarily revoked after seven months in Kashmir on 4 March 2020. During the past eight years, there have been a total of 176 internet shutdowns in Kashmir and in 2019 alone; phone and internet services were switched off for 51 times in the Valley.
Parvez's papier-mâché showroom in Srinagar has been shut since 5 August when the Indian Government also curbed civilian movement across the disputed region. "They want to crush us and our businesses," he said in frustration. He faced a loss of over Rs 50 lakh ($ 67,349) since the beginning of the siege and is worried about whether he will be able to sell his stock in the coming months.
Before August, Parvez had spent Rs 6 lakh ($ 8,397) to secure a stall in a four-day-long international exhibition in New Delhi so that he could present his art to international tourists. He told us that many foreign travelers like his papier-mâché work and came to his showroom in Greater Noida, New Delhi, to shop for Christmas. But as he came back to Kashmir to start preparing the orders he received in New Delhi, he soon found himself locked up at home with no contact with people within and outside Kashmir.
According the statistics provided by the Directorate of Handicraft, the export of handicraft has fallen by 62 percent between July and September 2019 due to the political situation in the Valley. The statistics show that handicrafts (carpets, wood carving, shawls and papier-mâché among others) worth Rs. 298.28 Crores ($ 41.744 million) were exported in the first quarter of 2019, while the exports dropped to Rs. 187.47 crores ($ 26.236 million) in the second quarter.
On 24 October 2019, after months of anxiety, Parvez shipped some of his papier-mâché stock to New Delhi: it reached the destination on 22 November. Earlier, Parvez told us, such supplies would take a day or two to cover the same distance. "They blocked the material midway. This is another kind of suffering they [the Indian government] have subjected us to," Parvez said.
"The art of papier-mâché like carpet weaving was introduced in Kashmir by Sultan Zain-ul-Abidin in 14th Century. The first workmen arrived in Kashmir from Iran under the leadership of Aziz Mughal whose workshop, the Suffering Moses, is still active today"[5].
Since the militant insurgency in 1989 "there has been a fifty percent decline in the handicraft industry; while there were around fifty carpet exporters in Kashmir, the number is now reduced to five or ten," Sheikh Ashiq Hussain said.
In peaceful times, Parvez exports to England, New Zealand, Germany, Middle East and elsewhere, but today he is balancing between fear and uncertainty while still trying to be hopeful. "During this time of the year I used to get orders for Easter. We get the orders in October and have to send papier-mâché balls, Easter eggs and other items by January every year. But today there is no communication. This shutdown here has left a huge vacuum between the people in Kashmir and the people residing outside," he said.
Parvez has received several awards for his work, both at the State and the national level. But today, while he sits with the trophies he earned in twenty years of career as a papier-mâché artist, he wishes of having opted to move out of Kashmir in his youth and explore his art somewhere else.
"We (artisans) have no importance and appreciation in regions like Kashmir where survival (life) is itself under threat," Parvez said while frowning at his achievements.
[2] Manzoor Ahmad, "Afghan Rule And Economy Of Kashmir (1753-1819 AD)." IOSR Journal Of Humanities And Social Science (IOSR-JHSS), Volume 23, Issue 3, Ver. 5 (March. 2018), p. 58.
[3] Syed Damsaz Ali Andrabi and Mohd. Yousuf Bhat, "Economic Exploitation of Working Class under Dogras 1846-1952," IOSR Journal Of Humanities And Social Science (IOSR-JHSS), Volume 22, Issue 5, Ver. 7 (May. 2017), pp. 62-63
[4] Ibid.