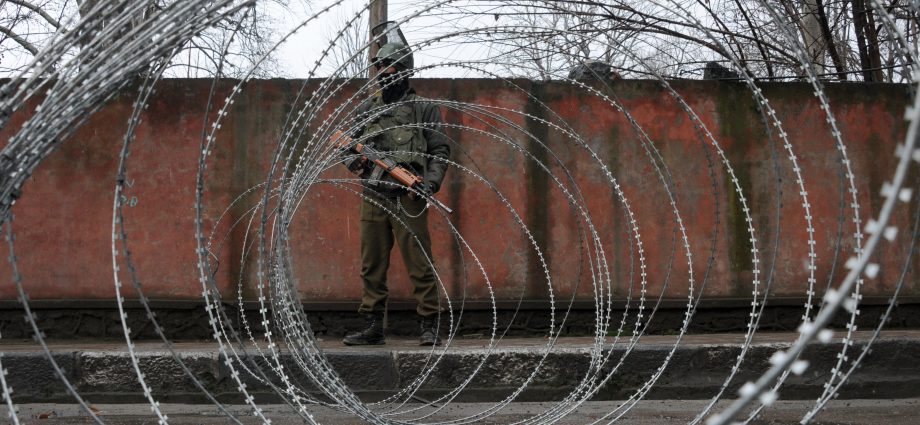 A new bunker on the way to school: Explaining to a child the military presence in Kashmir
16 April 2021
Nisar Dharma is a journalist in Indian controlled Kashmir. He tweets @nisardharma
In this personal narrative, Nisar Dharma reflects on the challenge as a parent to explain to his child growing up in a conflict zone issues as complex and painful as subjugation, control, military occupation and propaganda.
As a feeble February sun finally came out after weeks of bone-chilling cold, Aishah and I ambled out of our home in Srinagar to buy her a set of crayons. My nine-year-old likes these little walks together. Her favorite stationery mart is just a few hundred meters away from our home.
To reach it, we must cross a bridge; the one she has crossed hundreds of times when she used to go to school until it was forcibly shut in August 2019. That month India stripped Kashmir of its special status, divided it into two federally controlled territories and followed up with a lockdown that would continue for many months.
Aishah walks clinging on to my hand near the coils of barbed wire and metal barricades placed on the bridge by the Indian armed forces.
We begin to hustle through the maze of barriers surrounded by three huge bunkers at the end of the bridge.
"What are these, papa?" she asks me.
"Bunkers," I reluctantly pronounce the term I would erase from our collective memory if given a choice.
In front of us, there is a large bunker that can accommodate a dozen troopers. To our right, a smaller one with a bulletproof metal box in front of it. A trooper always stands in this box, looking through the loophole while resting the barrel of his AK47 on it.
To our left is another bunker, almost as big as the first one, shielded by a rugged net that keeps away all sorts of projectiles.
"Who are they and what do they do?" Aishah continues pointing to the soldier who holds an automatic weapon and glances at us as we glance back only just enough not to attract his attention.
"CRPF wale (Central Reserve Police Force guys)," I reply trying to keep the answers as short as I can.
"But why are they here?" her probing continues.
It is not that Aishah has not seen a bunker or a trooper before. How could she miss one? They are at the corners of every street in Kashmir.
This, however, is the first time a bunker has popped up on her way to school.
A car honks and breaks the conversation as we cross the maze.
We walk down the road and into the market. My mind is already wondering about our way back home: I would have loved to take a different route had there been one.
As we walk back, one of the troopers is looking at us, probably worried because one of my hands is concealed in the pheran I am wearing.
"Where do they cook and what do they eat?" Aishah's questioning resumes. "Where are their families?"
Warily, I explain how it is their job to watch us. That they have come from far-off places in India, places much hotter than Kashmir. That they are here just to make their living. I deliberately skip the intricate details, I omit how many of these men stationed in the Valley, homesick and missing their families, go to the extreme of shooting themselves dead.
"These bunkers were not here when I used to cross the bridge in my school bus," Aishah persists.
"Do you remember when the school closed, right around the time Nowsheen (her baby sister) was born? There was a lockdown after that: this is when they built these bunkers," I reply praying that this would be the last of her questions.
Bunkers…
My earliest memory of them is from 1994 when I was almost the same age as Aishah. A few weeks before India's Independence Day on 15 August, the embankment of the Jhelum in Srinagar turned into a fortress. One of the bunkers would be right next to my home.
Armed forces would erect these structures out of nowhere with jute and empty cement bags filled with mud and sand stacked up to form four walls: just enough space to accommodate one or two soldiers. The bunker would always have a small loophole at a shoulder height: a "windowless window" to hold the gun's barrel.
The loophole allowed one to glance at the soldier – anything more than that would have attracted his ire – as he and the muzzle looked straight at you. I was eight and that year there certainly were more than eight of these bunkers on the roughly kilometer-long stretch between Zero Bridge and Amira Kadal in Srinagar.
Decades after India gave me this indelible memory, Aishah asks me about bunkers. The same bags filled with sand, the same "windowless windows," the same barrels and a pair of eyes looking straight at us as they did 26 years ago.As a parent, however, I do not know how to introduce my nine-year-old to topics like subjugation, control, military occupation and propaganda. How do I explain oppression to her?
India, through its installed governor and hundreds of thousands of armed forces, prepped up Kashmir for the biggest setback weeks before 5 August 2019, when the region was stripped of its special status and divided into two federally controlled territories.
The decision was followed by one of the worst curfews in Kashmir. Phone and internet connectivity were shut indefinitely. The streets swarmed with armed forces as India made sure to crush any dissent against the contentious move.
Weeks before the siege began, we saw additional deployment of armed forces, strange communiques asking government departments to stockpile supplies and evacuate tourists. The Valley lived in a state of fear and uncertainty before India's Parliament nodded to the unilateral move impacting in a single stroke the life of 12.5 million people.
It was during this turmoil that the paramilitary troopers decided to set up a bunker outside our home.
Aishah has been at home since Kashmir lost its special status. While COVID-19 shut the world in March 2020, our lockdown had already begun eight months before.
Unlike those on the Jhelum embankment, which used to be dismantled as soon as the celebration for India's Independence Day ended, this bunker has not budged. A few weeks after August 2019, we had assumed that the paramilitary troopers would abandon it and move back to their main camps. Instead, they stretched out the bunker to cover a major part of the roadside. Then another bunker was built diagonally opposite to it and yet another, a smaller one, exactly in front of the first one.
The intersection at the end of the bridge connecting Mehjoor Nagar – the area where we live – with Jawahar Nagar – where Aishah's favorite stationery mart is – is now fully fortified. Metal barricades and coils of barbed wire deck the roads, turning them into a dangerous maze through which one must move very carefully.
All movements, both people on foot and vehicles, are constantly monitored as sentries with automatic weapons stand guard day and night. Not just outside my home. Throughout Kashmir, wherever one travels, there is a heightened presence of armed forces since August 2019.
While authorities in Indian controlled Kashmir claim that they have withdrawn the additional troops, the ground presents a different story. Every corner is occupied by a trooper: it is nearly impossible to walk on any road in Kashmir and not see military personnel. Frisking people, inspecting smartphones, "area-domination exercises" (where troopers swarm a place covering every exit and vantage point of it) have become a routine.
And then there are the bunkers.
For the past year, whenever Aishah goes out with me, always asks the same set of questions.
The answers are only apparently simple.
As a parent, however, I do not know how to introduce my nine-year-old to topics like subjugation, control, military occupation and propaganda. How do I explain oppression to her? Where do I start? How do I teach her the history she will never find in her textbooks?
Even before these questions arise in my mind, I ask myself: Do I really want her to know?
Wouldn't any parent do anything to keep their child immune to a past dotted with massacres, persecution, disappearances and swathes of graveyards? Do I really want to open this collage of collective human suffering to my child?
As these questions hovered in my mind, my friend and colleague Muhammad Younis posted on his Facebook page:
"Hamad had his first encounter with the conflict. In the dead of the last night, he woke to ramming windows and doors in his house. Not finding his parents inside the room he was sleeping in (they were forced to move out) but a contingent of the Indian army, he let out a loud cry in utter fear. He couldn't be helped for hours after that. He is just two years old. It is hard to make him understand what that was."
Hamad is his nephew. They live in Pulwama, a district of Kashmir with many bunkers. A district where cordon and search operations by the armed forces – be it day or night – are a common occurrence.
To explain the existence of a bunker or of a midnight raid to a child – where does one start?
As a kid who grew in the 1990s, one of the bloodiest phases of the Kashmir conflict, I was introduced to terms like torture, firing, shaheed (martyr), BSF (border security force), grenade blast and the like as easily as the English alphabet my teachers used to make us learn in school.
My earliest memories are flooded by a floating body, by a mentally-challenged boy I met minutes before he was shot dead by Indian armed forces, by a man's brains scattered on the road where I played cricket, by the beating of my elder brother as soldiers gave him electric shocks in front of my mom. Of pictures of Kashmiris strewn with bullets filling the pages of newspapers. For me, back then, torture and killings were the definitions of India's control over the Valley.
Decades later, the situation remains the same, though nowadays the Indian authorities are trying hard to add a dash of "diplomacy" to their operations.
A day before the delegation arrived in Srinagar, a few bunkers were demolished and a "wall of kindness" came up. An example of how Indian authorities persistently try to obfuscate the ground situation with such performances.While encounters and deaths still take place, we also have Bollywood actors walking the red carpet, dancing and supporting the Indian armed forces stationed in the scintillating snowy slopes of Gulmarg. We have an Army general inaugurating a football match in a school. We have Army playing Santa for kids on Christmas. We witnessed yet another delegation of foreign envoys on a guided tour to the "Paradise on Earth."
A day before the delegation arrived in Srinagar, a few bunkers were demolished and a "wall of kindness" came up. An example of how Indian authorities persistently try to obfuscate the ground situation with such performances.
However, like the trooper in the bunker on way to Aishah's school, the reality stares back starkly.
When Aishah will resume her school, the bunkers will become the new normal for her. While in school, she may be forced to learn Indian history, but she will eventually learn the history she ought to. The bunkers would serve as one of the chapters.
However subtle and guarded I keep my answers, I am fully aware that the reality will dawn on her sooner or later. Exactly like it did on me when I started to question at Aishah's age. Exactly like it does on any kid growing up in Kashmir.