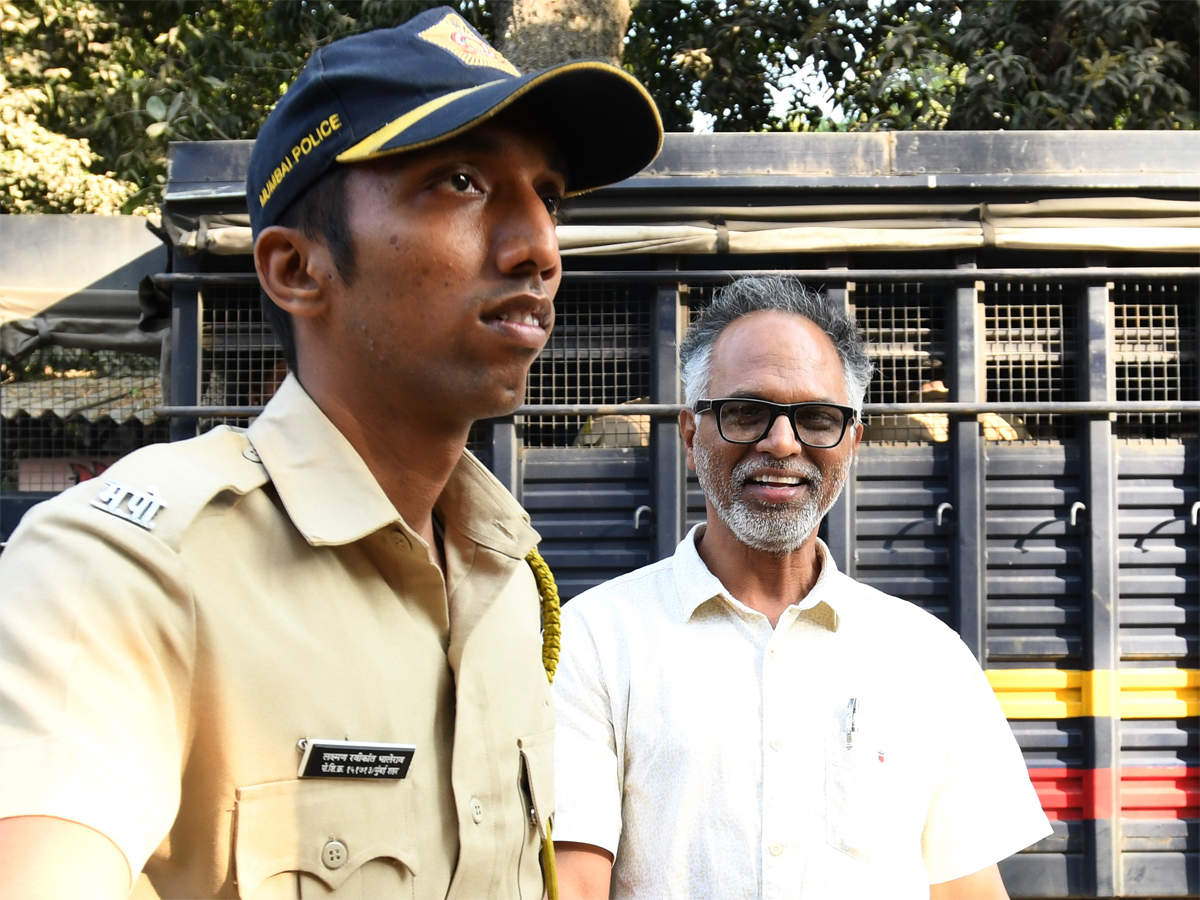 An activist poet challenges official narratives, advocates Dalits' rights and fights to hold the State accountable – A profile of Sudhir Dhawale
In collaboration with maraa, The Polis Project launched Profiles of Dissent — a new series centered on remarkable voices of dissent and courage in India and their personal and political histories, as a way to reclaim our public spaces. These are prominent writers, poets, activists, and human rights defenders who have been in prison, held under the Unlawful Activities (Prevention) Act. The profile features Sudhir Dhawale, a poet and political commentator who founded the Dalit rights organization Republican Panthers. He was one of the activists arrested in connection to the violence in Bhima Koregaon.
"At no time have governments been moralists. They never imprisoned people and executed them for having done something. They imprisoned and executed them to keep them from doing something. They imprisoned all those prisoners of war, of course, not for treason to the motherland…They imprisoned all of them to keep them from telling their fellow villagers about Europe. What the eye doesn't see, the heart doesn't grieve for."
― Aleksandr Solzhenitsyn, The Gulag Archipelago, 1918-1956
'Political Prisoner' is a category of criminal offense that sits most egregiously in any civilized society, especially ​in ​countries that call themselves liberal democracies. It is a thought crime: the crime of thinking, acting, speaking, probing, reporting, questioning, demanding rights, and, more importantly, exercising one's citizenship. But these inhumane incarcerations do not just target private acts of courage, they are bound together with the fundamental questions of citizenship, and with people's capacity to hold the State accountable. Especially States that are unilaterally and fundamentally remaking their relationship with their people. The assault on the fundamental rights has been consistent and ongoing at a global level and rights-bearing citizens are transformed into consuming subjects of a surveillance State.
In this transforming landscape, dissent is sedition, and resistance is treason.
While the Indian State has a long history of ruthlessly crushing dissent, a new wave of arrests began in 2018. Eleven prominent writers, poets, activists, and human rights defenders have been in prison, held under the Unlawful Activities (Prevention) Act. They are accused of being members of a banned Maoist organization, plotting to kill Prime Minister Narendra Modi, and inciting violent protests in Bhima Koregaon. To date, no credible evidence has been produced by the investigating agency, and those accused remain incarcerated without bail. Since the anti-Citizenship Amendment Act protest began in December 2019, students, activists, and peaceful protesters have been charged with sedition, targeted with violence, and subjected to arrests. Since then, more arrests have followed specifically targeting local Muslim students leader and protestors, including twenty-seven-year-old student leader Safoora Zargar, who is currently pregnant.
Since the COVID-19 lockdown was announced, India's leading public intellectuals, opposition leaders, writers, thinkers, activists, and scholars have written various appeals to the Narendra Modi government for the release of India's political prisoners. They are vulnerable to COVID-19 contagion in the country's overcrowded jails, where three coronavirus-related deaths have already been reported. In response, the State has doubled down and rejected all the bail applications. It also shifted the seventy-year-old journalist Gautham Navlakha from Delhi's Tihar Jail to Taloja, without any notice or due process – Taloja is one of the prisons where a convict has already died of COVID-19.
A fearful, weak State silences the voice of dissent. Once it has established repression as a response to critique, it has only one way to go: become a regime of authoritarian terror, where it is the source of dread and fear to its citizens.
How do we live, survive, and respond to this moment?
In collaboration with maraa, The Polis Project is launching Profiles of Dissent. This new series centers on remarkable voices of dissent and courage, and their personal and political histories, as a way to reclaim our public spaces.
Profiles of Dissent is a way to question and critique the State that has used legal means to crush dissent illegally. It also intends to ground the idea that, despite the repression, voices of resistance continue to emerge every day.
You can read Varavara Rao's profile here, the profile of Sudha Bharadwaj here, that of GN Saibaba here, Gautham Navlakha's profile here, Anand Teltumbde here, Sharjeel Usmani here, Shoma Sen here, Surendra Gadling here, Asif Iqbal Tanha here, and Rona Wilson here.
SUDHIR DHAWALE

Born to a Dalit family in the slums of Indora, an Ambedkarite hub in Nagpur, fifty-four-year-old Sudhir Dhawale is an activist, editor, and writer.
While the 2002 Gujarat riots led him to launch his radical bi-monthly magazine "Vidrohi", in 2006 he started a cultural-political organization called "Ramabai Nagar-Khairlanji Hatyaakand Virodhi Sangarsh Samiti" following the murder of four persons from a family in Khairlanji in the Vidarbha region of Maharashtra. The organization, however, disintegrated soon after, and the Republican Panthers Jaatiya Antachi Chalwal (Republican Panthers Caste Annihilation Movement) was born on 6 December 2007, at the Dr. Bhimrao Ambedkar memorial in Chaityabhoomi, Mumbai."Vidrohi" started as a four-page magazine and soon it became" eight pages. In a few years, it took the shape of a full-fledged magazine which was published twice every month and spoke of pertinent issues concerning the country. His magazine, though produced on a small scale, was potent enough to rouse the ire of the establishment. Dhawale was a key planner of the Elgaar Parishad, a meeting of Ambedkarites, Leftists, and Feminists.
Date of arrest: 6 June 2018
Charges: Sudhir Dhawale was arrested on 2 January 2011. "I was under police scanner since 2006, in the post-Khairlanji phase, where activists and intellectuals came together and questioned the state. It was after a long time that Dalits had begun organizing. Our agitations resonated in the remotest areas. They began arresting us (Dalits) in false cases," claims Dhawale. Dhawale had launched a political front, Republican Panther, on 6 December 2007. The front's mandate was to construct a common political platform for Dalits. He was charged with sedition, and under sections 20 and 39 of the controversial UAPA i.e. the punishment for being a member of a terrorist group and for providing support to a terrorist group, respectively. However, later he was tried only under the conspiracy charge. Dhawale was acquitted in May 2014, after he had been incarcerated for forty months.
Dhawale was arrested again, alongside five other activists and professors, on 6 June 2018 due to their connection to Elgaar Parishad, which was blamed for the violence at Bhima Koregaon, which took place on 1 January 2018. Dhawale was one of the primary organizers of the Elgaar Parishad, an event that commemorated 100 years of Bhima Koregaon, where a contingent of Mahar soldiers, as part of the East India Company's army, fought against the Peshwa and won. This was considered a triumphant victory against caste oppression. In addition to sections 20 and 39, Dhawale was booked for several other offenses including committing a terrorist act, raising funds for a terrorist act, and recruiting persons for a terrorist act. Right-wing leaders Milind Ekbote and Sambhaji Bhide who were involved in instigating violence at the event which claimed the life of a sixteen-year-old Dalit boy have not been arrested by the police yet.
Update: On 24 October 2018, the Bombay High Court quashed a Pune court ruling that had granted more time to the police to file a charge sheet against Dhawale. Charge sheets were finally filed on 15 November 2018 and again on 4 December 02018. Justice Bhatkar's verdict paved the way for Dhawale and the other activists who were arrested on 6 June 2018 to apply for bail. Dhawale's bail hearing was fixed for 14 November 2018 but has now been postponed to 11 December 2018 by the Supreme Court.
Location of work: Maharashtra
***
Excerpts from an Interview with Sudhir Dhawale after his release in 2013 (Excerpted from an Interview conducted by Round Table India in 2014)
Round Table India: Forty months behind bars and finally you have been cleared of all charges —are there any plans ahead?
Sudhir Dhawale: Immediately after the Khairlanji killings, several political parties, Dalit activists, and lawyers came together. A need to have our own political front was felt. We launched "Republican Panthers", on 6 December 2007. The front's mandate was to construct a common political platform for Dalit activists along with left-leaning activists. Most of us either got targeted by the state or were forced to stay away from any political activities. I hope to revisit this front and revive it.
RT: Will it be a political party or work for social causes?s
Dhawale: No, we do not wish to enter the political fray. Our work, as it was earlier, would focus on agitation, confrontation, and providing the much-needed support system to victims of caste atrocities.
RT: What about your magazine Vidrohi. Did you manage to come out with the magazine after your arrest?
Dhawale: We managed to bring out four editions. But the team fell apart. My magazine was the first casualty of my arrest. A "voice of dissent" that we had so painstakingly built was silenced by the state. But this is the first project I will begin now. Have to restart "Vidrohi", with similar vigor. It will be a challenge to get the magazine published, but we will find a way out.
RT: Where you bothered by the police before your arrest? Most activists have complained of being stalked and harassed by the police for years before they are finally booked. It has happened in the case of Kabir Kala Manch activists, too.
Dhawale: Sometime in 2006, around two hundred different social groups from across Maharashtra had come together to attend one state-level Parishad conference. I was invited too, as a speaker at that conference. It was organized by a Bhandara-based women's organization called Prabodh Mahila Sanghatana. Political and non-political organizations participated in it. BSP, RPI, and other Dalit parties had participated too. The then-superintendent of police, Suresh Sagar sent out a circular saying Dhawale, a senior Naxal leader is participating and hence the conference cannot be allowed. Sagar, also a Dalit officer, was SP during the Khairlanji massacre. But he did not care much about the atrocities. His role was just that of an officer of the "Anti-Naxal Operations" in the state.
RT: Was there constant fear looming over your head and of others who vocally criticized the State?
Dhawale: Khairlanji made us all very restless. We were on the street seeking justice. This was seen as a direct threat by the state. I knew I will be picked up soon.
RT: The police in its charge sheet had documented your activities since the early 1990s. According to the charge sheet, you were an active member of CPI (Maoist) for over two decades.
Dhawale: I am from Nagpur. I was actively involved in activities of CPI (Marxist-Leninist) People's War, which was not a banned organization. Until 1994, I was very active in the movement in Nagpur along with senior leaders like Kobad Gandhy and Anu (Anuradha Gandhy). While people started going underground around 1992-93, many others like me moved to Mumbai in search of jobs and livelihood. I had no criminal case [against me]. A few small and insignificant ones like preventive detention and unlawful assembly charges were slapped against me for participating in the protest. But it never went to the court.
RT: But they kept a close check on your movement?
Dhawale: Yes, they recognized all of us. We are old hands in the people's movement. The ANO (Anti-Naxal Operations) has a brilliant archive system in place. In my case, the police put together over two-decade-old pictures with Gandhy, and seniors Maoist leaders like Milind Teltumbde and Tushar Bhattacharya. Each time someone is arrested, they use these pictures to build their case. But it is not solid evidence to prove anyone is a Naxal.
RT: Since 2006, several Dalit activists, professors, lawyers from Nagpur, and other parts of the state have been booked. Either under UAPA or rioting charges. Almost all of them had protested against the Khairlanji killing.
Dhawale: Dalits have always been an easy target, both for the state and the savarnas. Over hundreds of cases have been slapped against the protestors. Caste atrocity is a part of state oppression. It is their conspiracy. As our voices became sharper, the state found it difficult to handle.
RT: Do you personally support CPI (Maoists)?
Dhawale: At that time (the early 1990s)… yes, I did. You see, it was not a banned organization then. There was nothing illegal to associate with an organization that was legally constituted. Ever since it was banned, I have not participated in any activities. In fact, at the time of my arrest, I even told the police about my past work. I never hid anything from the police. It is funny how the state machinery works. They use old pictures to pin us down. I must have met R. Patil some four or five times in his cabin. Will that mean I am government's person? It is bizarre.
RT: Your books have supported Naxal violence. Also, you have spoken of Naxalism as the only alternative.
Dhawale: I along with several other activists have been very active on the anti-caste front. It is not just the savarnas who are responsible for caste atrocities but the state, too. I, through my writings, have tried to expose the state. It caused a lot of restlessness. Talking about the Naxal movement, I have no qualms in saying I support it. I have several books in support of the Naxals. I have openly said so in the past and will continue to say so.
RT: Most arrests happened during the UPA government's tenure. You are returning to face the NDA front. What is the feeling?
Dhawale: (Laughs) Achche din aa gaye hain. They are two sides of the same coin. Things will not be any different. Not that Congress was pro-people or worked for its downtrodden and needy. It will continue to remain just as bad. Just days after getting elected, a man was burnt at Gondia. A BJP man is allegedly involved in it. Fascism in the Congress period was covert. It will be overt now. Economic policies will continue to exclude the "antim vyakti". Ambanis will continue to flourish, the poor will continue to get poorer.
RT: How many youth are inside Nagpur jail, booked for Naxal activities?
Dhawale: There were some 60-65 of them when I was arrested—all Adivasi and Dalit boys and girls. After every Naxal attack, young boys and girls get picked up and dumped in jail.
RT: How are their cases handled, any legal recourse available for them?
Dhawale: It is a joke. No legal support is available. Cases get committed to the Sessions Court, but these boys and girls are never taken to the court. The police make use of video conference link for their production, all in the name of security. Their families are so poor that it is beyond their capacity to even travel to Nagpur to meet their children. No jail mulakat, no legal aid—these boys and girls are rotting in the jail. It is a mockery of the justice system.
RT: What cases are these?
Dhawale: Some are booked under UAPA; some for murder or attempt to murder. Every time police is attacked in an armed retaliation by the Naxals, villagers are picked up. At the time of my release forty-four youths—thirty-six boys and eight girls—were behind bars.
RT: What roles do you see Ambedkarites playing in the present political scenario?
Dhawale: Most Dalit parties are divorced from Ambedkar's principles. One cannot invoke Ambedkar and claim that he/she is an Ambedkarite. People like Udit Raj and Ram Vilas Paswan have been wooed by BJP. Ramdas Athawale, a panther from this state has been completely saffronised. It is a tough scene to expect anything out of these leaders. When was the last time that the so-called Ambedkarites came together. It took one Ramabai incident in 1997 to have people come under one platform and agitate. And then again everything went silent until 2006, when the Khairlanji incident happened. We have to be woken up from our deep slumber every now and then. Now there is some noise made after Nitin Aage's killing. The principled movement of the old days is scarce. Now it is all about being in power. So even if in the process you are betraying your own people, it does not matter. It is quiet gloomy. Prakash Ambedkar, a few years ago wrote a book on how the Ambedkar movement had died long ago. I completely agree with this. If one has to move forward, it has to start all over again. The rot is beyond any repair.
Round Table India. (2018). 'UPA and NDA are two sides of the same coin': Sudhir Dhawale.