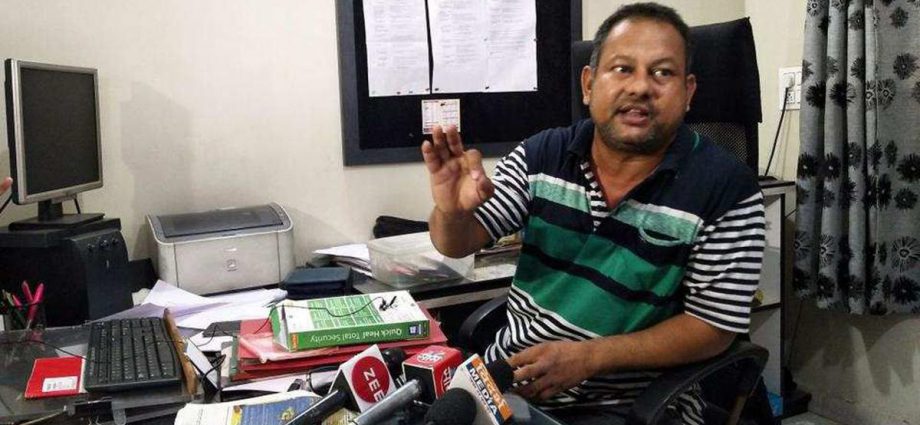 Arrested for defending Dalits and Adivasis as part of the ongoing attack on the Ambedkarite movement – A profile of Surendra Gadling
In collaboration with maraa, The Polis Project launched Profiles of Dissent — a new series centered on remarkable voices of dissent and courage in India and their personal and political histories, as a way to reclaim our public spaces. These are prominent writers, poets, activists, and human rights defenders who have been in prison, held under the Unlawful Activities (Prevention) Act. The profile features Surendra Gadling, a Dalit activist, a human rights lawyer, and General Secretary of the Indian Association of Peoples' Lawyers (IAPL). As a lawyer, he has taken up – often pro bono – cases of illegal killings, police excesses, and atrocities against Dalits and Adivasis. Along with other human rights defenders, he was arrested in connection to the Bhima-Koregaon incident in 2018
"At no time have governments been moralists. They never imprisoned people and executed them for having done something. They imprisoned and executed them to keep them from doing something. They imprisoned all those prisoners of war, of course, not for treason to the motherland…They imprisoned all of them to keep them from telling their fellow villagers about Europe. What the eye doesn't see, the heart doesn't grieve for."
― Aleksandr Solzhenitsyn, The Gulag Archipelago, 1918-1956
'Political Prisoner' is a category of criminal offense that sits most egregiously in any civilized society, especially ​in ​countries that call themselves liberal democracies. It is a thought crime: the crime of thinking, acting, speaking, probing, reporting, questioning, demanding rights, and, more importantly, exercising one's citizenship. But these inhumane incarcerations do not just target private acts of courage, they are bound together with the fundamental questions of citizenship, and with people's capacity to hold the State accountable. Especially States that are unilaterally and fundamentally remaking their relationship with their people. The assault on the fundamental rights has been consistent and ongoing at a global level and rights-bearing citizens are transformed into consuming subjects of a surveillance State.
In this transforming landscape, dissent ​is ​sedition, and resistance is treason.
While the Indian State has a long history of ruthlessly crushing dissent, a new wave of arrests began in 2018. Eleven prominent writers, poets, activists, and human rights defenders have been in prison, held under the Unlawful Activities (Prevention) Act. They are accused of being members of a banned Maoist organization, plotting to kill Prime Minister Narendra Modi, and inciting violent protests in Bhima Koregaon. To date, no credible evidence has been produced by the investigating agency, and those accused remain incarcerated without bail. Since the anti-Citizenship Amendment Act protest began in December 2019, students, activists, and peaceful protesters have been charged with sedition, targeted with violence, and subjected to arrests. Since then, more arrests have followed specifically targeting local Muslim students leader and protestors, including twenty-seven-year-old student leader Safoora Zargar, who is currently pregnant.
Since the COVID-19 lockdown was announced, India's leading public intellectuals, opposition leaders, writers, thinkers, activists, and scholars have written various appeals to the Narendra Modi government for the release of India's political prisoners. They are vulnerable to COVID-19 contagion in the country's overcrowded jails, where three coronavirus-related deaths have already been reported. In response, the State has doubled down and rejected all the bail applications. It also shifted the seventy-year-old journalist Gautham Navlakha from Delhi's Tihar Jail to Taloja, without any notice or due process – Taloja is one of the prisons where a convict has already died of COVID-19.
A fearful, weak State silences the voice of dissent. Once it has established repression as a response to critique, it has only one way to go: become a regime of authoritarian terror, where it is the source of dread and fear to its citizens.
How do we live, survive, and respond to this moment?
In collaboration with maraa, The Polis Project is launching Profiles of Dissent. This new series centers on remarkable voices of dissent and courage, and their personal and political histories, as a way to reclaim our public spaces.
Profiles of Dissent is a way to question and critique the State that has used legal means to crush dissent illegally. It also intends to ground the idea that, despite the repression, voices of resistance continue to emerge every day.
SURENDRA GADLING
Surendra Gadling began his career almost two decades ago in Nagpur, fighting cases for those arrested under the draconian Terrorist and Disruptive Activities (Prevention) Act (TADA) 1985, and the Unlawful Activities (Prevention) Act (UAPA) 1967. He also worked as a special public prosecutor on dowry-related cases and was one of the leading lawyers in connection with the Khairlanji agitation—a protest movement launched after the gruesome caste-murders of a Dalit family in Maharashtra. Every choice in forty-seven-year-old Surendra Gadling's life has been political. Starting as an apprentice in the railways soon after finishing college, Gadling participated in many socio-cultural movements in Nagpur. Over the years, he became a formidable force and a point- person for cases related to illegal killings, police excesses, false cases, and atrocities against Dalits and Adivasis in the region. He soon became an expert in special laws like UAPA, the Forest Rights Act (FRA), Scheduled Castes and Scheduled Tribes (Prevention of Atrocities) Act. He also specializes in the cases of those who identify themselves as "political prisoners". He was, until his arrest, handling the case of G.N. Saibaba. He handled most of these cases pro-bono.
While Gadling's family and lawyers are busy preparing for the legal battle that lies ahead, his colleagues are looking at those several hundred cases he has been handling and finding appropriate lawyers to appear in them. Advocate Mihir Desai will be now handling Saibaba's bail application.
Date of arrest: 6 June 2018 Charges: Surendra Gadling is one of the five people who allegedly incited hate in the Bhima-Koregaon violence case. He was arrested on 6 June 2018 from Nagpur. Pune Joint Police Commissioner Ravindra Kadam said he had been produced before the court and was to be held in police custody for eight days. Branding the lawyers and activists as "Urban Naxals" implies that they are the face of the banned left-wing extremist organization Communist Party of India (Maoist). The police have come up with several versions in their charges—first claiming that the five persons were behind the violence that disrupted this years' annual celebrations at Bhima Koregaon memorial; then saying they were supporting Naxal activities; and finally the most recent charge—that they were plotting a "Rajiv Gandhi-style" assassination of Prime Minister Narendra Modi.
Update: Since the arrest, Gadling's health has deteriorated drastically and he was moved to Pune Sassoon Hospital on 7 June 2018. Gadling was moved to judicial custody from police remand on 8 June due to his deteriorating health condition. On 24 October 2018, the Bombay High Court quashed a Pune court ruling that had granted more time to the police to file a charge sheet against Gadling. Charge sheets were finally filed on 15 November 2018 and again on 4 December 2018. Justice Bhatkar's verdict paved the way for Gadling and the other activists arrested on 6 June 2018to apply for bail. Gadling's bail hearing was fixed for 14 November 2018 but has now been postponed to 11 December 2018 by the Supreme Court. On 3 November 2018, Gadling had also moved an application before the court stating that he needed books and magazines like "Bahishkrut Bharat", "Muknayak", Anand Teltumbde's "The Republic of Caste: Thinking Equality in the Time of Neoliberal Hindutva", "Samantar", "Parivartana Vatsaru", "Dastak", "Morcha", Amrita Pritam's "Rasidi Ticket", "Samrajyavad", and "Jaat". The court asked the jailer to verify if the books were banned and accordingly asked the prosecution to file before the court. The books and magazines were handed over to jailor by the defense counsel for verification before giving them to Gadling.
Update 24 August 2020:
In November 2019, the sessions court rejected Surendra Gadlin's bail plea, arguing that the police had not produced any substantial evidence against him. August 28, 2020, will mark two years of the second round of Bhima Koregaon arrests.
Location of work: Nagpur
Legal cases handled by Surendra Gadling
G.N. Saibaba
The wheelchair-bound academic was arrested in May 2014, after the police in Gadchiroli, Maharashtra, claimed he had links with Maoists. He was sentenced to life in prison in March 2017, guilty under the UAPA and has been in the Nagpur Central Jail since. G.N Saibaba is reportedly suffering from more than fifteen different health problems, some of which have potentially fatal consequences. "Saibaba's health is progressively and severely deteriorating because of poor jail conditions and untrained staff [are] unable to adequately assist prisoners with disabilities," the United Nations rights experts said, adding that he is now in "urgent need" of adequate medical treatment. The case began in 2013, with a police raid at Saibaba's Delhi University accommodation. The police alleged he was "an urban contact" for the Maoists and that he was named by Hem Mishra, a Jawaharlal Nehru University student who had been arrested in Gadchiroli. He was first arrested in May 2014. In late June 2015, the Bombay High Court granted him bail on medical grounds, and he was released in July 2015. He went back to jail in December that year and was released again in April 2016, after the Supreme Court granted him bail. Saibaba had extensively campaigned against the Salwa Judum militia in Chhattisgarh and the human rights violations that accompanied "Operation Green Hunt" against Maoists in central India that was launched by the previous United Progressive Alliance (UPA) government.
Arun Ferreira
Arun Ferreira, a member of the Deshbhakti Yuva Manch (Forum for Patriotic Youth) which is perceived as a "Maoist front" by the state, spent nearly five years in jail undergoing all the torture that comes with the Maoist label. Ferreira was arrested by the Anti-Terrorist Squad in Nagpur on 8 May 2007 along with Ashok Satyam Reddy alias Murli at Deekshabhoomi in Nagpur, armed with deadly weapons such as a pen drive and leftist literature. As Ferreira revealed at his press conference in Mumbai on 11 January 2012, the police had used various techniques of causing bodily pain without leaving any visible injuries. He was subjected to narco tests, despite scientific questions having been raised regarding the value of information derived from such tests. The results of his narco-analysis were to prove a trifle inconvenient to his inquisitors. Stupefied with drugs, he revealed inter alia that Maoist activities in Maharashtra were funded by Bal Thackeray—news that made it out and caused a sensation. When the mere mention of a name by an alleged Maoist is sufficient grounds for arrest, should not the alleged bankroller of Maoism also have been arrested and subjected to investigation, with a little narco-analysis thrown in? Ferreira was charged with nine Naxal-related crimes, from murder to sedition to planting bombs; and, of course, under several sections of the UAPA. In over four years of legal battle, the court did not find a shred of evidence against him and he was acquitted in all the cases. No charge against Ferreira could stick but the police still managed to hold him in jail for over four years. Ferreira gained media attention because he was from Mumbai, from the middle-class dream suburb of Bandra, and had been educated at the elite St Xavier's College. Because he could afford it, Ferreira has sued the state—and rightly so—for infringing his fundamental rights to liberty and freedom of movement, and demanded an apology and compensation of Rs 25 lakh. Dalit and Adivasi victims of the state's criminality have no option other than to meekly swallow the injustice of the system. Surendra Gadling, Ferreira's advocate, said that despite the trauma that they underwent in the last few years, they are in a good state of mind. "Ferreira always managed a smile on his face even while he was going through all the hardships. He has suffered a lot in jail." Much of the credit for getting Arun Ferreira released goes to advocate Surendra Gadling. After his release, Ferreira completed his degree in law and has since been defending those who, like him, have been falsely accused. This is just as well because when the police came for him this time around, they had already arrested Gadling. (Compiled from various sources)