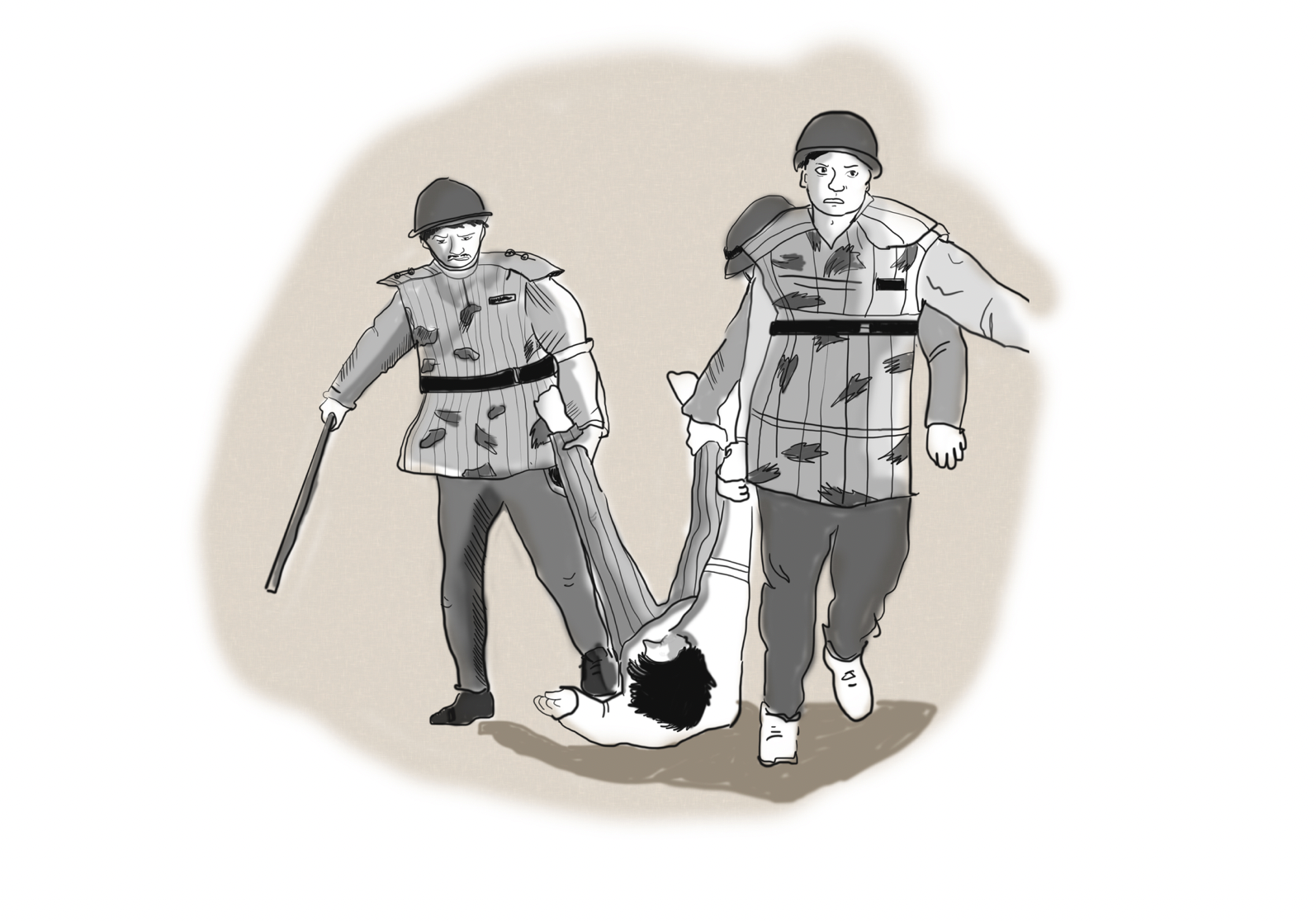 Brutalizing innocence – Testimonies of torture and police violence against minors by UP Police
15 March 2020
On 12 December 2019, the Citizenship (Amendment) Act, 2019 – rightly referred to as India's Nuremberg Law – was passed, leading to widespread protests across the country. Millions of Indian citizens are protesting against this fundamentally discriminatory law and many, including students, have been met with severe repression and criminalization at the hands of the Police, particularly in the state of Uttar Pradesh (UP).
The brutality of State violence is most visible in the abuse of 41 minors, who have been detained and subjected to custodial torture, criminalization and post custodial coercion in UP. The report Brutalizing Innocence jointly produced by Quill Foundation, Citizens Against Hate and HAQ: Centre for Child Rights documents the police action against minors, the methods and patterns of violence inflicted, the various violations of national and international laws and the inaction of human rights institutions. Based on fact-finding missions conducted across various districts in UP between 10 and 24 January, along with verified media accounts, this report records the testimonies of minor victims, witnesses, police officials and photographic evidence of the abuses as well as cases police FIR.
The following are testimonies of torture are excerpted from the report: Brutalising Innocence, accompanied by illustrations by Arundhati Prasad.
This is part of the series at documents the ongoing State violence in Uttar Pradesh. 
Pattern of Violence
As per the findings of the report, 22 minors were detained and tortured in Bijnor and 14 minors in Muzaffarnagar. FIRs were filed against four minors who were released after 12 days of detention. Two minors continue to be held under detention in Firozabad and have not received any legal aid nor have their cases received any media coverage. Two minors sustained bullet injuries in Lucknow, another eight-year-old was killed during a stampede as a result of police use of excessive force against anti-CAA protests in Varanasi. The boy's parents were forced to conduct a high-security burial one hour after the body was returned. The report further states that all detained minors testified that they were beaten with police batons/lathis and made to witness violence inflicted by police on detained adults. Tortured children returned home with bruised body parts and fractures.
In Bijnor, where night-time temperatures dropped to 6 degree Celsius, police made no heating or sleeping arrangements. Children were not allowed to sleep and if they did, they were beaten. During detention, minors were denied basic rights like access to drinking water and food. Instead, they were beaten or rebuked for asking for water or using the toilet.
In Muzaffarnagar, all of the detained minors were Muslims and were fasting (roza) on the day of detention, as it was Friday. Police denied them water, to break their fast and were verbally abused, as were their religious figures. Also, the verbal abuse used by the police was xenophobic in nature. Many children said that they were forced to chant Hindu slogans like Jai Shri Ram. Moreover, only after their guardians were coerced into signing affidavits testifying that there had been no ill-treatment or torture at the hands of the police. The report shows that in most cases, UP police physically and emotionally threatened minors not to attend any more protests and stated this as a reason for detention. In an attempt to intimidate and induce fear within the citizenry, UP police have publicly displayed posters with mugshots of protesters, including minors. This has caused fear and paranoia among families, who have chosen to send their children away from the villages.
Physical violence
Five minors who were released in Nagina area of Bijnor testified that, from the time they were picked up to when they were released, they were beaten every two-three hours. In Muzaffarnagar too, despite the denial of UP police, all the released students said that they had been subjected to beatings by police batons and lathis in the jail. A 15-year-old, physically challenged, minor was also detained and beaten up in Muzaffarnagariii said:
"I kept telling them that I am physically challenged. But they wouldn't listen. They put me in a police van and started beating me up non- stop." Suleiman said, sitting in the district hospital to change the bandages on his fractured hand. (Bijnor)
17-year-old Y, also from Nagina, was kept in detention for two days and subjected to torture. Y was scared to speak up and merely said that:
"Mostly they beat us on the lower parts of our body. I was not able to walk properly for 15 days. The police detained me on Friday and released on Sunday night. Till then I was in custody where they beat me brutally." (Bijnor)
Recalling what her son shared with her after he returned, Y's mother expressed her anguish as follows:
"At last, Y came home after two days with his toes crushed and bruises on his body. He was barely walking and his lower part of the body had turned blue due to beatings by the police…. They were given severe beatings during their period of detention. They were first taken to Bijnor Police Lines and then shifted to a farmhouse owned by a BJP MLA. During their illegal detention, Y and others were beaten up mercilessly by the local police officials and were not even given blankets in the spine-chilling cold winter night…. It was the most shocking thing to hear the account of those two days from Y". (Bijnor)
Also listen: Patterns of violence, impunity and silence, conversation with Bharti Ali and Nidhi Suresh
Torture by sleep deprivation
In Bijnor, a minor said that, even though temperatures dropped to 6 degree Celsius, no warmth or sleeping arrangements were made for any detainees. Moreover, the minors were not allowed to sleep and if they did, were brutally beaten.
"I pressed my fingers against my eyelids to keep my eyes open." Said 17-year-old E. "If you nodded off, the guards would hit you with a stick." (Bijnor).
This was corroborated by Y's mother:
"… they were not even given blankets in the spine-chilling cold winter night. All they were given was a floor mat to cover themselves with and a strict word of caution that they were not allowed to sleep. Y and other boys were forced to stay awake the whole night and if somebody fell asleep, they had to face merciless beatings." (Bijnor).
Tortured for drinking water
Psychological torture tactics were also employed by the UP police. In Bijnor, police gave water when the minors said they were thirsty but whenever the boys asked to use the toilet, they were beaten up.
"First the police gave us all water, which we drank because we were thirsty." Said B. "But then we realised we would be beaten every time we wanted to pee." (Bijnor)
Y's mother also confirmed the same regarding what her son went through during illegal detention:
"Although, they were allowed to drink water, they were not allowed to use the toilet. Whenever anybody requested for toilet, they used to get beaten up by the police." (Bijnor)
In Muzaffarnagar, during the detention, the minors were refused drinking water and instead were psychologically tortured for asking the same.
"They refused to give us water and said that if we are so thirsty, we should drink their urine." said a student who didn't want to be named…" (Muzaffarnagar)
Syed Asad Raza Hussaini, Founder and Principal of the Madrasaxi in Muzaffarnagar said:
"On Fridays students observe fast. They asked for water to breakfast that evening. They were all denied water. Police abused and passed derogatory remarks against Islamic religious figures – the prophet. They were forced to say Jai Shri Ram." (Muzaffarnagar)
Torture by intimidation
Witnessing torture
The UP police told the detained children of Bijnor that the reason for their detention and abuse by police was in order to "teach them to never attend a public demonstration again". All five minors confirmed that they were not only detained along with adults but also made to witness them being tortured.
"At one point, they made an adult prisoner strip naked and show us his bruises." E said, a statement two other children confirmed. (Bijnor)
The team from Delhi which visited Bijnor tried to meet W, who is reported to be around 13 or 14 years old. The fact-finding team was first intimated by the locals who said that the boy had gone to Delhi; But by the evening of the 11th of January, the team was told that the boy is in Bijnor itself, but is scared to meet anyone for fear of reprisal from the police. However, after meeting the team, X shared how the police intimidated them with stories of some detained persons being stripped naked:
"While we were going in the bus, one of the police officials made a video call to somebody and showed us the video of other people being stripped naked and subjected to ruthless beatings and brutalities. He said that even we are going to be welcomed in the same manner – 'Aajao, yahan humne tumhare swagat ki saari tayyari kar rakhi hai' (Come here, we have done all the preparations to welcome you)." (Bijnor)
X then added:
"I was pushed inside a big hall where about 150 people were detained and were being beaten up. I saw many young people and children in the age group of 15-16 years in the group as well. Police officials were beating everybody present in the hall. While one police official had held the hands of the detainees, the other police official was raining lathi blows mercilessly on bare bodies."(Bijnor)
Another child testified that while being released a policeman threatened him that this would be his plight if he ever protested again.
Public humiliation and threat
The UP police publicly displayed posters with pictures of persons who 'allegedly' protested in the rally with a notice seeking information from anyone who knew such persons or their whereabouts. In Bijnor's Jalalabad area, a 15-year-old boy, Zxvi who is one amongst the many children on the poster said that, this method is being used by the police to intimidate certain communities.
Many young boys have been sent away, out of Bijnor by their families fearing police action. The release of the poster/ public notice has only added to their fears.
"Yesterday, the police released a poster of the persons who were the part of stone-pelting. I got to know from others that my photo is also in that poster. Another picture in the poster resembles my elder brother, who is about 20 years old. Most people in our locality think that he is my brother, but we are not sure as my brother was not wearing the clothes worn by the person in the picture. He doesn't have such clothes. He was wearing something white. My photo is quite clear in the poster and I also have a similar jacket and a cap. The poster has pictures of some other children also from the locality, who are under the age of 18 years like me. No police have contacted us so far since the release of the poster, but I am planning to leave here as soon as possible.'' said 15-year-old Z (Bijnor)
Vandalizing homes
In Raukhedi, Jalalabad, District Bijnor, the community reported how the police barged into their homes late at night and vandalized property while threatening families to cooperate with the police. F, who is a resident of Bijnor said :
S was sitting with my father and my younger sister was fetching peanuts for him when someone knocked at our door. When we enquired who was there, the policemen suddenly broke the door open and arrested S without asking or responding to any questions. The police also went upstairs and broke our household items. They even tried to arrest our father till we started crying and requested them to spare our father who is so old and had done nothing. We asked the policemen why they were taking him. When they didn't pay any heed, me and my two sisters started screaming out of fear. After a hue and cry they left without our father but took S with them. S got married just two months ago and is still in jail…The police were doing wrong as they entered our house without any information and broke our household things. We were not the only ones. The police did this in many houses in the locality and any male member present in the house was being arrested. There were no lady police accompanying them even as they were barging into people's homes forcefully. How can they do this? Who gives them this right?" (Bijnor)
Torture by Silencing
In Muzaffarnagar, Police heads – SSP, SP, CO City, contacted the madrasa officials/ heads, asking them to give statements saying no beating or torture took place. In return, they said they would release everyone still in custody, otherwise, cases would drag on. Syed Asad Raza Hussaini, Founder and Principal of the madrasa testified they submitted an affidavit saying that there had been no ill-treatment or torture.
***
You can read the entire report, Brutalizing Innocence: Detention Torture & Criminalization of Minors by UP Police to Quell Anti-CAA Protests here