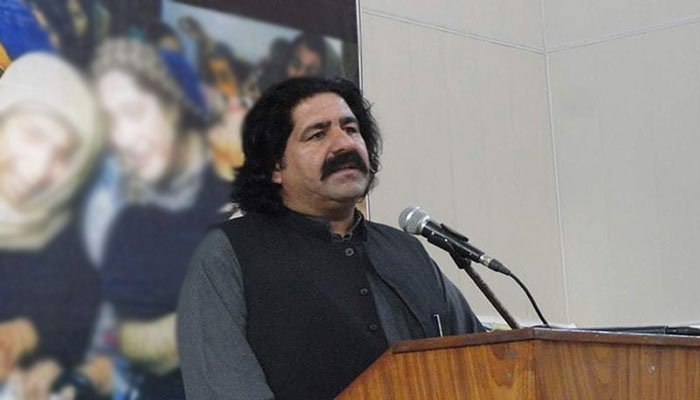 Criminalizing the non-violent Pashtun movement: A profile of Ali Wazir
24 Januart
Hurmat Ali Shah writes on socio-political issues and is particularly interested in the national core-periphery relations in Pakistan.
Profiles of Dissent is a series centered on remarkable voices of dissent and courage across the world. They are writers, poets, activists, human rights defenders and those who have been incarcerated for speaking truth to power.
"At no time have governments been moralists. They never imprisoned people and executed them for having done something. They imprisoned and executed them to keep them from doing something. They imprisoned all those prisoners of war, of course, not for treason to the motherland […] They imprisoned all of them to keep them from telling their fellow villagers about Europe. What the eye doesn't see, the heart doesn't grieve for."― Aleksandr Solzhenitsyn, The Gulag Archipelago, 1918-1956
A political prisoner is a person who is imprisoned for their belief. Regimes across the globe arrest people for who they are and not for what they have done, thus making the category of the political prisoner into a criminal offense. It is a thought crime: the crime of thinking, acting, speaking, probing, reporting, questioning, demanding rights and, more importantly, exercizing citizenship. It is also a crime of existing in a Black, Brown, Muslim body that can be targeted and punished for who they are, or what they represent.
These inhumane incarcerations do not just target private acts of courage, they are bound together with the fundamental questions of citizenship, and with people's capacity to hold the State accountable – especially States that are unilaterally and fundamentally remaking their relationship with their people.
The assault on the fundamental rights has been consistent and ongoing at a global level and rights-bearing citizens are transformed into subjects of a surveillance State.
In this transforming landscape, dissent is sedition, and resistance is treason.
A fearful, weak State silences the voice of dissent. Once it has established repression as a response to critique, it has only one way to go: to become a regime of authoritarian terror, a source of dread and fear for its citizens.
How do we live, survive, and respond to this moment?
With Profiles of Dissent, The Polis Project works with individuals and organizations across the world to question and critique the State that has used legal means to crush dissent illegally and eliminate questioning voices.
It also intends to ground the idea that, despite the repression, voices of resistance continue to emerge every day.
ALI WAZIR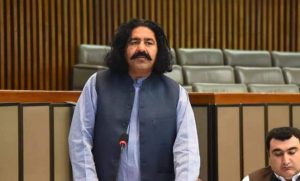 Nar Wazir, Zakhmi Wazir, Ali Wazir, Ali Wazir (Brave Wazir, hurt Wazir, Ali Wazir, Ali Wazir) is the slogan that has come to characterize the place and charisma of Ali Wazir in the non-violent anti-war Pashtun movement. Ali Wazir's ordeal is deeply interconnected with the history of War on Terror, the pain it inflicted on Pakistan's tribal areas and their struggle for dignity.
Ali Wazir is a politician from Waziristan in the ex-FATA region, now merged in the Khyber Pakhutunkhwa province of Pakistan. He has been held in prison on charges of sedition and treason since 16 December 2020 for a speech he gave at a gathering of the Pashtun anti-war movement, the Pashtun Tahafuz Movement (PTM), on 6 December 2020 in Karachi. Ali Wazir is also affiliated with political movements of the Left and is the only Marxist to be part of the National Assembly of Pakistan. He was elected as Member of the National Assembly (MNA), the Lower House of the Parliament of Pakistan, in the July 2018 general elections, where he represents South Waziristan. He also contested the 2013 general elections from the same constituency, but lost the elections by around three hundred votes and many are convinced that the security establishment was involved in his defeat. Ali Wazir shot into national fame for his courage and the unflinching challenge to the security establishment for accountability for human rights violations.
Wazir's elder brother, Farooq Wazir, was a victim of terrorism in 2003 which has claimed 70 thousand lives in Pakistan, mostly Pashtuns. By 2003, Waziristan became a stronghold for foreign militants from Central Asia, Afghanistan and various Arab countries. The Pakistani State continued to deny it even though local politicians and elders raised their voice against converting their home into a terrorist base.
When his brother was killed, Ali Wazir was a law student and by 2005 was in prison due to the Frontier Crime Regulation (FCR), a colonial era law meant to subdue tribal people through arbitrary and collective punishment. While he was in jail, his father was killed along with his brothers, cousins and an uncle in a single incident. He was not allowed to attend the funeral, but the killings did not stop him or his family from opposing the State's militarist policies.
Ali Wazir lost seventeen family members at the hands of terrorists or in attacks for which no none took responsibility. The latest loss he suffered is that of Arif Wazir, his cousin and close political comrade in the PTM. Arif Wazir's father and brother were also killed by unknown militants. Ali Wazir himself has also escaped several attempts on his life. On 3 June 2018, when Ali Wazir was campaigning for the upcoming national election, he escaped an attack that wounded twentyfive of his supporters. The other threatening attack on his life came directly from the Pakistan Army in Kharqamar in Waziristan on 26 May 2019. Ali Wazir along with fellow Waziristan MNA Mohsin Dawar and hundreds of PTM political supporters were trying to reach a sit-in protest staged by a local tribe against the mistreatment by the Army. They were stopped at the Kharqamar checkpost and, after they tried to cross, soldiers opened fire on the protestors. Ali Wazir narrowly escaped, but seventeen political workers were killed. Ali Wazir was arrested on the spot while Mohsin Dawar surrendered to the security agencies after a few days.
The event, known as Kharqamar massacre, was a watershed moment in the PTM anti-war movement. It came to signify that the Pakistani State foundational policy of treating Pashtun lives as expandable. Ali Wazir and Mohsin Dawar were charged for orchestrating an attack on the military check point. After the MNSa were arrested, there were country-wide protests organized by PTM to put pressure on the Government to withdraw the charges. They were granted bail on 19 September 2019 and finally charges were withdrawn on 14 October 2020.
The current case on which Ali Wazir has been incarcerated also nominates other PTM workers. Ali Wazir was arrested from Peshawar on 16 December 2020 on the request of Karachi Police and was flown into Karachi. The bail petition under the same case took around a year to be approved by the Supreme Court of Pakistan. One of the fundamental issues of the bail petition proceedings was connected to the translation of the speech that Ali Wazir gave on 6 December 2020. The speech was given in Pashtu, but in the First Information Report (FIR) it was translated into Urdu by a Police constable. Ali Wazir's lawyer contest that Pashtu and local dialect idioms have been mistranslated to give the impression that Ali Wazir was inciting the masses to sedition.
Date of arrest: 16 December 2020
Charges: In the FIR filed against Ali Wazir, he was accused under sections 120-B (Punishment for criminal conspiracy), 121 (Waging or attempting to wage war or abetting the waging of war against Pakistan), 121-A (Conspiracy to commit offences punishable under section 121), 124-A (Sedition), 153 (Wantonly provocation with the intent to cause riot), 153-A (Promoting enmity between different groups), 505 (Statements conducing to public mischief), 506 (Punishment for criminal intimidation), 188 (Disobedience to an order duly promulgated by a public servant) of the Pakistan Penal Code and section 7 of the Anti-Terrorism Act, 1997.
Location of work: Waziristan, Khyber Pakhutunkhwa
Update: Ali Wazir's trial began in Karachi Central Jail in January 2021. His co-accused were released on bail, but his application was rejected. On 5 March 2021 the Sindh High Court (SHC) reserved its judgment, but didn't announce it till 2 June 2021. The judgment ruled that the applicant had used uncivilized language against state institutions which may create disharmony. On 27 June 2021 the speaker of the National Assembly issued production orders for Ali Wazir to attend the budget session; he did and then was flown back to jail in Karachi. On 3 November 2021 the Anti Terrorism Court ATC-XII framed charges against him and others nominated in the FIR. On 2 June 2021, the SHC rejected Ali Wazir's bail application and directed the Trial Court to complete the case within six months, which has not yet happened. Ali Wazir was granted bail by the Supreme Court of Pakistan on 30 November 2021, but he still hasn't been released from prison.
The past few months have transformed my life. Amid the agonies I have endured and the threats, suspicion, and accusations I face, the love, support, and respect I receive is overwhelming.
Since February, when we began protesting to draw attention to the suffering of ethnic Pashtuns — among the worst victims of terrorism — I have learned a lot about the potential of ordinary Pakistanis. Their thirst for change is inspiring and heralds a peaceful, prosperous future we must build for generations to come.
As a Pashtun activist demanding security for Pakistan's second-largest ethnic group, the most rewarding thing I have gathered is that peaceful protests and mobilization can still change societies and transform states for the better. I have learned that right trumps wrong. Pacifism overcomes violence and wars. And, ultimately, the truth prevails over lies and deception.
In a modern state, protection and welfare of all its citizens — irrespective of their caste and creed — is the first and foremost responsibility of all its institutions. This is the crux of what our organization, the Pashtun Tahafuz Movement (PTM) or Movement of the Protection of Pashtuns, has set out to achieve by articulating key demands and mobilizing masses to ensure our state fulfills its most basic responsibilities.
My personal ordeal best illustrates what prompted our demands. I was pursuing a degree in law at the turn of the century when my hometown, Wana, the headquarters of South Waziristan agency, became the epicenter of global terrorism when a host of Taliban-allied groups sought shelter in our communities. No doubt the terrorists had some individual local facilitators, but ultimately it was the state that failed to prevent them from using the territory. When my father, the chief of the Ahmadzai Wazir tribe, and other local leaders complained of their presence, government officials ignored and silenced them. Instead, Islamabad spent years denying the presence of any Afghan, Arab, or Central Asian militants.
By 2003, the militants had established a foothold in South and North Waziristan tribal agencies and were attempting to build a local emirate. My elder brother Farooq Wazir, a local political activist and youth leader, became the first victim of a long campaign in which thousands of Pashtun tribal leaders, activists, politicians, and clerics were killed with near absolute impunity. Their only crime was to question or oppose the presence of dangerous terrorists in our homeland.
In 2005, I was in prison when my father, brothers, cousins, and an uncle were killed in a single ambush. I was there because a draconian colonial-era Frontier Crimes Regulations (FCR) law holds an entire tribe or region responsible for the crimes of an individual or any alleged crime committed in the territory. I had committed no crime, never got a fair trial, and was not sentenced, yet I was prevented from participating in the funerals for my family. In the subsequent years, six more members of our extended family were assassinated. The authorities have not even investigated these crimes let alone held anyone responsible. While Pakistani leaders are keen to project the "sacrifices" their compatriots made, no one has ever sympathized with us.
We faced economic ruin after all of the notable men in our family were eliminated. The government failed to prevent the militants from demolishing our gas stations. They later used the bricks to build bathrooms, claiming we were munafiqin (hypocrites) so even the inanimate materials from our businesses were not appropriate to build proper buildings. Our apple and peach orchards in Wana were sprayed with poisonous chemicals, and our tube wells were filled with dirt to force us to surrender to the forces of darkness.
In 2016, our market in Wana was dynamited after a bomb blast there killed an army officer. While local officials admitted to me that it was an accident and we were not to blame for the incident, they nevertheless destroyed our livelihoods under the FCR. After the demolition, the government prevented the local community — mostly members of our Ahmadzai Wazir tribe — from collecting donations to help us. They were told it would set an unacceptable precedent because the government cannot let anyone help those it punishes.
During those years, I didn't lose faith in nonviolence and remained committed to peaceful politics. This is why I ran in the parliamentary elections in 2008 and 2013. I can claim with some certainty that I won the contest in 2013, but my victory was changed into a defeat at gunpoint. I lost the election for just over 300 votes after the Taliban intimidated voters and tortured my supporters and campaign volunteers.
I am aware that since the beginning of the PTM's campaign, our criticism is blunt and direct. We name names and are not shy to address powers that the rest of society, the media, and politicians are too scared to identify, let alone criticize. But as my suffering shows, we Pashtuns have been through hell. Just consider that tens of thousands of civilians were killed in militant attacks and military operations over the course of 15 years, and millions were displaced for years.
Amid the volcano of violence, thousands of civilians have disappeared, and thousands have fallen victim to extrajudicial killings. We are profiled as suspected terrorists across the country, face humiliation at security check posts, and our innocent civilians face violence during security sweeps and operations. As the world's largest tribal society, the Pashtuns are known for their hospitality, commitment, and valor, yet we were falsely reduced to terrorist sympathizers despite the fact that we are their worst victims.
Now that we are protesting for change and demanding the state fulfill its most basic responsibilities, we are accused of treason and are being projected as enemies of the state. Taxpayer money is being squandered to foment and sustain a propaganda campaign. It is ironic that the institutions responsible for protecting Pakistan's territorial integrity and protecting it from dangerous threats are bankrolling thugs to launch a Pakistan Zindabad Movement (Urdu for Long Live Pakistan Movement). Both the leaders and protesters of this movement are paid. All kinds of comical characters are having a field day at the taxpayers' expense. It is telling that former Taliban commanders have addressed their gatherings. We also have indications that efforts are underway to mobilize sectarian terrorists and other fanatics to "counter" our peaceful campaign.
I want to reiterate, for the record, that we do not have a retrogressive or subversive agenda against Pakistan. We are not seeking secession, and we do not follow any political ideology that would require a radical transformation of the state or society in Pakistan. We are, however, among the worst victims of terrorism in Pakistan, South Asia, and the world, and we are seeking justice for the wrongs and atrocities we have endured for so long and continue to face.
For Pakistan, the best and only way forward is to honor its own laws and constitution, which binds us in a social contract. Treating us outside these laws and constitution will only weaken the bonds that tie the country's diverse 207 million people together. We have created a golden opportunity for Islamabad to shun its past as a security state and function as a normal country concerned with the welfare of its citizens.
We sincerely hope the saner elements of the upper echelons of power use this opportunity to exorcise our country of the demons and threats they are sworn to fight against. I know our solution is simple, but the only stable future for Pakistan is to become a nation of laws while upholding the rule of law. This is everything we seek.