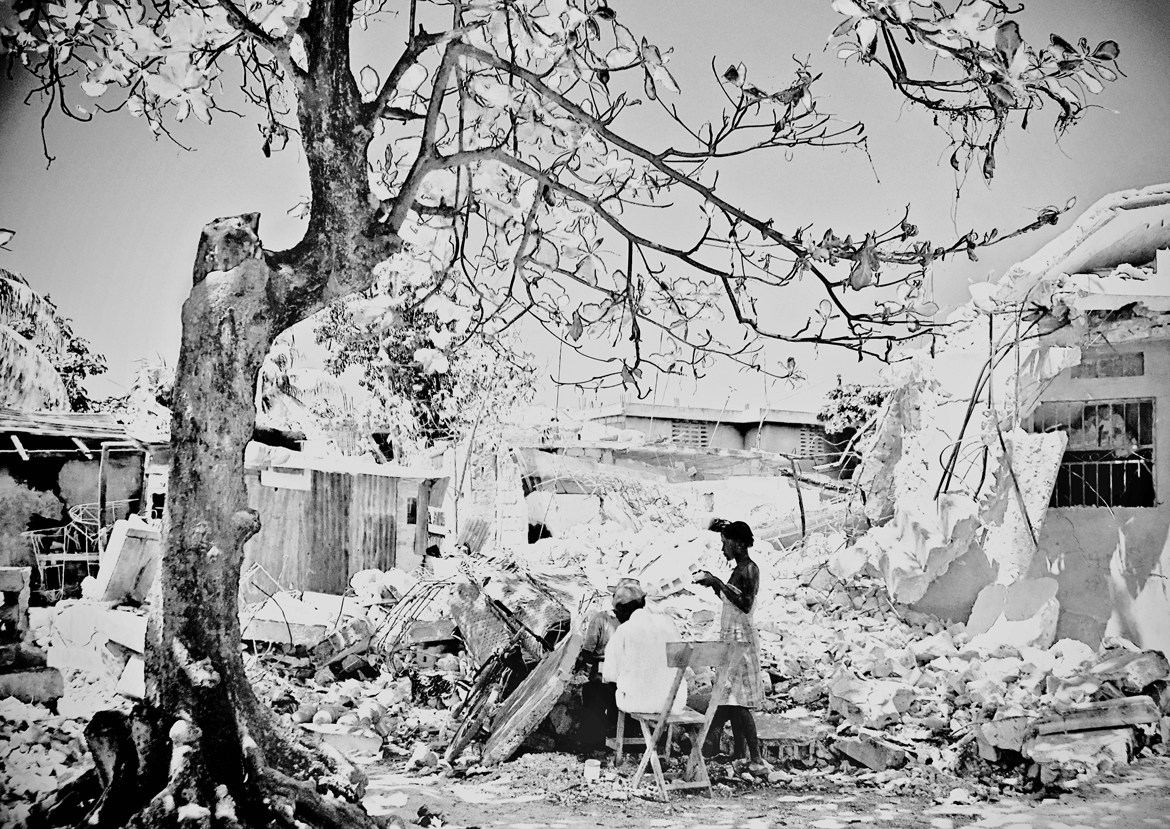 Disaster ruins everything
17 May 2018
Suchitra Vijayan is the author of Midnight's Borders: A People's History of Modern India and Executive Director of Polis Project. She tweets at @suchitrav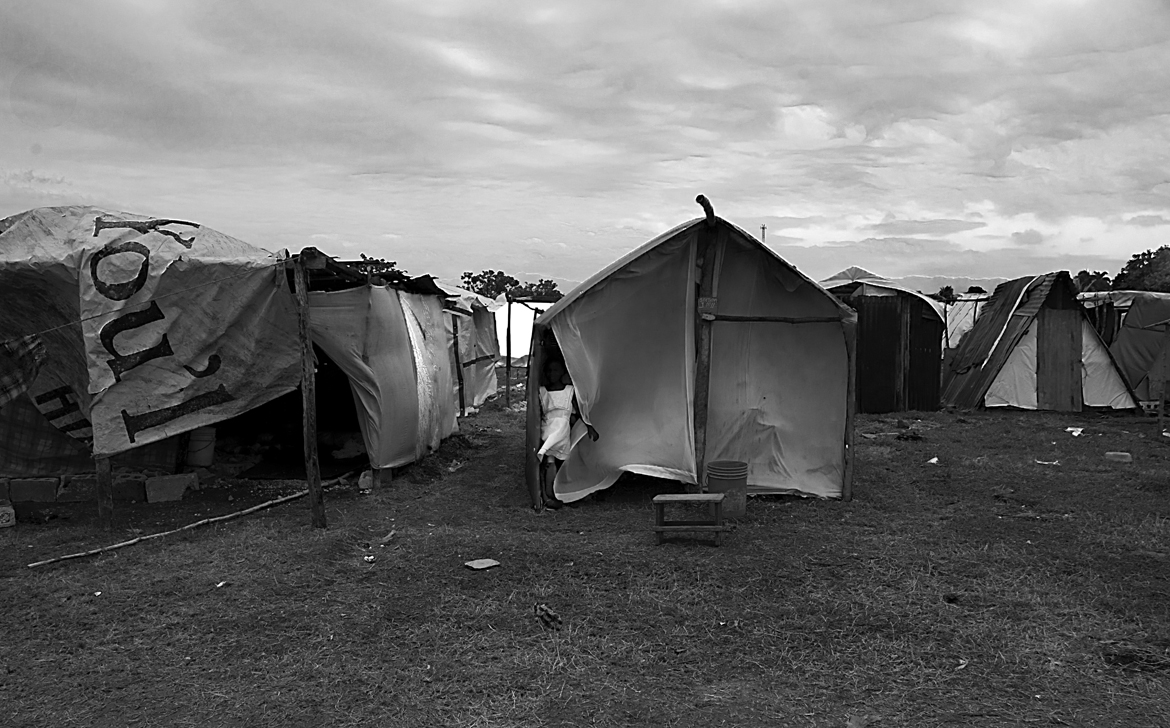 "The disaster ruins everything, all the while leaving everything intact.
…Remembrance of the disaster which could be the gentlest want of foresight."
– Maurice Blanchot, The Writing of Disaster
It had been a few weeks since the earthquake. The dusty port town of Léogâne, Haiti, was the epicentre. Nearly every concrete structure in the town was destroyed, 20,000 people died instantaneously, and everything was in disarray. Makeshift homes made of cardboard boxes and sheets were put together in haste to accommodate the living. Streets, pavements and parks soon turned into dwellings and life was lived on the streets. Mass graves had to be dug because they had run out of place to bury their dead. The son of the local pastor who made his way to give his people their last rites instead rolled up his sleeves and helped move the dead to their communal graves. "The dead grow heavy with regret as they stay unburied. That is why they are so heavy."
People lived in disinterest, detached from disaster, hurrying to make new plans as they prayed, scavenged, looted and learned to live again. When people's lives collapsed along with the buildings, they took with them souvenirs of their past. Broken vases, crushed calendars, headless toys and photographs inside cheap plastic albums. Stories grew around these objects, reclaimed from the disaster. They had new meanings and belonged to a pantheon of retrieved objects. In memories new museum, these were deified objects.
In the abrupt absence of twenty thousand who had disappeared, each previous act of normality became the last clutches of mortality. Stories about last meals, terrible fights, hasty lovemaking, and broken promises multiplied in the absence of the bodies. New meanings and stories were consistently woven into the fabric of disaster. The people they had become in death bore little resemblance to those they had been in life.
One afternoon walking back from the Red Cross camp to the camp where I was staying, I ran into Marylene again. I had met her earlier in the week at the St. La Croix hospital in Leogane. I was the dark Indian amongst the mainly white aid workers. "You look like us, but your hair," she had smiled with excitement. Marylene had been a teacher in Port Au Prince and then a midwife. She made her daily rounds to various aid organisations that had descended upon Leogane, offering to translate for them or help at the hospital if it was short-staffed. The first time we met, she took me to the ocean, and together we saw a large American Naval fleet stationed at a distance.
"It is usually the rain and the police who rob us of everything twice a year. This time it is the earth."
She said, alluding to the turbulent hurricane seasons in Haiti. For the first time in months, I saw a landscape empty of debris and the dead. I don't remember much of that day except for the silence I had experienced after a long time.
The next time I met Marylene, we stopped for street food of fried plantains and then walked around her wounded city. Marylene chatted away, and I mostly listened. We saw building after building destroyed. In walls that had survived the earthquake, people had hastily scribbled their numbers, along with signs saying,
"Save us", "Help us", or " Help needed".
There was still traces of blood on the street, a dark shade of crimson that refused to be scrubbed away.
"Tell me your story Marylene?" I asked.
"No story to tell", she replied like an impetuous child about to pull a face. As we strolled a few blocks later, Marylene asked if we had a duty to live.
"What if someone had been willing to die, not like the soldiers who go to fight, but just comfortable with dying…They had no desire to live…What about that…?"
Marylene continued to talk, and while she spoke, I quickly wrote her question with her name and date right next to it.
When she saw this, she responded with a curled smile. She leaned over and took the book from my hands. She stared at her name, which I had misspelt as Marilyn. Then she crossed her name out and rewrote it in all capital letters. The letters "M", "R", and "Y" leave strong impressions on the subsequent pages.
Then right below her name, she wrote: "A story? No. No stories. No Stories for you." As she handed my book back, she asked again, "Do we have a duty to live?".
"I don't know," I said.
Marylene said that she had asked her Pastor the same question, who, in return, had spent the next hour not listening to her. But giving her a sermon on the lure of evil.
"He had not understood my question", she said.
"It is maybe not a question," she said a minute later.
"No. It was a question," I told her. "A very good one and a very difficult one."
In those years, the profound question that Marylene asked was lost on me. I was yet to confront the mortality of someone I loved. Death and disaster were abstract ideas. I had witnessed death and destruction but never felt or fathomed what it meant to have my life reduced to debris.
Soon after the earthquake, a herd of international news organisations, aid agencies and celebrities descended upon Port Au Prince. An actor even managed to run his own internally displaced camp outside the purview of the Haitian government.
Stories of the survival and resilience of the Haitian people made their rounds. The photographers photographed many of the same sites of death and destruction. Black bodies in pain, dead and twisted, were featured on the front page of newspapers. Suffering had become both a spectacle and a commodity. The images of the dead had no purpose beyond their need to convey the immensity of the devastation. Those images had no history except one of immense and unexplainable violence. Photo Editors justified these pictures as "that kind of image that changed people's minds."
"Would this have been the same kind of picture had this earthquake happened in Sweden as opposed to Haiti? If the bodies were white? Would we photograph "them" as we photograph "ourselves"?
***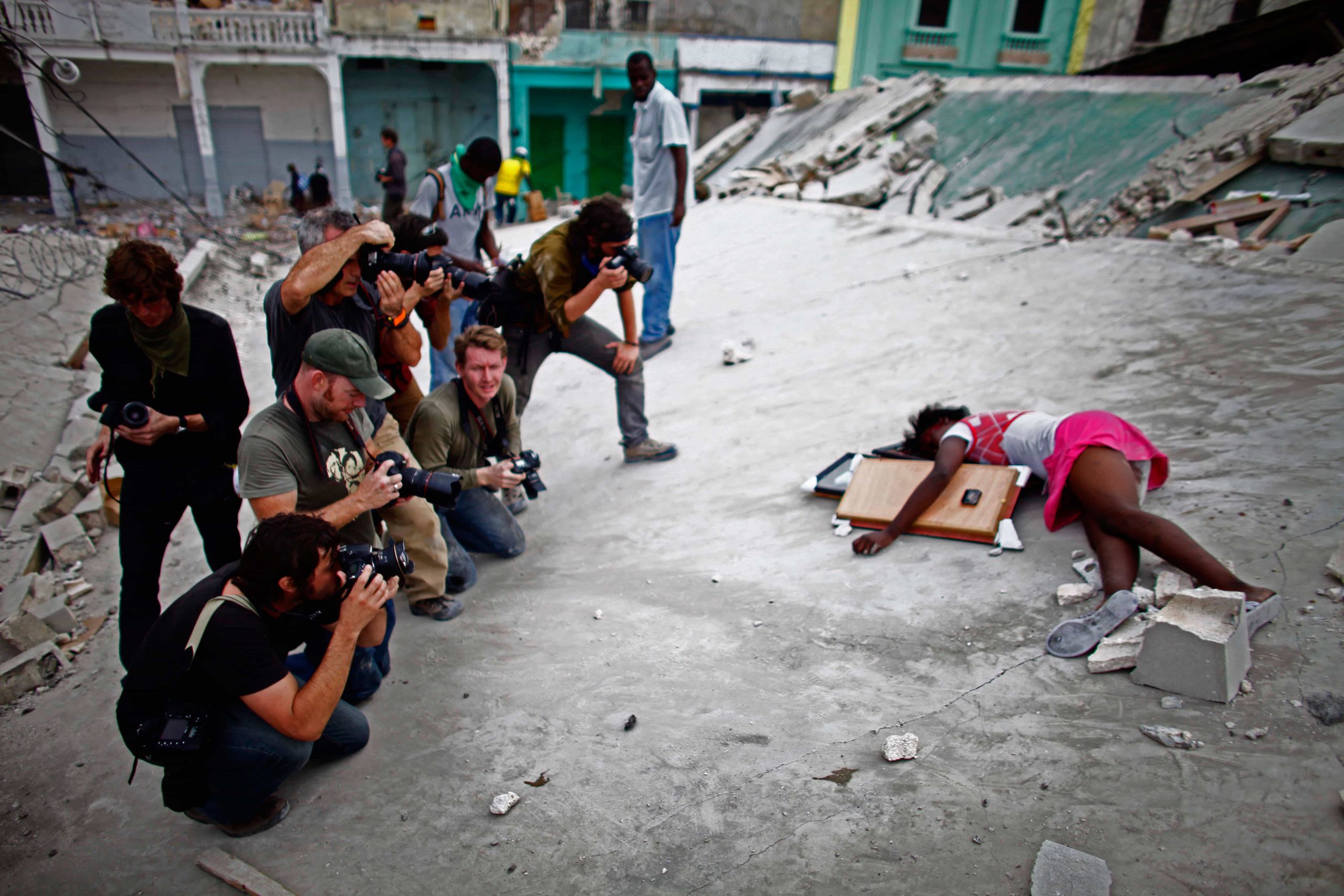 A single shot to the head by the Haitian police killed fifteen-­year-­old Fabienne Geismar days after the earthquake. She died holding two plastic paintings they say she had stolen. The paintings that lay next to her body were mass-­produced cheap plastic home accessories made in China and sold in one of Port Au Prince's large markets; two purple flowers embossed on a white flower pot.
Fabienne might have survived the earthquake, but she joined many dead who lay unattended in the streets of Port-­au-­Prince for running away with cheap paintings. Fabienne father, Osam, sister Samantha and brother, Jeff, witnessed the shooting, her fall and that long agonizing minute it took for her to die. As her body lay on Marthely Seiee Street, a group of photographers, mostly foreign, mostly white, mostly men, crowded around and took "another shot" at her*.
Few bothered to look at Fabienne's body, clad in a pink and grey top and her pink skirt, even as they stood in line to photograph her.
Death had become so prevalent that its origins and ends no longer mattered. The small crowd watched Fabienne's father move her body to the cart, and her mother stood wailing in grief, barely able to stand. Later she collapsed to the ground. Even as she struggled to understand this violent death of her daughter, over a few plastic paintings, the photographers swarmed around documenting her painful private moments of grief.
***
Marylene, unlike others I had met, refused to talk about herself. Other Haitians I had met told stories about their lives before and after the earthquake. I would often walk away knowing their entire history. Marylene's personal life was vague. I never got a story, or answers to my questions, just random facts that I had to piece together. In our walks together, she assumed the role of an interlocutor between her damaged town and an unlikely outsider. She spoke continuously about the surroundings. She presented facts about old colonial churches, the shortest way to the ocean, how many times a day the Canadians patrolled the main street and where the aid workers drank their beer.
As we strolled, she asked if I wanted to join her for a prayer meeting. God was a distant figure, and the church she had gone to since she was a child was destroyed. The pastors in each neighbourhood had started conducting prayer meetings on cleared grounds. "Everyone was looking for something. It is hard when so much is lost so quickly, she paused. "Some come to pray in the hope of finding that something. But I go so I can sing. I sing to cry without tears."
I said I would join her, and we walked towards the other side of town and passed more makeshift homes before we reached her place. We walked past injured in pain, laying in their tarp homes, their families sitting around in apathy. She pointed to middle-­aged women sitting outside her temporary shelter. "She is just waiting for him to die. The doctors said they couldn't do much, gave him medicine for pain…He is clinging to life, and she is waiting for him to go." Pointing to another tarp home as we walked by: "They are too sick to make it to MSF camp."
As she pointed to these homes, I took pictures. Halfway through our walk, Marylene asked why I took these pictures. I responded thoughtlessly. "I had to", I said. " I had never seen destruction on this scale before.
"So what if you have never seen anything like this? Is that a reason to take pictures? Would you like a stranger taking pictures of your home as it rots? You are a tourist," she said."Only instead of Paris you come to witness terrible things. You like to see terrible things happen to ordinary people. And you think seeing makes you understand. But you don't see. You collect. You collect pictures and souvenirs."
Marylene finished these scathing observations with a smile. I am not a tourist, I told her. I don't know who I am yet. But I am not a tourist, I protested. I apologised for the next ten minutes as we walked to her home. I don't remember what I said, just the memory of profound shame.
Marylene laughed.
My ramblings and defensive argument softened her. Perhaps it even brought a soft smile to her face. Then with her eyes gleaming, she said, "Then you are a petty thief who steals people's moments. You catch beautiful images of horrible things like the boys who capture fireflies."
We finally made it to her new homemade of tin and tarp. Marylene had salvaged a mattress and had a few cooking pots lying around. On her tin door hung a small piece of a larger broken mirror. Right next to it was a small cheap purple lipstick and a little plastic box that said Ponds Cold Cream. She stepped out with her water canteen, washed her face, returned, and applied her purple lipstick. She said it was from Port Au Prince; she had gotten it when she was there last with her family.
I looked around, and there were no signs of a family expect for two other women she lived with, Rosa and Brelyne.
On our way back, she pointed to the distant rubble of yellow walls and said that her family was still entombed in the rubble of their home. "No one came to help," she said, adding, "I can't stand the stench anymore."
"Many are buried like this", she said with indifference.
Then, only seconds later, she waved to a Canadian soldier patrolling the street. He waved back in recognition. "The soldiers are protecting us", she said, quickly moving on to something else.
I was still taken by the information of her family trapped inside. Her purple lipstick was still fresh. It bothered me and distracted me at once. I had expected to see grief and morsels of hope, not bright purple lipstick.
Unable to broach the subject, I began a long, disingenuous sermon on hope. I told her that things would get better.
"Comme la vie est lente
Et comme l'espérance est violente."
How slow life is
And how violent hope is.
Don't you miss them, Marlene? I asked her. Don't you feel sad?
Marylene went quiet and cold. I had bullied her into a brief silence. After this, Marylene didn't say much. In the end, I remembered not her garrulous prose but her deafening silence.
"Hope is not violent. Hope is insufficient…." Marylene said with her beautiful, angry eye. She paused and spoke in a hushed voice.
"Do I have to be hopeful to make you feel less guilty? To make you comfortable with the Hell I call home".
We didn't go to church. Instead, she walked me back to where we met earlier in the day and disappeared behind the Canadian tanker behind the square. I never saw Marylene again. But I had visions of her crying for help. Or returning every day for a week with diminishing hope and then abandoning her home because the stench became too much to bear. It was not hope but pain that was violent.
To experience a disaster and to think about the disaster are two different things. Marylene thought about it with elegance and grace that escaped me.
I had abstained from empathy. I had spoken to console myself and forgotten about her.
The ones who came to bear witness, those who came to help, seemed most taken by the disaster. When confronted with silent violence and the vulgar disparity of life, the instinct is always to aestheticize. To create them in our mirror image, excluding them and including ourselves in the narrative. Our relationship with the country and the people became decided even before we met them. But in the end, none of us understood its immensity.
We became the mediators of reality, and in that process, depict not the real but a world that is a product of a  certain culture and a market that demands a particular image.
The truth then becomes a product of the market and the culture it sustains. We reduce truth merely as a function of replicating an object and rendering it flat on the surface. In this process,  truth dies many times over. The post-truth world was not birthed when Donald Trump came to power. There was no epistemic break or shift. Rather for many, the oppressed, the wretched and the marginalized, who have been the disproportionate subjects represented by photography, truth exists in moments before erasure.
In the template of engagement with people like Marylene, the vulnerable and the dispossessed are cast in a similar mould. And we demand two qualities from them:
Servile obedience and passive quietude towards the outsider. Two years later, I would stumble upon an incoherent answer to Marylene's question. Where life does not reign, where decisions are perpetually poor, where living is to endure by waiting for a misfortune about to come. Where the future and the past come together in the absence of the present, dying is living.