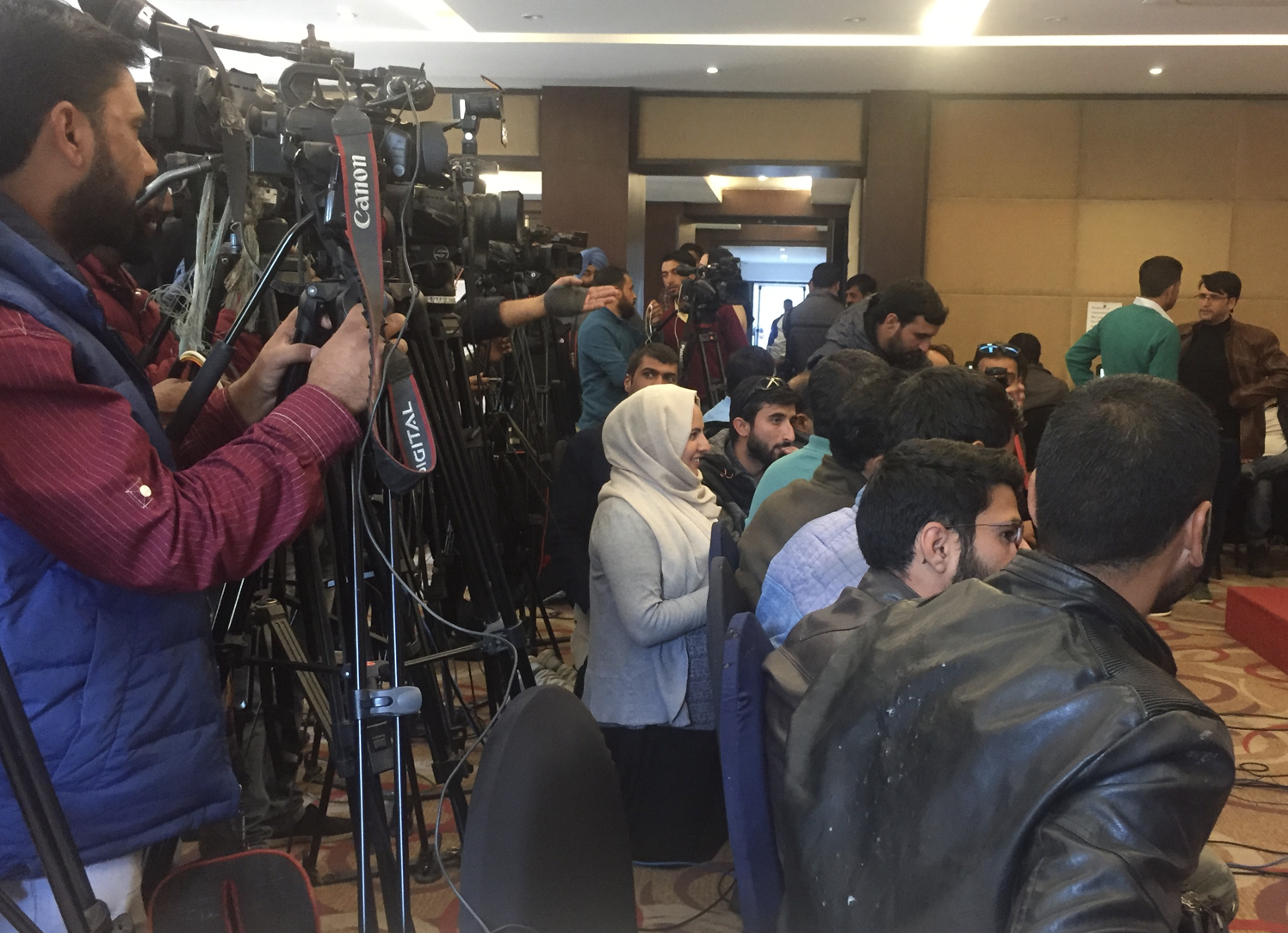 Feels like death knell: In Kashmir, India wants to kill the spirit of journalism under the label of terror
22 May 2020
Aakash Hassan is a Kashmiri journalist. Formerly correspondent with CNN-News18, his work has appeared in The Caravan, TRT World, and PEN/Opp. He tweets @AakashHassan.
This piece was written days before three photojournalists from Jammu and Kashmir were awarded the Pulitzer Prize for Kashmir coverage amid communications blackout post 5 August 2019.
A 26-year-old photojournalist is booked under anti-terror law for uploading her work on social media. One of her colleagues contemplates inspired beginnings and chilling uncertainty after what is only one instance in a renewed assault on media freedom in the disputed region. This is the first in a brief series of work around the subject.
The morning of 19 October was another day of work. We were getting ready for the usual press briefing of the government spokesperson in Srinagar in India-administered Kashmir. I settled in one corner of the hall packed with journalists, but before I could scribble even the date on my notepad, something unusual caught my eye. In front of the row of camera tripods stood a battery of reporters and photojournalists all male—except one. Donning a cream-coloured headscarf, a woman stood on her knees, firmly holding her DSLR camera.
Kashmir's photojournalism space is dominated by men. But here was a rare sight and an indicator that women were breaking into the sphere despite huge barriers, creating their own spaces.
And these were no ordinary days. Since 5 August, Kashmir was under a military lockdown as India had unilaterally stripped the region of its semi-autonomous status and divided it into two "union territories"—controlled directly by New Delhi. Besides restrictions on movement, there was an information siege in place. The entire population of the erstwhile state—about 13 million—had no access to phones or internet for months. For journalists, the administration established a space in the second week of the lockdown where they could access the internet. It was an extremely tough task to reach the facility, which had four desktop computers, an erratic internet connection, and one functional mobile phone. Every day, journalists would navigate through dozens of police and paramilitary posts, some walking over a dozen miles just to access their email.
More than six months have passed since that October day. I'm often reminded of the scene, but not with joy. The woman with the camera was Masrat Zahra, the 26-year-old Kashmiri photojournalist now booked under a draconian anti-terror law for uploading on her social media accounts pictures that the police has described as "anti-national posts with criminal intention to induce the youth and to promote offences against public tranquillity."
The level of intimidation is making it increasingly impossible for people like me to continue. An increasingly authoritarian state is now blatantly stopping journalists from reporting.Like Masrat, our generation of budding journalists was born around the time when Kashmir was up in an armed rebellion against Indian rule. Swept by a brutal, bloody wave of counterinsurgency violence from the Indian state, Kashmir started appearing regularly in international headlines. Journalists from across the globe were attracted to the valley to capture the stories of killings, disappearances, and daily violence. The situation also gave birth to a generation of Kashmiri journalists—reporters and photographers—who produced work for the biggest of the regional and global media. These were professionals that we now looked up to for inspiration.
We grew up looking at the incredible body of work they produced. Stories of our times in conflict that were gripping and fascinating, etched forever in our minds. They inspired boys like me and girls like Zahra to take to the profession of journalism.
While pursuing media studies we were taught the basic lessons of journalism. More than anything else, we were forced to see the dark reality of vulnerabilities journalism brought along. Yet there were also murmurs of the lofty ideas of press freedom and rights of journalists that gave hope and motivation.
The dangers stood at the back of my mind when I started working as a reporter in 2016. Every time I went to my office located in Press Colony in Srinagar, I would pass by a plaque that read "Mushtaq Ali Enclave," named after the photographer killed in 1995 after a parcel bomb meant for his more famous colleague Yusuf Jameel exploded in his hands. Jameel was injured, too, but he survived.
This fear of being physically vulnerable is always in my mind. It remains the concern of our parents, too. But then the distressing realities of journalism are true anywhere in the world. In Kashmir, though, the challenges are multiplied and ever-increasing.
To begin with there are few jobs for entrants in the local media. Those working for over two decades receive a salary that can hardly make a livelihood. Job security is a shaggy-dog story.
Here we were in 2019, and you didn't have access to the internet or the phone. No public transport available; you got to report on a salary that cannot even suffice your travel costs. Somehow these thoughts didn't bother me during my journalism school days.
For most young journalists still willing to write the first draft of history, the situation is tough. They have to rely on freelancing, which comes with its own vulnerabilities—financial insecurity, physical danger, and so on. Many quit within a year.
Even so, I thought I could get physically hurt only if I didn't care enough. No journalism book mentioned that even if you had a genuine curfew-pass issued by the authorities, soldiers could just tear it apart, beat you up, and hurl abuses at you. I wasn't told that capturing a picture could get me slapped and my phone snatched. No one told us you will be frisked and your phone scanned if a police officer spotted your press card.
Yet those of us ready to stay on in the field encounter hurdles far more dangerous. Maybe we are inspired by the greats in journalism. Marie Colvin comes to mind.
But now, the police have started filing cases under the UAPA against journalists for reporting or sharing their work or opinions on social media. It feels like a death knell.
The level of intimidation and conditions in which journalist are forced to work is making it increasingly impossible for people like me to continue. An increasingly authoritarian state is now blatantly stopping journalists from reporting. Conditions have been created so one cannot think freely. The critical journalistic approach has been killed. This muzzling of voices disturbs me.
I don't know how we can continue honest reporting. And dishonest reporting is a disservice; what kind of public opinion will that shape?
There's another question that disturbs my mind. Where will the next generation of young journalists seek their inspiration from?
Our generation of journalists was born when Kashmir was up in an armed rebellion against Indian rule. Swept by a brutal, bloody wave of counterinsurgency violence from India, Kashmir started appearing regularly in international headlines.One September morning last year, we were alerted to an information that the Indian army had vandalized houses and thrashed women and children during a nocturnal raid in a village in Bandipora, north of Srinagar. Zahra and another woman colleague, Quratulain Rehbar, were eager to cover the incident but I cautioned them against it. I had had an ugly encounter just weeks before when police confiscated my phone while on a similar assignment in the same region. The police scanned my phone, deleted images and notes, and let me go only after my repeated pleas. Now I thought my colleagues were putting themselves in harm's way, so I suggested them to avoid traveling.
In the evening, I saw Zahra and Rehbar at the media centre, their clothes covered in dust and their faces exhausted. They had travelled about 120 miles on a two-wheeler and covered the story.
Later in October, Kashmir witnessed a spree of militant attacks on non-local laborers. One day I, Zahra, and Rehbar were in Shopian to meet the relatives of a labourer who had been killed. While we were busy interviewing, we got to know about another similar attack in a village in neighbouring Pulwama. We rushed to the spot and landed at the hospital room where the dead body was kept.
Zahra went inside the tiny room alone and clicked several pictures of the corpse while I and Rehbar stood outside. I was moved by the sheer grit. Reporting incidents of violence takes a huge toll on mental health. I've witnessed gory images of the dead and injured and I still have nightmares of days long gone.
On our way back to Srinagar, I asked them, "What motivates you to work?"
Rehbar answered: "The passion to tell stories."
They reminded me of one of my assignments in which I walked the hilly terrain from Jammu to Kashmir for over ten days traveling with a nomadic Bakarwal tribe. "What motivated you to take that risk," they asked.
I didn't have a clear answer, so I just returned a smile.
But I've been thinking about it since and there's one reason that comes to my mind above all: an innate urge to tell stories as they are.
Zahra often talks about how unhappy, and unapproving, her parents are to see her in her job because of the dangersassociated with it. Yet she has stood her ground, in spite of everything.
Now what does it take to keep such defiance alive in a place such as Kashmir? Whatever the answer, India wants it dead by giving it a label of terrorism.