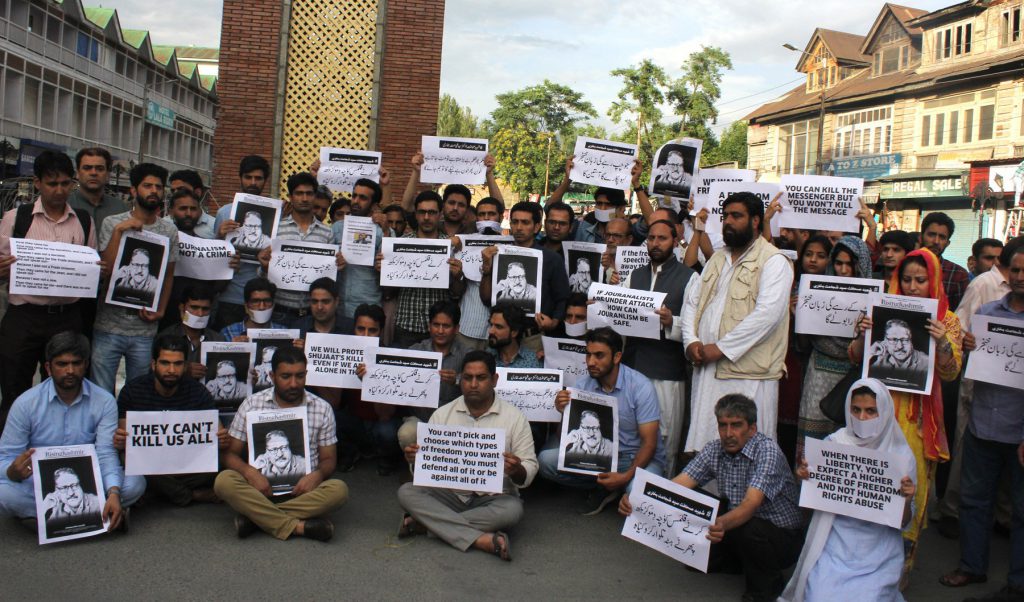 Gasping for breath: The fate of journalism in Kashmir after the abrogation of Article 370
Jamia Millia Islamia
Asma Hafiz and Ifreen Raveen are journalism students at Jamia Millia Islamia and independent journalists based in Kashmir. They tweet respectively at @asma_hafizz and @IfreenR.
In this report, Asma Hafiz and Ifreen Raveen write about the impact of the abrogation of Article 370 on journalism in Kashmir. They detail the ways in which the Indian State censors Kashmiri media in order to control the dominant narrative from the region, making it impossible to hold the Government accountable for its actions.
On 5 August 2019, the Indian Government stripped Kashmir of its semi-autonomous status by unilaterally abrogating Article 370 of the Constitution. This was perceived as the final step to incorporate Kashmir into the rest of India. An internet and communications shutdown was imposed in Jammu and Kashmir on the night of 4 August 2019 and continued for more than six months. Within a matter of hours, the central Government snapped phone lines, deployed thousands of additional troops on the streets and enforced an indefinite communication and security lockdown. According to Access Now, a non-profit organization that keeps track of internet shutdowns, this is the longest internet shutdown ever imposed in a democracy. The Government of India justified the suspension of landline, mobile and internet services that affected nearly 7 million Kashmiris as a preventive measure in anticipation of possible protests against the amendment of the Constitution.
These restrictions crippled the flow of news in Kashmir: it took six months for 2G internet to be restored, while high-speed internet was restored on 5 February 2021, one and a half years after it was snapped in August 2019. Through a collection of interviews and first-hand testimonies, this article aims to understand the nuances of the current media scenario in Kashmir, which is characterized by a dramatic combination of intimidation, state-sanctioned violence and self-censorship.
Many journalists consider August 2019 as a turning point for the situation of journalism in Kashmir. Yusuf Jameel, Kashmir correspondent for The Asian Age and Deccan Chronicle, recalls how after the abrogation of Article 370 things became increasingly difficult for journalists: besides the communication blockade, people were not allowed to move out of their houses thus making reporting almost impossible. A week after the shutdown, the Government set up a media center at a hotel with four computers, one for the exclusive use of the Government's Information Department, the other three for about 300 journalists making it challenging to meet deadlines and file stories on time.
In the days leading up to 5 August 2019, paramilitaries occupied every inch of Kashmir and established barricades to divide localities. It was impossible to know what was happening in the neighboring area, let alone in the rest of Kashmir. Blocking all communication channels after 5 August was meant to make sure that no news escaped Kashmir as the Government is averse to the idea of reporting a ground reality that clashes with the official narrative. As the news about the reading down of Article 370 spread, many national news channels lauded the State's decision and refrained from raising important questions while primetime television anchors kept stressing on the narrative of normalcy. Even as the State made high claims about how there was no discontent with the decision of abrogating Article 370, foreign media painted a different picture and carried footage of around 10,000 people participating in an anti-government protest. Indian media trivialized these protests and one report defined the victims as "mysterious pellet gun victims" and the protests as "severe exaggeration." At a time when local journalists could not leave home, report or even access news, Indian media deliberately showed selective stories and manipulated facts.
Amidst all the chaos, the story of first casualty from Kashmir was published by the HuffPost. After the removal of Article 370, Safwat Zargar, Kashmir correspondent for the Scroll, wrote a story about Osaib Altaf, a young boy from Srinagar' Qamarwari area who, along with his friends, was chased by Central Reserve Police Force (CRPF) men to a footbridge. Seeing no means to escape, the boy jumped into the river and drowned. On 6 August, as the phone lines were cut, Safwat Zargar got to know about this incident through word of mouth and, along with Basharat Masood, left at 11 pm to meet the family of the victim. He later filed the story and managed to send it to Delhi. In the initial days of the lockdown, journalists would send their stories out of Kashmir in a pen drive. To avoid breach of privacy, some would travel to Delhi themselves to file their stories: it was like living in stone age.
According to Basharat Masood, a reporter working with The Indian Express for fifteen years, an immediate consequence of the revocation of Kashmir's special status is how newspapers shied away from publishing content unfavorable to the Government and how many stories got lost in the clampdown. Local news organizations have been pushed to take a conservative approach and censor their reporters. In the past three decades, local newspapers have covered the conflict in all its complexities. During the turmoil of 2008, 2009, 2010 and 2016, local press stayed on top of what was happening in Kashmir. However, after the revocation of Article 370, there was a shift in their approach. In an essay for The Caravan, Anuradha Basin mentions how editorials and opinion columns started steering clear of politics and, at a time when Kashmir was witnessing the greatest political upheaval since 1947, editorial writers safely chose to focus on the beauty of the land and its potential for tourism.
"Intimidation has been unprecedented since 5 August 2019," says Masood. After writing a story about how internet connection was selectively restored to some business companies, Police stations and some government offices in November 2019, he was summoned without explanation to Cargo, an infamous detention interrogation center used to cover anti-terrorism operations. "If you think that my story is not right, you can summon me to the Information Department or the local police station. Cargo is an anti-militancy center, this is simply intimidation," he adds.
On 4 June Quratulain Rehbar, a freelance journalist based in Kashmir, was summoned by the Police for one of her tweets. The tweet was about how some shopkeepers were beaten by the Police in South Kashmir and it read: "I don't understand why every matter is treated as law and order." They threatened her with a First Information Report (FIR), but she was later let go after questioning. A video taken by Syed Shahriyar, a freelance photojournalist went viral on Twitter: it shows a policeman kicking a journalist during an encounter in Pulwama in South Kashmir in April 2021. This was one of the many instances of assault and intimidation that create a climate of general insecurity. When journalists file a story, they are aware that there are chances of facing intimidation, harassment and Police summons. They are also aware that they are being continuously watched and that the State keeps a constant check on their social media feeds. According to Rehbar, journalists used to be able to write stories related to militancy, torture and human rights violations, but if they do that now, they might be accused of glorifying these instances. "They have asked my friends not to report on certain matters as it looks like they are glorifying militancy. Rather, they want us to write about development." Rehbar was working with a colleague on a story about the harassment of an entire village in Bandipora and the subsequent arrests made just a few days after 5 August. It was a small village and no other reporter had visited the area yet. When the story came out, colleagues at the media center told them that two policemen were looking for them.
Since 1990, 19 journalists have been killed in Jammu and Kashmir while others have faced assassination attempts and abductions. Violence against journalists by Armed Forces and Police remains common. In 2016 photojournalist Muneeb Ul Islam was beaten in Anantnag while covering protests and the CRPF personnel used him as a human shield against the youth who were pelting stones. Kamran Yousuf spent six months in jail without receiving any support from his organization, Greater Kashmir. Not only did Greater Kashmir not issue any statement regarding his arrest, but it also distanced itself from him. In a March 2017 report, Greater Kashmir mentioned "GK [Greater Kashmir] Lensman Kamran Yousuf" being beaten in South Kashmir, but after his arrest in September 2017 the report was edited to make it "photojournalist Kamran Yousuf." The report is now deleted from the website.
While such human rights violations and intimidation practices are part of Kashmiri journalists' experience, women journalists face a unique set of problems. Gendered harassment continues to be an intrinsic part of their routine. Kashmir is heavily militarized and the Army personnel enjoy widespread impunity under the Armed Forces Special Powers Act (AFSPA). Past experiences reveal that Kashmir is unsafe especially for women. Rehbar explains how people in Kashmir are still getting accustomed to the idea that a woman can have a career in journalism and covering protests and encounters was largely considered a male-dominated sphere. However, things are changing as more women are exploring the field of journalism. Her colleague, Rifat Mohideen, agrees and adds that she feels the burden of societal pressures and her family's concern when she is out reporting on the field. In many instances, women journalists experience gender-focused abuse at the hands of security forces and many families discourage their daughters from pursuing a career in journalism because of the dangers it involves.
On 2 June 2020, the Jammu and Kashmir administration issued a revised media policy, which superseded all the previous orders and will be valid for five years. A committee under the Chairpersonship of Director Department of Information and Public Relations (DIPR) will be responsible for monitoring the content of print, electronic and other forms of media for fake news, plagiarism as well as unethical or anti-national activities. The policy aims to "thwart mis-information, fake news and be alert to any attempts to use media to incite communal passions, preach violence, or to propagate any information prejudicial to the sovereignty and integrity of India." The decision to implement the new media policy, sparked journalists' protests. For Anees Zargar, Kashmir correspondent for News Click, the problem is not the policy in itself, but the ways in which it can be manipulated: there are numerous loopholes that can be used against reporters as the Information Department or the authorities may question and book journalists for anything they may perceive as fake news. Zargar argues that "authorities are violating laws regularly, be it torture, arbitrary detentions or barging into people's homes and when they are being held accountable, they try to silence us."
As journalists struggle to obtain quotes from indicted government officials or policemen, independent journalist Irfan Amin Malik argues that it becomes a challenge to include different perspectives in their reporting. However, when the story gets published, authorities summon journalists, who often face human rights abuses at the hands of the Police, for disseminating fake news. While some journalists have been summoned for questioning, others have been beaten while covering protests thus raising concerns about freedom of expression in Kashmir. In April 2020, a case was registered against Peerzada Ashiq, a journalist at The Hindu. He was called for questioning by the Cyber Police in Srinagar for his story about the Jammu and Kashmir administration granting permission to the families of two dead militants to exhume their bodies. The Police accused him of spreading fake news and publishing without seeking confirmation of the district authorities, even though the story mentioned that the officials were not available for comment.
Irfan Amin Malik explains how every journalist based in Kashmir is in a "pressure cooker" after Article 370 revocation. "Every time I write, I do not think about bureaucratic control or the system, I simply write because for me when there is a story, it is just a story and nothing else and it's my job. But you never really stop thinking about the problems that you might have to face." On 14 August 2019, as Malik was putting his daughter to sleep, military personnel showed up at his door and asked him to follow them to the Tral Police station. Malik became the first journalist from Kashmir to be detained after Article 370 abrogation. Because of the communication blockade, Malik's parents travelled to Srinagar from Tral to meet the chief editor of the local daily Greater Kashmir, with which Malik was working at the time. The paper's office, however, was locked and a security guard directed them to visit the media center where they narrated the events of the previous day to Malik's colleagues. Once the news of his detention started circulating, government officials and journalists held a press conference questioning the legitimacy of Malik's detention. The next day Malik was released and a Police officer advised Malik to steer clear of conflict reporting and instead focus on education, environment, and health. His family also asked him to give up this profession.
Anecdotal evidence and direct testimonies show that there has been a paradigm shift since 2019. Many journalists claim that stories that are critical of the administration can land them in jail or they can get slapped with an FIR. On 17 December 2019, Anees Zargar and Azaan Javaid were thrashed while covering a protest. Zargar had earlier reported about families in Srinagar who complained that the local Station House Officer (SHO) was harassing them. "After the story was published, SHO Rashid Khan saw us reporting at one place and he started to beat us just because we did a story against him. Another officer named Sajad Shah stood there and did nothing to help. They even tried to pass us as stone pelters," says Anees Zargar.
In the growing climate of authoritarianism that is taking hold of India, journalists in Kashmir are increasingly targeted with draconian, anti-terror laws like Unlawful Activities Prevention Act (UAPA) and Public Safety Act (PSA). Photojournalist Masrat Zahra was charged under UAPA for posting "anti-national" content on social media. According to a report by ThePrint, a total of eighteen journalists were called for questioning while a dozen suffered physical abuse. Losing autonomy is one of the biggest developments in Kashmir history and it was during this time that the media was silenced. Social media platforms have also been complicit in censoring the news coming out of Kashmir by removing content and suspending accounts that are critical of the Government. "They are equating the work of journalists with terrorism. Journalists in Kashmir are gasping for breath," says Safwat Zargar.
Rehbar mentions how some of her colleagues have been assaulted by the Police while covering protests, even after they show their press cards: Sajad Gul, a freelance journalist, was booked for "rioting, trespassing and assault;" Auqib Javeed, was summoned, bullied and assaulted by the Cyber Police after publishing a story on the alleged intimidation of Twitter users posting against the Government. On 5 August 2020, one year after the abrogation of Article 370, Free Press Kashmir published a blackened page with few visible words: censored, war, jailed, questioned, blackout and normalcy to convey the abysmal status of journalism in Kashmir.
After Kashmir was cut off from the rest of the world after 5 August, Syed Shahriyar got to know that the Police were looking for him after personnel in plain clothes showed up at his house and asked about his whereabouts. At that time Shahriyar was associated with the BBC that, fearing for his safety, flew him to Delhi. Photojournalist Abu Bakar went through a similar experience: a friend told him that he should leave Kashmir for a while as he was under the radar of the Police. He fled to Delhi and stayed there for a month. It was only in September 2019 that he started reporting again despite facing hardships and intimidations. Abu Bakar and Syed Shahriyar used to cover gunfights and funerals even though the Police would not allow journalists to get close to the site of the encounter: reporters, camerapersons, videographers would stay at a distance and do their job. "The government would also create circumstances in which it would become difficult and in some cases impossible to work as a journalist. They would impose curfew or restrictions and deny curfew passes to journalists. That was indirect censorship. Now we cannot visit the place where the encounter is taking place at all. This is undeclared censorship," says senior journalist Yusuf Jameel.
In April 2021, the Government banned live coverage of encounters and law and order situations. In addition to intimidation and filing FIRs, this is another attempt to coerce the journalists into not reporting the facts on ground. When the armed conflict began in 1989, the pressure on journalists came from militant groups, Indian Armed Forces and the pro-government ikhwanis (State-sponsored militias). Journalists had to choose sides and were often questioned and attacked by all parties. Now, the pressure comes directly from the State and it has crippled the freedom of speech and expression in the Valley. Newspapers are opting for silence in order to safeguard government advertisements, which constitutes to be their main source of income. On 16 February 2019, the Government refused to give advertisements to Greater Kashmir and Kashmir Reader without giving any reason. While the administration has de-empanelled 34 newspapers, it has also suspended advertisements to 13 publications for violating the publication guidelines: a clear sign that the State wants to throttle the voice of free press by controlling the narrative.
Fear is pushing journalists in Kashmir towards self-censorship: they think multiple times before writing on controversial issues and tone down the reports to avoid repercussions. "Self-censorship might even happen subconsciously because of the situation we are working in," says Anees Zargar. Rehbar was pursuing a story for Al Jazeera about Kashmiri women booked under UAPA, but eventually dropped it for fear that the Police would question her intentions. To keep a more acceptable profile, she now makes sure that she also covers other beats like gender, development and health as well. After the imprisonment of Kamran Yousuf, the documents submitted by the National Investigative Agency (NIA) stated that Yusuf was not a "real journalist" because he had not covered "development activity" in the region and only published "anti-national" stories. As a result of censorship, a lot of important issues are sidelined by the local media. The State is employing tactics like harassment and intimidation to stifle critical voices and force them to self-censor. While some journalists prefer to keep their sources anonymous, others refrain from revealing their names in the bylines.
Freedom of speech and expression is under severe threat in Kashmir because of censorship, misuse of power by Police and armed forces and the impossibility to hold the Government accountable.