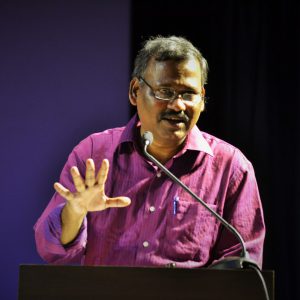 If teaching Marx and Ambedkar is a criminal activity: A profile of K. Satyanarayana
In collaboration with maraa, The Polis Project launched Profiles of Dissent — a new series centered on remarkable voices of dissent and courage in India and their personal and political histories, as a way to reclaim our public spaces. These are prominent writers, poets, activists, and human rights defenders who have been in prison, held under the Unlawful Activities (Prevention) Act. The profile features K. Satyanarayana who has been implicated in the connection with Bhima Koregaon investigation in relation to his father-in-law Varavara Rao.
"At no time have governments been moralists. They never imprisoned people and executed them for having done something. They imprisoned and executed them to keep them from doing something. They imprisoned all those prisoners of war, of course, not for treason to the motherland…They imprisoned all of them to keep them from telling their fellow villagers about Europe. What the eye doesn't see, the heart doesn't grieve for."
― Aleksandr Solzhenitsyn, The Gulag Archipelago, 1918-1956
'Political Prisoner' is a category of criminal offense that sits most egregiously in any civilized society, especially in countries that call themselves liberal democracies. It is a thought crime: the crime of thinking, acting, speaking, probing, reporting, questioning, demanding rights, and, more importantly, exercising one's citizenship. But these inhumane incarcerations do not just target private acts of courage, they are bound together with the fundamental questions of citizenship, and with people's capacity to hold the State accountable. Especially States that are unilaterally and fundamentally remaking their relationship with their people. The assault on the fundamental rights has been consistent and ongoing at a global level and rights-bearing citizens are transformed into consuming subjects of a surveillance State.
In this transforming landscape, dissent is sedition, and resistance is treason.
While the Indian State has a long history of ruthlessly crushing dissent, a new wave of arrests began in 2018. Eleven prominent writers, poets, activists, and human rights defenders have been in prison, held under the Unlawful Activities (Prevention) Act. They are accused of being members of a banned Maoist organization, plotting to kill Prime Minister Narendra Modi, and inciting violent protests in Bhima Koregaon. To date, no credible evidence has been produced by the investigating agency, and those accused remain incarcerated without bail. Since the anti-Citizenship Amendment Act protest began in December 2019, students, activists, and peaceful protesters have been charged with sedition, targeted with violence, and subjected to arrests. Since then, more arrests have followed specifically targeting local Muslim students leader and protestors, including twenty-seven-year-old student leader Safoora Zargar, who is currently pregnant.
Since the COVID-19 lockdown was announced, India's leading public intellectuals, opposition leaders, writers, thinkers, activists, and scholars have written various appeals to the Narendra Modi government for the release of India's political prisoners. They are vulnerable to COVID-19 contagion in the country's overcrowded jails, where three coronavirus-related deaths have already been reported. In response, the State has doubled down and rejected all the bail applications. It also shifted the seventy-year-old journalist Gautham Navlakha from Delhi's Tihar Jail to Taloja, without any notice or due process – Taloja is one of the prisons where a convict has already died of COVID-19.
A fearful, weak State silences the voice of dissent. Once it has established repression as a response to critique, it has only one way to go: become a regime of authoritarian terror, where it is the source of dread and fear to its citizens.
How do we live, survive, and respond to this moment?
In collaboration with maraa, The Polis Project is launching Profiles of Dissent. This new series centers on remarkable voices of dissent and courage, and their personal and political histories, as a way to reclaim our public spaces.
Profiles of Dissent is a way to question and critique the State that has used legal means to crush dissent illegally. It also intends to ground the idea that, despite the repression, voices of resistance continue to emerge every day.
You can read Varavara Rao's profile here, the profile of Sudha Bharadwaj here, that of GN Saibaba here, Gautham Navlakha's profile here, Anand Teltumbde here, Sharjeel Usmani here, Shoma Sen here, Surendra Gadling here, Asif Iqbal Tanha here, Rona Wilson here, Sudhir Dhawale here, Sharjeel Imam here, Arun Ferreira here, Umar Khalid here and Father Stan Swami here.
K. SATYANARAYAN
Satyanarayana is associate professor in the Department of Cultural Studies, English and Foreign Languages University (EFL-U), Hyderabad. He was active in the student movement during the 1990s and the founder-general secretary of Kula Nirmoolana Porata Samiti (Forum for Caste Annihilation). He also edited the little magazine "Kulanirmoolana". His research interests are in the field of Dalit studies and literary histories. He is the co-editor of "No Alphabet in Sight: New Dalit Writing From South India Dossier 1" (2011), "Steel Nibs Are Sprouting: New Dalit Writing From South India Dossier 2" (2013) and "The Exercise of Freedom: An Introduction to Dalit Writing" (2013).
Date of raid: 28 August 2018
Charges: K. Satyanarayana's house was raided on the twenty-eighth of August prior to the arrest of five activists. The house was raided for no reason other than his father-in-law is the poet and social activist Varavara Rao, who is among the arrested. The police confiscated laptops, hard discs, pen-drives and all academic material from his house and blocked his phone and email. This will bring his academic work to a grinding halt for months. After the raid he was asked: "Why are you reading Mao?", "Why are you reading Marx", "Why are you having the songs of Gaddar", "Why are you keeping the photos of Ambedkar and Phule instead of gods and goddesses", and "Why do you want to become an intellectual, why can't you be happy with the money you are getting?"
There was no search warrant authorizing the raid on his house or his possessions being seized. The reason given for entering the house was that they were searching for Rao—despite the fact that Rao was already under house arrest in his own flat! The warrant, which allowed them entry, was written in Marathi and an English or Telugu version was not made available. In addition, the police tried to coerce Satyanarayana into signing a panchama that (in Marathi) falsely said Varavara Rao was found in his flat. Many titles of their books were noted and also translated into the Marathi for the Maharashtra Police, with additional notes by the Telangana police claiming they were by front organizations for the Maoist party. This had to be repeatedly corrected by Satyanaryana and his wife. In an interview with a newspaper, he said that the police also mentioned his caste and his wife's caste, several times. He also said they only dared behave in this manner because he is Dalit.
Update: K. Satyanarayana has been summon by the National Investigation Agency-Mumbai in September 2020 and requested to appear as a witness under sections 160 and 91 of the Criminal Procedure Code in connection with the Bhima Koregaon case.
Location of work: Hyderabad
Introduction from Steel Nibs Are Sprouting: New Dalit Writing From South India by K. Satyanarayana and Susie Tharu
Most readers would know the story of Ekalavya, the legendary, self-taught, 'lower-caste' archer whose skills outshone those of Arjuna, the favored student of Brahmin guru Dronacharya. Talented and passionate about archery, Ekavlavya longs to study with Dronacharya and seeks him out, but on learning of his caste, the guru rejects him. A disappointed Ekalavya returns to the forest, makes a clay model of the guru, and proceeds to teach himself. Some years later, apprehensive about the extraordinary skills Ekalavya had developed, the guru asks him for the traditional fee due to a teacher. He makes only a modest request: Ekalavya's right thumb.
As Sikhaman's poem 'Steel Nibs are Sprouting' suggests thumb stub no longer symbolize a sishya's respect for the guru. It stands for the law that externs Dalits from the world of the arts, knowledge and power. The Dossier in your hand documents an upsurge, beginning in the last few decades of the twentieth century, when those on the outside reject the role assigned to them in such stories, rename themselves, write of contemporary 'outsides' and present-day 'insides', and set out their dreams for another world.
… In the DMS manifesto, 'Dalit' is proposed as a broad and collective identity of scheduled castes, scheduled tribes and backward castes. In practice, however, the category remained a specific identity of caste groups that had experienced untouchability and are listed as 'scheduled castes' in the Constitution. After the 1960s, the term 'Dalit' began to emerge in different parts of the country as an identity that located social oppression in the brahmanical Hindu social system and its culture. Following Phule and Ambedkar, it was argued that Dalits were denied human status and dignity and that they never enjoyed civic status or legal rights. According to modern Hinduism, caste divisions and hierarchies are created by God, and the caste order is therefore divine.
The ideas of karma and divine retribution make the mobility of the oppressed castes almost impossible. The idea of 'Dalit' breaks with this Hindu identity and offers a new liberating identity. The 'agricultural laborer' of the Left discourse is a class identity and conceives of the untouchables as poor, exploited people, along with others from upper castes and backwards castes.
The specificity of caste oppression that distinguishes the poor and the untouchables is not captured in the category of agricultural laborer. For example, the struggle against bonded labor is viewed as one against feudal oppression. Minimum wages and land distribution are offered as solutions to this problem. As a result bonded labor is not viewed as a question that combines untouchability, graded inequality and human dignity. Dalit consciousness strengthened in the cultural arena in the wake of the Karamchedu and Chunduru struggles. The centrality of this 'Dalit' identity is the distinguishing feature of Dalit literature in the 1990s. The Karamchedu and Chunduru movements, the struggles around reservations (in 1986, to extend backward caste reservation; in 1990, in relation to the Mandal Commission Report and reservation for OBCs) offered the contexts for shaping a distinct Dalit identity and for naming the new forms of discrimination in the fields of culture and literature.
The poet Challapalli Swaroopa Rani observed… "There was literature portraying the theme of caste before Karamchedu happened in 1985. But this literature is reformist both in its form and content. The Karamchedu struggle gave us a series of "resistance poets". Nearly a hundred Dalit writers, she points out, took up pens.
***
BJP-RSS wants to show all Dalits are "Maoists", says hounded professor Excerpt from an interview with Annifred Solomon
They have seized my research material, all the electronic gadgets like my laptop, external hard disks, pen drives, and a lot of books. They even took my daughter's laptop. They have blocked my emails and forcefully taken my passwords. They even took over my wife's Gmail id. Now I do not have access to any of my teaching materials or research materials. I am completely blocked from everything. They have taken away everything that I created over the last thirty years of my life. Thirty years of my academic life has been destroyed in five minutes … The rise of the Dalit movement in the form of Gujarat activist-MLA Jignesh Mevani and in the form of support for Rohith Vemula and the big consolidation and the sheer number of Dalit activists is the major trigger for these actions [against Dalit activists]. The active campaign among Dalits before the Bhima-Koregaon incident was something that was unprecedented. The BJP-RSS did not expect this. This is the renewal of a struggle, the renewal of a movement in memory of the Bhima-Koregaon battle. This has scared the BJP-RSS and they wanted to nip it in the bud. But it backfired. The day after the raid, when I read the newspaper, I realized that the larger narrative of the BJP-RSS is that the Elgar Parishad is a Maoist event. It was originally an Ambedkarite movement and it is important because of the role of the Dalit activists. The BJP-RSS want to erase the Dalit history; they want to erase Dalit voices and they want to say that these are all Maoists. This is one angle. They also want to destroy the human rights movement by saying that this is also a Maoist movement. During all this noise, the most damage is caused to the Dalit movement… And what is the connection between Delhi, Maharashtra and Hyderabad? I know for sure that Varavara Rao has not gone to Bhima-Koregaon. I know that some of the others who were arrested have not gone to Mumbai or Pune for that event. The BJP-RSS wanted to create a narrative. And in this narrative, all Dalits are Maoists.