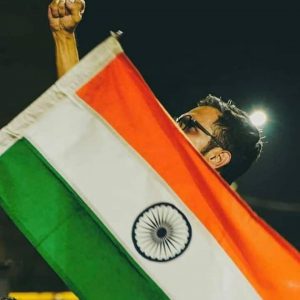 Is it my fault that I say India is mine as much as it is yours? – A profile of Umar Khalid
In collaboration with maraa, The Polis Project launched Profiles of Dissent — a new series centered on remarkable voices of dissent and courage in India and their personal and political histories, as a way to reclaim our public spaces. These are prominent writers, poets, activists, and human rights defenders who have been in prison, held under the Unlawful Activities (Prevention) Act. The profile features Umar Khalid, a student leader and activist who has been accused of being a co-conspirator in the Delhi pogrom in February 2020.
5 October 2020
Ansab Amir is a student at Aligarh Muslim University and an aspiring journalist, writing on education and minority rights. He tweets @ansab_amir
"At no time have governments been moralists. They never imprisoned people and executed them for having done something. They imprisoned and executed them to keep them from doing something. They imprisoned all those prisoners of war, of course, not for treason to the motherland…They imprisoned all of them to keep them from telling their fellow villagers about Europe. What the eye doesn't see, the heart doesn't grieve for."
― Aleksandr Solzhenitsyn, The Gulag Archipelago, 1918-1956
'Political Prisoner' is a category of criminal offense that sits most egregiously in any civilized society, especially ​in ​countries that call themselves liberal democracies. It is a thought crime: the crime of thinking, acting, speaking, probing, reporting, questioning, demanding rights, and, more importantly, exercising one's citizenship. But these inhumane incarcerations do not just target private acts of courage, they are bound together with the fundamental questions of citizenship, and with people's capacity to hold the State accountable. Especially States that are unilaterally and fundamentally remaking their relationship with their people. The assault on the fundamental rights has been consistent and ongoing at a global level and rights-bearing citizens are transformed into consuming subjects of a surveillance State.
In this transforming landscape, dissent is sedition, and resistance is treason.
While the Indian State has a long history of ruthlessly crushing dissent, a new wave of arrests began in 2018. Eleven prominent writers, poets, activists, and human rights defenders have been in prison, held under the Unlawful Activities (Prevention) Act. They are accused of being members of a banned Maoist organization, plotting to kill Prime Minister Narendra Modi, and inciting violent protests in Bhima Koregaon. To date, no credible evidence has been produced by the investigating agency, and those accused remain incarcerated without bail. Since the anti-Citizenship Amendment Act protest began in December 2019, students, activists, and peaceful protesters have been charged with sedition, targeted with violence, and subjected to arrests. Since then, more arrests have followed specifically targeting local Muslim students leader and protestors, including twenty-seven-year-old student leader Safoora Zargar, who is currently pregnant.
Since the COVID-19 lockdown was announced, India's leading public intellectuals, opposition leaders, writers, thinkers, activists, and scholars have written various appeals to the Narendra Modi government for the release of India's political prisoners. They are vulnerable to COVID-19 contagion in the country's overcrowded jails, where three coronavirus-related deaths have already been reported. In response, the State has doubled down and rejected all the bail applications. It also shifted the seventy-year-old journalist Gautham Navlakha from Delhi's Tihar Jail to Taloja, without any notice or due process – Taloja is one of the prisons where a convict has already died of COVID-19.
A fearful, weak State silences the voice of dissent. Once it has established repression as a response to critique, it has only one way to go: become a regime of authoritarian terror, where it is the source of dread and fear to its citizens.
How do we live, survive, and respond to this moment?
In collaboration with maraa, The Polis Project is launching Profiles of Dissent. This new series centers on remarkable voices of dissent and courage, and their personal and political histories, as a way to reclaim our public spaces.
Profiles of Dissent is a way to question and critique the State that has used legal means to crush dissent illegally. It also intends to ground the idea that, despite the repression, voices of resistance continue to emerge every day.
This profile was compiled by Ansab Amir. You can read Varavara Rao's profile here, the profile of Sudha Bharadwaj here, that of GN Saibaba here, Gautham Navlakha's profile here, Anand Teltumbde here, Sharjeel Usmani here, Shoma Sen here, Surendra Gadling here, Asif Iqbal Tanha here, Rona Wilson here, Sudhir Dhawale here, Sharjeel Imam here and Arun Ferreira here.
UMAR KHALID
Umar Khalid, 33, is a human rights activist, a former research scholar at Jawaharlal Nehru University (JNU), and a vocal critic of the current Indian government's anti-minority policies. His political involvement began following the Batla House encounters in his locality of Zakir Nagar in New Delhi in 2008, when two alleged terrorists were killed. The encounter led to widespread propaganda against local residents and the students of Jamia Millia Islamia University. The politically charged atmosphere, constant surveillance, and the witch-hunting of minorities made Khalid, then a student of History at Kirorimal College in Delhi University, aware of the injustices surrounding him.
This tryst with activism led him to meet many like-minded people from JNU, where he decided to pursue his MA at the Centre for Historical Studies in 2009. He later completed his Ph.D. with a thesis titled: "Contesting claims and contingencies of the rule on Adivasis of Jharkhand."
At JNU, he joined the Democratic Students Union (DSU) and became a significant member of the JNU activist community, organizing various events and leading protests on social and political issues. In 2012, Khalid and other DSU members began questioning the policies of the organization regarding gender relations and patriarchal oppression. After a long discussion, on 22 November 2015, Khalid and eleven other members resigned from the DSU.
On 9 February 2016, JNU students organized a commemorative event to debate the ethicality of capital punishment in general, and in particular the controversial hanging of Afzal Guru and Maqbool Bhatt. The rightwing Akhil Bhartiya Vidhyarthi Parishad (ABVP) opposed the event and – along with a portion of the media – claimed that participants raised "anti-national" slogans. The Delhi Police booked the organizers of the event four days later under charges of sedition and criminal conspiracy. Khalid surrendered to the Police on 24 February and was kept in judicial custody in Tihar Jail until the Delhi High Court granted him interim bail on 28 March 2016. Later evidence showed that the sloganeers were not university students and that news channels ran doctored videos in the media storm against JNU students.
This clarification did not deter the JNU administration from imposing fines and sanctions on Khalid, and he had to fight legal cases not just to stay on campus but also to submit his Ph.D. thesis in 2018. Despite receiving death threats, being labeled a Jaish-e-Mohammad sympathizer and a Pakistani agent, Khalid continued to raise his voice for the underrepresented and oppressed – including Najeeb's disappearance, Rohit Vemula's suicide, and the Bhima Koregaon protests. After returning to campus from jail in 2016, Khalid and Anirban Bhattacharya formed the Bhagat Singh Ambedkar Students Organization (BASO) to propagate leftist and Ambedkarite politics beyond the gender issues that DSU had.
In response to the unabated lynching of Muslim youth and cow vigilantism in the north-Indian belt, Khalid launched a campaign called United Against Hate (UAH) in July 2017, with eighteen other activists, which included Banojyotsna Lahiri, Umar Khalid, and Nadeem Khan. "Hatred has become very organized in India, therefore its response needs to be organized as well," Khalid said.
In January of 2018, Umar Khalid gave a speech with Jignesh Mewani at the Elgaar Parishad rally held in Pune to mark the 200th anniversary of the Battle of Koregaon, which took place between the British Indian Army and the Peshwas. The speeches focused on the Dalit-Left unity and the need to eradicate Hindutva violence. The Police, however, booked Khalid in a FIR (First Information Report) with charges of promoting enmity between groups and inciting people to commit offences against the State. In August of the same year, United Against Hate organized an event called "Khauf se Azaadi: Freedom Without Fear," which featured prominent lawyers, journalists, and political figures. Near the Constitution Club, where the event was held, a man opened fire at Umar Khalid. This attempt on his life occurred after Khalid's repeatedly requested the Delhi Police to provide protection after having received several death threats.
In the winter of 2019, Indian citizens mobilized against the Citizenship (Amendment) Act (CAA) and the National Register of Citizens (NRC). Khalid believed that the CAA and NRC were the ruling Bhartiya Janta Party (BJP)'s "attempts to institutionalize a Hindu Rashtra and to erode the Constitution" and attended numerous protests between December 2019 to February 2020. He delivered a speech at a protest against CAA and NRC in Amravati on 17 February 2020. BJP leaders and right-wing media houses shared without context a clipped video from his speech in which he asked protestors to come out on the streets, thus painting him as an instigator of violence in Delhi. Following such claims, the Delhi Police named him as a co-conspirator of the 2020 Delhi pogrom and charged him with the Unlawful Activities (Prevention) Act on 22 April 2020. He was questioned multiple times and was officially taken into custody on 13 September 2020.
Date of Arrest: 13 September 2020
Charges: The Delhi Police filed various charges against Khalid. Two charge sheets were filed against him in June in cases relating to FIR 65/2020 and FIR 101/2020. The Police alleged that Khalid had conspired to trigger violence in northeast Delhi during US President Donald Trump's visit in February. They claimed that he planned a "big blast" in the city during a meeting on 8 January 2020 with former city councilor Tahir Hussain and community activist Khalid Saifi. In the latest charge sheet filed by Delhi Police Special Cell in the "riots conspiracy case" registered under FIR 59/2020, Khalid has been charged with sedition and 18 other sections of the Indian Penal Code, including punishment for murder (Section 302), attempt to murder (Section 307), promoting enmity between different groups on the grounds of religion (Section 153A) and rioting (Section 147). Khalid also has charges of sedition against him from 2016, after the Delhi Police filed a charge sheet on 14 January 2019, and the Department of Prosecution, Government of Delhi, approved the case for trial in February 2020.
Updates: Karkardooma Court initially remanded Umar Khalid to ten days custody after Delhi Police stated that they needed time to confront Khalid with 1.1 million pages of data. Khalid was then presented before the Additional Sessions Judge Amitabh Rawat through video conferencing. In the hearing, Khalid was sent to judicial custody until 22 October 2020. His lawyer Trideep Pais asked the Court to pass an order to provide Khalid with security inside the jail since there was a threat that he might be attacked. Pais also requested the Court to direct the jail authorities to allow him to carry spectacles inside the jail.
In a separate hearing on 5 October 2020, the Metropolitan Magistrate of a Delhi Court sent Umar Khalid to 14 days of judicial custody. Khalid was produced in Court after his police custody expired, in a case related to the Khajuri Khas incidents in February 2020. The judge also directed the Jail Superintendent to provide him adequate security in prison and to permit him to talk to friends and family as per the Jail Manual. Umar Khalid is currently in Judicial custody in Tihar.
Update 22 October 2020: During a hearing in Karkardooma Court, Khalid complained in front of the Additional Sessions Judge Amitabh Rawat that he was not allowed to move out of his cell, and his custody in Tihar Jail seemed like "solitary confinement." The judge ordered the Jail Superintendent to appear the following day while noting that "If an undertrial expresses a grievance, then you don't punish him."
Place of work: New Delhi
A transcript of the speech recorded by Umar Khalid before his arrest on 14 September 2020
The following is a transcription of a message that Umar Khalid recorded anticipating his arrest. The video was released by activists and journalists at a press conference in Delhi on 16 September 2020.
If you're watching this video, then it means that I have been arrested. Through this video, I want to give you a message. For the daily riots, the actions of Delhi Police are not directed towards catching the perpetrators of the riots. The people who openly incited violence, who did so in the presence of the police itself, did it in front of the cameras and the television, they are not being targeted. We all saw that let alone file an FIR, the Delhi Police did not even bring them in for questioning. On the other hand, the people who are critics of the current government, the people who are criticizing the policies of the government, and especially the people who opposed the CAA and the NRC, those people are being implicated in false cases although the police have no proof. Many young students and scholars are being jailed by the police. In the last few months, they've been trying to arrest me as well.
Excerpts of my speeches are being circulated in the media. I had delivered a speech of 17 minutes from which clips of 30 – 40 seconds were being spread by the media to claim that I conspired to incite violence in February, asking people to come out on the streets of Delhi. Then, when I uploaded the whole 17 minutes of the speech in which it became clear that far from talking about violence, I was talking about Satyagrah (struggle for the truth), about ahimsa (non-violence) and about the message of Gandhi, they now are finding new excuses to brand me as somebody who wants to instigate violence. They are coercing people into giving false statements against me. They are trying to jail anyone who is a critic of the current government, of the current policies and the laws that have been proposed.
What is my fault? Is my fault that I say that this country is as much mine as it is yours? Or that I say that our country, which has people from so many different religions who speak so many different languages hailing from so many different communities, are all equal before the eyes of the law today? Efforts are being made to change that feeling of equality. Today, the executive is trying to divide us and anyone who dares to speak against this politics of division: they are intimidated, they are cornered, and they are jailed in order to curb their voice. They are trying to scare us, but as a consequence, they are also trying to scare you. They are silencing us and putting us behind bars of jails, but they are also putting you behind bars of fear and falsehood.
I only want to make one appeal before I conclude. Don't be afraid. Speak up against injustice. Ask for the release of those who are being implicated in false cases. Raise your voice against every kind of tyranny. Thank you.
This essay has been updated with corrections