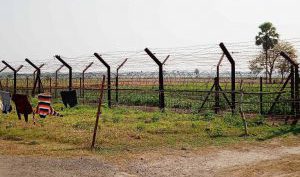 No man's land is no woman's land either: The fraught relationship between residents and the Border Security Force at the Indo-Bangladesh Border
Fieldnotes is The Polis Project's series based on diverse stories unfolding on the ground that academics, journalistic, writers, and artists traverse during their fieldwork.
11 February 2021
Sukanya Roy is a freelance journalist based in New Delhi. She has previously written for Maktoob Media and TwoCircles.net on atrocity cases against Dalit, Tribal and Muslim communities across India, including a two-part reportage on human rights violations by the BSF at the Indo-Bangladesh border. She tweets at _aynakus_
With a combination of direct testimonies and field observations, in this in-depth reportage Sukanya Roy looks at the challenges and abuses at the hands of the Border Security Forces that characterize the lives of those who live on the blurry border between India and Bangladesh.
The 4,095-kilometer-long border between India and Bangladesh is heavily militarized with 1,011 outposts of 82 battalions of India's Border Security Force (BSF – Ministry of Home Affairs Annual Report 2018-19) dotting it. One of these outposts, where a BSF officer stands guard with an AK-47, is situated in the middle of overgrown fields next to Bithika Sarkar's joint-family home in West Bengal's Kaliyani village in the North 24 Parganas. The family's fields line a distributary of the Ichamoti river, across which more fields are splayed. Amidst those, two watchtowers stand a few meters away from each other – one belonging to the BSF and one to the Border Guard Bangladesh (BGB) – vowing to overshadow the tall palm tree between them. The tree marks the beginning of Bangladeshi territory, in which the BGB tower is situated. The international border between India and Bangladesh (formerly East Pakistan), drawn as a result of the 1947 Partition, is demarcated by barbed wire and concertina fencing in some places, but it is an imagined line bearing no clear signage in others. It passes through water bodies, fields and sometimes through people's houses as well. Bithika Sarkar's house is one of them: it will end up having its bedroom in India and toilet in Bangladesh if the BSF carry out their proposed plan of extending the Indo-Bangladesh Border Road (IBBR) through the property. The BSF say the extension will make patrolling more convenient. The Sarkar family highlighted their problem before the Gram Panchayat and asked that the road be built outside their house. Senior Panchayat members conveyed this concern to the BSF, but so far, discussions between them have proven unfruitful.
"Should we have to pass through the fencing and obtain permission from an armed officer if we want to use our own toilet?" Sarkar asks. "If they are so opposed to heed to our request, let them at least give us adequate compensation and we will move away. But they don't make mention of that either. We are trapped here," she exclaims.
Bithika Sarkar (far right) stands in the courtyard of her house that is soon to be divided between India and Bangladesh and listens to the men discussing the future.
The IBBR may be a border road, but it is not the actual border between India and Bangladesh as it lays on Indian land. On the other side of the IBBR's barbed-wire fencing, towards Bangladesh, farm lands of several Indian villagers are stranded. Bangladeshi fields lie next to Indian fields with no clear demarcation between the two. Indian agricultural laborers are required to deposit their ID proof every morning to the BSF officers guarding the gates as they go to work on Indian fields. "We are not permitted to take tractors or cattle for ploughing to the fields on the other side. Sometimes, they don't even open the gates at the stipulated times. We suffer a lot of losses due to this," says Asgar Ali, a daily wage laborer. The BSF have often branded Indian laborers working on Indian lands past the fencing as "smugglers" and "trespassers" and subjected them to physical and verbal abuse.
The IBBR, flanked by barbed wire, has a number of gates to regulate the movement of Indian citizens to their lands and out of their houses.The 1947 Partition is in no way a finished event – even today, lands and community spaces of people living along the border are continuously threatened by smaller partitions facilitated by the BSF. Citing reasons of security and stricter patrolling to apprehend cattle-smugglers and trespassers crossing over from one country to another, the BSF erected check-posts in the middle of Indian villages. Parts of these Indian villages have therefore fallen into Bangladesh as the fences that mark the end of India have been erected inside Indian land and not at the actual border.
The Indian-document holders who reside in these villages feel betrayed by this arrangement and the BSF's policing. Mostafa Sardar lives in Hakimpur, an Indian village which is now in Bangladeshi territory after the BSF erected a check-post nearby. He told me: "During Partition, our forefathers demanded that Hakimpur be a part of India. This bazaar is over 200 years old, but it is no longer in India. The check-post has pushed our houses into Bangladesh. Although I have my Aadhar and PAN card, I am a lesser Indian in the eyes of the BSF."
Sardar alleges that the construction of the check-post had a detrimental impact on the villagers' lives and livelihoods: "Our businesses run at a loss because the BSF does not allow us to get necessary goods through the check-post. Medicines can only be brought in once a week, but it cannot be worth more than Rs. 5,000. If an emergency medicine runs out, things have to be left to Fate."
The IBBR, flanked by barbed wire, has a number of gates to regulate the movement of Indian citizens to their lands and out of their houses.
A man in his fifties stands by Mostafa's side and asks me to be identified as an artist. "It hurts my dignity [to show my ID card to the BSF at check-posts]," he says. "Why should I have to show my ID every time I go back to my own house, to my own country? What I am is much more than my Aadhar card. We deserve neither this perpetual suspicion nor the nasty insults the BSF hurl at us while crossing the check-post."
The restrictions imposed on the transport of commercial goods and medicines also extend to household essentials, livestock bought for rearing and crops taller than three meters, which may not be farmed near the border. These BSF regulations have developed as off-shoots of Central Government orders to prevent smuggling of cattle and Phensydl, a recreational drug prevalent in these areas. However, in the name of policing, the same restrictions have gone on to harrow the lives of locals by curbing their rights to livelihood and movement and producing in them feelings of alienation and frustration.
Mohar Mondal, a resident of Cooch Behar district, and the District Human Rights Monitor of Banglar Manabadhikar Suraksha Mancha (MASUM) – a human rights forum investigating custodial killings, torture, rape and other crimes committed by the BSF – elaborates on the smuggling nexus: "I have no hesitation in disclosing that local political leaders, in alliance with the BSF, are unofficial kingpins of the cattle-smuggling racket in border areas." Recently BSF commandant Satish Kumar was arrested in connection with a cattle smuggling racket along the Indo-Bangladesh border.
A report prepared by the Parliamentary Standing Committee on Home Affairs in 2017, Border Security: Capacity Building and Institutions, noted that "Police forces of various States have failed to stop this mass movement of cattle to border states and West Bengal Police has failed to intercept or stop the movement of the cattle. The Committee feels that there is a wide and deeply entrenched nexus due to which this menace has proliferated and the Government needs to strike at the roots of this nexus if it has to completely curb this problem."
Aparna Mondal, a resident of Amudia village enclosed by the IBBR fencing, testifies regarding rampant cattle-smuggling activities: "The road leading to the gate in the fencing passes through our courtyard. At midnight we hear the sound of cattle walking in hordes and the voices of people talking in Hindi. It doesn't take long to put two and two together. We dare not open our doors and windows because the BSF have brutally beaten up people who were witness to the smuggling." Mondal deems it hypocritical that undue restrictions have been imposed on common people like her. Unlike the BSF themselves, they have little to do with smuggling rackets and are concerned instead about survival, she says.
Schedule-A lists household items that BSF can confiscate if smuggled or transported across the border between 6 pm and 6 am.
On the way back from the market, Mondal has to cross the barbed-wire fencing to reach her house, which is effectively in Bangladeshi territory. "A packet of salt or a bottle of Phensydl are the same to the BSF. We are made to seek permission to get sarees, footwear, bulbs and utensils from the market and even then, these items are not allowed. Once, an officer threw away some tablets and ointments I had bought for my severe back pain," she complains. "We are also stopped from carrying baby food and sanitary napkins. When we go to the Anganwadi center [a program under the Integrated Child Development Scheme] to get hot, cooked meals, they stir them with a dirty stick, which they also use to frisk people and vehicles at check-posts. How can we feed this filth to our children?"
She further alleges that the BSF denied her family permission to buy livestock from the market. "Jute cropping is not allowed because they say it attracts cows, so they burn jute fields. They destroyed a jute plot next to a pond where my husband used to fish and threatened us with a false smuggling case if we complained," Mondal says. "We were so scared that we stayed away from home for six months."
A paddy field lying submerged after the Ichamoti river flooded. Locals incur losses due to natural events as well as the ban on jute farming imposed by the BSF.
The BSF routinely charge residents of border villages and human rights activists with false smuggling cases. "This is the favored tactic of the BSF to avoid facing the legal repercussions of their own excesses such as verbally abusing, intimidating, or even physically torturing, shooting or maiming the local populace," Mohar Mondal says. He cites the example of a fellow activist and Anganwadi worker from Daharkanda Village, Taslima Begum, who continues to be imprisoned on false charges.
"Taslima Begum has always been vocal against the injustices [perpetrated] by the BSF, especially in her own village. She was herself assaulted by the BSF, and even then the local Police refused to register her complaint. They needed to curb her voice, and finally managed," he states. Taslima Begum was passing through a check-post, along with her daughter, Farida Khatun, when the Company Commander instructed the BSF officers present to detain both of them. They alleged that a man from their village was caught smuggling silver through the same check post earlier that day and wanted to question them in connection to the crime. When they reached the BSF camp along with the officers, the BSF gathered fifty bottles of Phensedyl previously confiscated from other people, said they were found in Begum's possession and filed a First Information Report (FIR) against the two women. Even though her daughter was not imprisoned, the false smuggling charge was "enough to lock up even a determined activist like Taslima," Mondal says.
A copy of the FIR against Taslima Begum and her daughter filed by officers of the Bithari Border Outpost, charging her of smuggling Phensydl and a pickaxe (Obtained courtesy of MASUM).
Nasreen Bibi*, a resident of Bagda, an Indian village now in Bangladesh due to BSF fencing, says with caution: "I have been framed in a false case myself." A wedding took place in her neighborhood, for which Nasreen bought some packets of henna paste from the market beyond the check-post. "When we were crossing the post, the BSF confiscated the henna packets and filed cases against me and the auto rickshaw driver [who was driving me]. The officer said we were smuggling Phensedyl and put me in jail," she says. Nasreen's family was able to put together bail money only recently. She adds: "My daughter kept crying looking for her mother the whole time I was in jail. This experience totally broke me."
MASUM's 2020 Annual Report found that in the previous year 98 women, 90 men and 67 minors have suffered extra-judicial killings, custodial torture, sexual assault, rape, molestation, verbal harassment, intimidation and livelihood obstruction at the hands of the BSF in West Bengal. 86% of the victims belong to the minority Muslim community while 7% are from Hindu Scheduled Caste backgrounds. The Report notes that military repression disproportionately targets women and minorities, who are already affected by socio-economic bias and marginalization.
A BSF officer patrols the road leading up to a check-post where civilians are frisked, and their belongings checked and often confiscated.
In 2011, the cold-blooded killing of 15-year old Felani Khatun by the BSF gained considerable media attention. Khatun was a Bangladeshi citizen who was trying to cross over illegally from India to Bangladesh, where she was working as domestic help. A BSF officer stationed nearby shot her and left her body hanging from the IBBR fencing till she died several hours later for lack of medical attention. Kirity Roy, Secretary of MASUM, tells me about another shooting. "The case of Ashia Bibi is despondent," he says. "But more so is the National Human Rights Commission's (NHRC) treatment of it." Ashia Bibi, a resident of Murshidabad, had gone to the fields outside her house at around 4 am to relieve herself when she was shot dead by the BSF. The BSF maintain that they shot at some suspected smugglers nearby and Ashia Bibi was caught in the crossfire. "We have observed in the past that the BSF always say they fired in defense against cattle-smugglers to deflect responsibility. That is a bogus claim. In Ashia Bibi's case, the NHRC requested all charges to be dropped against the concerned BSF personnel and advised to close the case," he says.
Talking about Felani Khatun and Ashia Bibi's shootings, Roy points out that the Standard Operating Procedure (SOP) of the BSF along the India-Pakistan border entails a controversial "shoot-on-sight" policy with regards to suspected trespassers. "Since Bangladesh was once East Pakistan, civilians along the Indo-Bangladesh border continue, even now, to lose their lives due to this shoot-on-sight policy," he says.
In 2015, Arup Tikadar was shot dead by two BSF jawans of the 144 th Battalion. He was a mere courier in a small-scale cattle smuggling plan when he was arrested and subsequently killed in custody. His family is from a Scheduled Caste community, illiterate and officially Below Poverty Line. Malati Tikadar, his mother, tells me: "Arup was my middle child. The BSF broke my elder son's hands so he can't work anymore. All this has left me no choice but to endlessly worry for my younger son."
A certificate given to Arup Tikadar's family by the Basirhat Police Morgue after his death (Obtained courtesy of MASUM).
A certificate given to Arup Tikadar's family by the Basirhat Police Morgue after his death (Obtained courtesy of MASUM).
A 2010 report by Human Rights Watch (HRW), Trigger Happy: Excessive Use of Force by Indian Troops at the Bangladesh Border, quotes a former BSF official disclosing that "orders were handed down to shoot at suspected smugglers at the Bangladesh border. […] However, he agreed that those orders, instead of serving as deterrence [to cattle-smuggling and rustling], are now causing deaths." The report also notes that these orders directly contravene Section 46(3) of India's Code of Criminal Procedure, which forbids the use of lethal force on any individual not convicted of an offence punishable by death or a life-term. The report states in clear terms that "BSF members violate domestic and international laws when killing Indian and Bangladeshi nationals."
Along with explicit acts of violence such as shooting or beating, women and children additionally suffer rape, molestation and verbal abuse at the hands of BSF personnel. I met Trisha and Asha, two transwomen from Basirhat on their way to a border village. Asha says: "By the grace of God, we had enough food to sustain ourselves in the [COVID-19] lockdown. But we didn't have money for much more than that." In order to reach the village where they work, they must cross a BSF check-post. Trisha reveals that she used to dread encountering the male BSF officers at the check-post. "They verbally harass us, do not shy away from saying the most indecent things. But we have to travel for work, so we need to develop a thick skin," she says. People refer to them as mashis (aunts) and their livelihood entails singing and dancing at marriages and blessing new-born babies. Sharing the plight of expectant mothers living on the other side of the barbed-wire fencing, Trisha says: "The nearest hospital with delivery wards is usually 10-15 kilometers away, in India. When a woman goes into labor at night, prior permission from the BSF camp is required to travel to the hospital." Sometimes, even with prior permission, the officers may refuse to open the gates along the fencing. Trisha states that this has caused women suffer from a number of health complications post-childbirth.
Trisha and Asha pose for a quick photo, wary of getting late for their first work opportunity since the COVID-19 lockdown was imposed.
MASUM has set up a medical camp in Swarupnagar, North 24 Parganas. Victims of BSF torture and abuse have travelled miles to reach it to consult a doctor and avail free medical care. When I visited the camp, a number of women and children with accompanying family members were gathered waiting for their turn to be checked.
Momina Bibi recounts her grueling experience of molestation at the hands of the BSF. "It was a summer night and my husband and I were sleeping next to the open window. There is a BSF post right next to our front door. At around 2 am, I woke in terror and realized that two BSF men were grabbing my chest and stomach through the window. When I realized what was happening, I screamed and fainted." The officers beat her husband when he protested and threatened to injure their son. No concrete action has yet been taken on her FIR against the two BSF officers. Additionally, the complaint regarding the case that MASUM registered to the NHRC still awaits resolution. "Their names were Misra and Harpal, I saw their badges when they used to patrol outside our house," she says. "I can't sleep in peace since that incident. I constantly feel like I need to be on the look-out even in my own house. Look," she says, holding up a comprehensive prescription, "these are the medicines I need to take for my heart." A woman from the side chips in: "Female officers are rarely present at check-posts, male BSF do our 'checking.' They jab us indecently with their sticks and ask us to lift or loosen our clothes. We don't like to endure this humiliation on a daily basis."
Salima Begum recounts an incident that took place with the wife of one of her newly-wed neighbors. "A BSF officer used to stalk the woman regularly. He would follow her around whenever she stepped out of her house. She didn't say anything to anyone out of fear. One early morning, while she was working in the kitchen, she heard a sound at the window. She turned and found the same officer staring at her, just staring without batting an eyelid. He stood there for a long time while the poor girl was paralyzed out of fear. When her husband woke up, he called out to her and got no response. He discovered that she had fainted on the kitchen floor." The women gathered at the camp concur that such forms of harassment by the BSF – whether at a check-post, along the roads or in their own houses – make it extremely difficult to get their children married off to families in India or receive a bride or groom from there. "When we tell other families that we come from border villages, they refuse our marriage proposal. No one wants to marry their children off into these parts. They say that they would hate to get checked and be watched by the BSF when they come to visit. We feel so ashamed," a woman adds.
Women wait at the MASUM medical camp. Through mutual help, they have managed to build a reliable support system.
Even if young women and men from border areas manage to get married, having a child burdens them with worries. Incidents of child abuse by the BSF are rampant. Sona Sardar* was 8 when she came to know of a dhut (trespasser). She, along with other local children, went to the BSF camp out of curiosity. "The dhut was asking to get her a PAN card from so-and-so house," recalls Sona, who is now 14. "I volunteered to do it, but I was sent away. After some time, the BSF came to my house…" as she looks distraught, the woman sitting beside her continues: "An officer stormed into their house, lifted her on his shoulders and forcibly took her to the camp on a motorcycle." When nudged back into focus, Sona adds quietly: "They kept me in the camp for five hours, didn't give me water when I asked and threatened to give me current [electric shocks]." Sona has developed acute anxiety and has trouble breathing for which she needs medication. "I wake up in the middle of the night shouting Police! Police!," she says. She has come to the medical camp to renew her prescription. The older women at the camp inform me that the case against the abusing officer, who obtained an immediate transfer after the incident, is still being dealt with at the Juvenile Court. The BSF have in turn filed a false smuggling case against Sona's mother, with whom she lives.
Salim Khatun*, 16, was brutally beaten up by the BSF at his friend's house. "We were laughing and shouting instructions to each other while playing an online game. His house is very close to a BSF post, so two officers barged in and beat us up. My ear wouldn't stop bleeding and my chest pains even now." Salim's father works as a mason in Kolkata, staying away from home most of the time. His mother, Khadija, makes a meagre living rolling bidis. She says: "Being a woman, I cannot stand up to the BSF alone. If they torture my children, I am physically and emotionally helpless." Khadija mentions another case in her village, where the BSF beat up a 3-year old boy in front of his mother and additionally pressed false charges against her to prevent her from registering the offence. "Her husband too works in Kolkata because we cannot make a half- decent income here. It is hard for us womenfolk who stay back. Not having a man in the family leaves us really vulnerable and at the mercy of the BSF," she asserts.
While BSF officers are supposed to deter all kinds of criminal activity through their practice, there seem to be gaping legal and administrative loopholes that fail to deter their own crimes. This lack of accountability provides them with official sanction to perpetrate violence and dispossession on the border populations. Section 197(2) of the Code of Criminal Procedure states explicitly that "No Court shall take cognizance of any offence alleged to have been committed by any member of the Armed Forces of the Union while acting or purporting to act in the discharge of his official duty, except with the previous sanction of the Central Government." Kirity Roy says: "In my decades-long experience, every Central Government since 1965, when the BSF was constituted, has denied sanction to investigate alleged human rights violations by the BSF." The 2010 HRW report found that "there are no publicly known cases in which a BSF member was convicted of a crime for a human rights abuse at the Indo-Bangladesh border." While the BSF claim that they have Internal Courts, which are separate from civilian courts, to try cases of abuse by their own officers, the proceedings and rulings of these Courts have always remained hidden from public view and evaded public accountability.
The predicament of Kalidasi Pramanik, mother to the late Prasenjit Pramanik, shows how military laws themselves give rise to a deep lawlessness, in whose cross-hairs ordinary civilians find themselves trapped. Sitting in the sunlit front room of her two-room house in Bajghata, she tells me: "My elder son works as a laborer in Kolkata. My younger son, Prasenjit, used to work in the fields and I did some sewing work. On 31 August…" she repeats the date over and over and then continues: "the unthinkable happened."
Prasenjit Pramanik had gone to visit his heavily-pregnant wife in her native village, in Indian territory but on the other side of the BSF fencing. He was fishing in a pond that is half in Indian and half in Bangladeshi territory when the Border Guards of Bangladesh started interrogating him. On mentioning the name of his village, Bajghata, they took him to their camp. In the middle of the night, the BGB brought him back to the outskirts of Bajghata, shot him dead and left his body behind.
Kalidasi Pramanik explains the petty revenge plot hatched by the BGB against the BSF, which took her son's life. "Three months before the incident, the BSF Company in our village shot a Bangladeshi man. The moment the Bangladeshi Guards got to know my son was from Bajghata, they decided to take revenge on the innocent boy," she says. The next morning, unbeknownst to Kalidasi Pramanik, Police cars carried her son's body right past her house to the morgue. She points towards a palm tree at the bend of the road and says that the jeep even stopped to fix its tire there. "If only I had known that…" she laments. The local Police have refused to share her son's post-mortem report in spite of being repeatedly approached, Pramanik complains to Mohar Mondal. He takes an attentive note.
Pramanik holds her son's ID proof to show a picture of him.
Mohit Ranadip is a psychiatric social worker who has worked with MASUM on several occasions, counselling and treating people from border villages who suffer from psychological distress. "We have counselled people who were raped, detained, tortured, molested and verbally insulted by the BSF," he tells me over the phone. "That traumatic day never really passes for the victims, they relive it, deal with it in their head for the rest of their lives."
Ranadip explains that cases of sexual harassment, including rape and molestation of women, are common. "Sometimes a BSF jawan has a relationship with a local woman and gets her pregnant. Soon, he is transferred to another post, leaving the expectant mother and her family vulnerable," he says. The women report feeling abandoned and distraught, which lead them into depression.
Post-Traumatic Stress Disorder (PTSD) severely affects sufferers of BSF-wrought trauma. Women and children complain of stressful flashbacks, some of them are also disproportionately triggered upon seeing the BSF uniform, Ranadip says. "Let's assume a traumatic event happened at a check-post. The victim tries everything to avoid going to that place, but since they have no other way but to pass through it, they suffer a panic attack. This renders them unable to work, travel or step outside their house," he observes.
Another prevalent affliction, especially amongst women, is Obsessive Compulsive Disorder (OCD). Ranadip points out a connection shared by traumatized women over generations: "We pick up ways in which we manifest our anxiety largely from our parents. A lot of women with OCD are excessively concerned with matters of personal hygiene and 'cleanliness.' This may be because they have started to see themselves as 'impure,' after a particular incident of violence. Or have picked this up from other female members of their family, who have suffered sexual harassment." He adds that a majority of female OCD sufferers are Hindus, as their self-image is further troubled by casteist cultural binaries of "purity-pollution," which affirm honor and status in Hindu society.
"I encourage children and women to talk to their parents and friends, to people they trust. They often express hidden realities through writing poems or drawing or just jotting down their feelings," says Ranadip. Humor is another good way to de-stress, he believes.
At Bithika Sarkar's "disputed" house, other women in her family express concern for young girls growing up so close to the one-man BSF post. They are apprehensive that the officer's surveilling gaze might trouble the young ones as it troubles them. A woman in her late fifties tells me: "When they see a pretty young woman, say about your age, they won't bat an eyelid. It's as if they want to swallow her whole."
Her revelation sends hushed waves through the women in the courtyard; they wonder if I might perceive her statement as risqué and expect my reaction. I disclose that during a conversation earlier that day with a BSF officer, I had been subjected to his constant unsavory gaze. Together, the women break into a hearty laughter, a welcoming acknowledgment of my fragmentary encounter with their uncomfortable, perpetual reality.
* Names have been changed in two cases – if the concerned individual is a minor and if people
asked for their identity to be kept hidden.