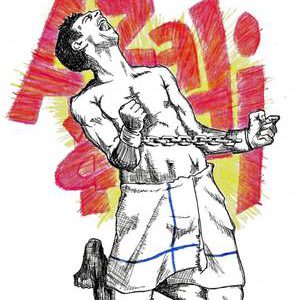 Political cartoons and activism to question the skewed relations between power and justice: A profile of Arun Ferreira
In collaboration with maraa, The Polis Project launched Profiles of Dissent — a new series centered on remarkable voices of dissent and courage in India and their personal and political histories, as a way to reclaim our public spaces. These are prominent writers, poets, activists, and human rights defenders who have been in prison, held under the Unlawful Activities (Prevention) Act. The profile features Arun Ferreira, an activist and political cartoonist who has been arrested in connection to the violence in Bhima Koregaon.
"At no time have governments been moralists. They never imprisoned people and executed them for having done something. They imprisoned and executed them to keep them from doing something. They imprisoned all those prisoners of war, of course, not for treason to the motherland…They imprisoned all of them to keep them from telling their fellow villagers about Europe. What the eye doesn't see, the heart doesn't grieve for."
― Aleksandr Solzhenitsyn, The Gulag Archipelago, 1918-1956
'Political Prisoner' is a category of criminal offense that sits most egregiously in any civilized society, especially ​in ​countries that call themselves liberal democracies. It is a thought crime: the crime of thinking, acting, speaking, probing, reporting, questioning, demanding rights, and, more importantly, exercising one's citizenship. But these inhumane incarcerations do not just target private acts of courage, they are bound together with the fundamental questions of citizenship, and with people's capacity to hold the State accountable. Especially States that are unilaterally and fundamentally remaking their relationship with their people. The assault on the fundamental rights has been consistent and ongoing at a global level and rights-bearing citizens are transformed into consuming subjects of a surveillance State.
In this transforming landscape, dissent is sedition, and resistance is treason.
While the Indian State has a long history of ruthlessly crushing dissent, a new wave of arrests began in 2018. Eleven prominent writers, poets, activists, and human rights defenders have been in prison, held under the Unlawful Activities (Prevention) Act. They are accused of being members of a banned Maoist organization, plotting to kill Prime Minister Narendra Modi, and inciting violent protests in Bhima Koregaon. To date, no credible evidence has been produced by the investigating agency, and those accused remain incarcerated without bail. Since the anti-Citizenship Amendment Act protest began in December 2019, students, activists, and peaceful protesters have been charged with sedition, targeted with violence, and subjected to arrests. Since then, more arrests have followed specifically targeting local Muslim students leader and protestors, including twenty-seven-year-old student leader Safoora Zargar, who is currently pregnant.
Since the COVID-19 lockdown was announced, India's leading public intellectuals, opposition leaders, writers, thinkers, activists, and scholars have written various appeals to the Narendra Modi government for the release of India's political prisoners. They are vulnerable to COVID-19 contagion in the country's overcrowded jails, where three coronavirus-related deaths have already been reported. In response, the State has doubled down and rejected all the bail applications. It also shifted the seventy-year-old journalist Gautham Navlakha from Delhi's Tihar Jail to Taloja, without any notice or due process – Taloja is one of the prisons where a convict has already died of COVID-19.
A fearful, weak State silences the voice of dissent. Once it has established repression as a response to critique, it has only one way to go: become a regime of authoritarian terror, where it is the source of dread and fear to its citizens.
How do we live, survive, and respond to this moment?
In collaboration with maraa, The Polis Project is launching Profiles of Dissent. This new series centers on remarkable voices of dissent and courage, and their personal and political histories, as a way to reclaim our public spaces.
Profiles of Dissent is a way to question and critique the State that has used legal means to crush dissent illegally. It also intends to ground the idea that, despite the repression, voices of resistance continue to emerge every day.
You can read Varavara Rao's profile here, the profile of Sudha Bharadwaj here, that of GN Saibaba here, Gautham Navlakha's profile here, Anand Teltumbde here, Sharjeel Usmani here, Shoma Sen here, Surendra Gadling here, Asif Iqbal Tanha here, Rona Wilson here, Sudhir Dhawale here and Sharjeel Imam here.
ARUN FERREIRA
Arun Ferreira graduated from St. Xavier's College, Mumbai, and has been an activist since his student days. Ferreira is also a cartoonist whose drawings on social and political issues have appeared in various publications, as well as in student and worker magazines. He is also a member of People's Union for Democratic Rights (PUDR). He was arrested in 2007, on charges of being a Naxal operative. After his release in 2014, he began pursuing a degree in law, and researching the history of the democratic rights movement in Mumbai. He wrote a book about his experience of prison titled "Colors of the Cage". He was one part of a team of lawyers providing counsel to five activists/teachers arrested in June 2018, on account of alleged Maoist activity. He was arrested in August 2018 on similar charges.
Date of arrest: 28 August 2018
Charges: Arun Ferreira has been arrested twice. In May 2007, he was arrested in Nagpur on charges of being a Naxalite. The police claimed that he along with a senior Naxal leader, Ashok Satya Reddy alias Murali, was planning to blow up the historical Deekshabhoomi complex (where Babasaheb Ambedkar embraced Buddhism in 1956). He had ten cases slapped against him under the UAPA, In September 2011, Ferreira was acquitted of all charges by a Nagpur court, but was re-arrested by plainclothes policemen and charged with an alleged crime that occurred when he was locked up in jail. The alleged crime was a police-Naxalite encounter, near Jafargarh in Gadchiroli. The case against him was registered three days before the police recorded statements by witnesses, a violation of basic criminal court procedures. He finally received bail in 2012, and was acquitted in 2014.
In August 2018, alongside Sudha Bharadwaj, Vernon Gonsalves, Varavara Rao, and Gautam Navlakha, Arun Ferreira's house was raided and he was arrested once again. The FIR on the basis of which the arrests made were based on an accusation of being a Maoist, his alleged connections to Elgaar Parishad and its alleged role in inciting violence in Bhima Koregaon. The arrests were made based on sections of 153A (commits any act which is prejudicial to the maintenance of harmony between different religious, racial, language or regional groups or castes or communities and which disturbs the public tranquility), 120B (criminal conspiracy to commit an offence), 117 (abetting commission of offence by the public or by more than ten persons) and 34 (common intention) of the IPC. They were also charged under relevant sections of the UAPA.
Update: After his arrest, Arun Ferreira was placed under house arrest as per Supreme Court orders for four weeks. He was then arrested on 26 October 2018 as his bail plea was rejected. The police are yet to file a chargesheet against him as of 23 November, requesting an extension of another ninety days. At the 6 November hearing, Ferreira revealed that he was physically abused while being interrogated. He said he was "hit" on his face "eight to ten times" by Assistant Commissioner of Police (ACP) Shivaji Pawar on 4 November during interrogation.
Location of work: Maharashtra
An excerpt from Colours of the Cage. A Prison Memoir.
I had my first brush with social activism as a student at Mumbai's St Xavier's College in the early 1990s. I'd organized camps to villages and welfare projects for the underprivileged. The religious riots of 1992- 93 really shook me up. Thousands of Muslims were displaced in their own city, and we helped run relief camps. The callousness of the state, which allowed the Shiv Sena to conduct its pogrom unimpeded, could not have been on better display. I soon joined the Vidyarthi Pragati Sanghatan, a student organization that aimed to build a democratic, egalitarian society. We organized many campaigns in rural areas to help the dispossessed assert their rights. In Nashik, tribals were organizing themselves against atrocities of the Forest Department. In Dabhol, villagers were resisting the Enron power project. In Umergaon, Gujarat, fisherfolk were protesting their imminent displacement by a gigantic port. Looking at these struggles up close made me aware that [offering] relief to the poor wasn't as important as helping them question the skewed relations of power and justice and organise themselves to claim their rights.
However, post 9/11, there was a change in the way peoples' movements came to be perceived. The so-called War Against Terror made security the prime motive of State policy. In India, special laws were promulgated to squash inconvenient truths. Organisations were banned, opinions were criminalised and social movements were branded 'terrorist'. Those of us who worked to organise tribals or the oppressed in rural areas were termed 'Maoist'.
In 2010, Prime Minister Manmohan Singh declared that Maoists were "India's greatest internal security threat". Some were 'encountered' or 'disappeared', while others were arrested. In places like Chhattisgarh, Jharkhand or Vidarbha in Maharashtra, all non-partisan political activity was branded as 'Maoism' and dealt with accordingly. In the months before my detention, many Dalit activists in Nagpur had been arrested on charges of radicalizing the Amberkarite movement by infusing it with the politics of Naxalism. All this meant that I wasn't entirely unprepared to be arrested myself. Despite having contemplated this hypothetical situation, I wasn't quite prepared to become a target of [State] excesses myself—to be arrested, tortured, implicated in false cases with fabricated evidence, and locked away in prison for several years.
At midnight, 11 hours after I had been detained, I was taken to a police station and informed that I had been arrested under the Unlawful Activities Prevention Act, 2004, which is applied to people the State believes are terrorists. I spent that night in a damp, dark cell in the police station. My bedding was a foul-smelling black blanket, its color barely concealing just how dirty it was. A hole in the ground served as a urinal and could be identified by paan stains around it, and its acrid stench. I was finally served a meal: dal, roti and a couple of abuses. Having to eat from a plastic bag with jaws sore from [the day's] blows wasn't easy. But after the horrors of the day, these tribulations were relatively insignificant and allowed me a brief moment to pull myself together. I managed to ignore the putrid bedding and humid air and doze off.
In the evening, I was made to squat on the floor with a black hood over my head as numerous officers posed behind me for press photographs. The next day, I would later learn, these images made the front pages of papers around the country. The press was told that I was the chief of communications and propaganda of an ultra-left wing of Naxalites.
ANATOMY OF TORTURE
The anda is where the most unruly prisoners are confined, as punishment for violating disciplinary rules. The other parts of Nagpur jail aren't quite so severe. But more than the brutal, claustrophobic aesthetic of the anda, it's the absence of human contact that chokes you. If you're in the anda, you spend 15 hours or more alone in your cell. The only people you see are the guards and occasionally the other inmates in your section. A few weeks in the anda can cause a breakdown. The horrors of the anda are well-known to prisoners in Nagpur jail, and they would rather face the severest of beatings than be banished to the anda.
Arre Bajirao ko Bulao, the inspector would call.
A narrow belt attached to a wooden handle would be brought in by a constable—an implement that police across Maharashtra fondly call, 'Bajirao'. It takes its name from Peshwa Baji Rao, a lieutenant of Shahu Maharaj, the ruler credited with greatly expanding the Maratha Empire. The bajirao belt was deployed carefully, only on the palms or soles of the feet. When whipped, the cluster of nerves at the heel pad causes enormous pain, but displays no external injuries, so I wouldn't have any proof, if I tried to complain to a magistrate. However doctors know that such foot whipping can cause permanent nerve damage. It reduces the elasticity of the heel pad causing agonizing aches, especially on cold nights, for years afterward. Such torture though invisible to the naked eye, leads to irreversible harm to the body. The varieties of physical pain inflicted produced different reactions. The pain of the piercing, hair pulling and the like would be sharp and intense, but the body tried to and even succeeded in quickly forgetting it. Not so the forced positions and stretches. They produced a pain so all-encompassing and lasting that the body, try as it may, couldn't get over it, and would fall into a slump. My mind however refused to submit. I could feel my anger building. "To hell with you, I'm going to keep quiet." I'd find myself saying. "I'm not co-operating." I began to realize the men assigned to torture me were not very motivated. They seemed to know I had nothing to tell them. They were only carrying out the orders of their seniors to somehow get me to give my nod to the fantastic story they had concocted. Instead of me breaking down, it was my torturers who cracked as they failed to meet the expectations of their superiors. He is getting frustrated and releasing his anger by hitting me, I would say to myself. I am the person who's winning and it won't be long before he gives up and just walks out. I just have to resist till that threshold point.
DAILY SCHEDULE OF AN INMATE
That's how the first year of life after my arrest proceeded: The police would implicate me in new cases, obtain custody to interrogate me, inflict terrible forms of torture on me, fail to extract a confession, return me to jail, only to implicate me in yet another case. It was only when the police finally filed chargesheets in these cases that I had a new routine, one that involved making weekly or sometimes daily trips to court to wait for these cases to be heard. I now had the luxury of contemplating the rhythms of prison life.
Morning brings a mad rush to the tank or haus, as the bathing tank is known. Four hundred prospective bathers laying claim to a 60 by 3-foot trough means a hurried bath even at the best of times. In summer, when the water being pumped out of the well is likely to run dry, the pace is bound to be frantic. Jail lore tells of the guy who's not fast enough and has to rinse off the soap by catching the drops dripping off his neighbor's body. The ones who don't learn to brush teeth, take a bath and rinse out their underwear in 10 minutes flat are destined to scrape the bottom of the haus. It wasn't easy for my body to adjust to the absurdity of having lunch just a half hour after breakfast. The early lunches, like so much else in prison, are the result of sheer callousness. Under- trials often spend the hours between 8.30 am and 6.30 pm on their way to court, in court, and being driven back, but the jail authorities have not seen it fit to provide them a packed lunch that can be had in the afternoon. But when you are one among many hundreds running after scarce resources, you normally end up giving up something—either your toilet or bath, breakfast or lunch.
Even the deepest sleepers sometimes have to surrender to other sounds of the prison night. With each inmate living through his own private nightmare, moans, groans and sobs from adjoining sleepers are frequent. The awakened neighbor usually slaps the offender into silence. But not all troubled souls are so easily subdued. There are those who pierce the night with shrieks and are given much rougher strong arm [treatment] before they are quietened. The screamer who actually needs psychiatric help gets not even sympathy. As the whole barrack is roused, the more vicious types join the watchmen in beating and kicking him.
Many believe this to be the only possible therapy to exorcise the devil who has taken possession of him. In a while, he is silenced and relative calm descends once more. But sleep is elusive, as [the quietened] prisoner strains silently to hide from his own demons. As seconds and minutes drag out, there is no clock to tell the time. Another hour is forfeited, never to be returned. In this closed world, my only window to the outside was provided by books and magazines. However, Maharashtra prisons do not have any funds to buy printed material, not even official government publications. The prison library is completely dependent on donations from individuals or voluntary organizations. The selections are completely arbitrary, consisting mainly of religious books. At first, most of the magazines I tried to subscribe to by post never reached my cell. The jailor would decide what books were fit for us. We were once denied a James Bond novel because of its cover was deemed obscene. Every now and then, they'd block a magazine to us because it contained the word 'Maoist' or 'revolution'. Even the Indian Constitution was withheld for being too bulky.
My first visitors were my parents and brother. Although my wife wanted to visit me, we decided that she should not do so because of police threats to arrest her too. At the first mulaakaat, my parents could only see me as a silhouette behind the wire mesh. They had only by voice to recognize me by. The wire mesh ensured that no reassuring hugs could be exchanged. As my detention stretched on, my family only managed to meet me every two months. We'd plan to meet when I was being produced in court, though the guards escorting me would occasionally refuse to grant us this luxury. Through my years in jail, my baby son never got to see me. He did not know that I was in prison. If he had come, he'd have to see a silhouette with fettered hands for a father. We felt that this would be too much for a two-year-old to understand.
This game of hide-and-seek between illusion and fact, between hope and despair, is the constant of almost any prisoner's existence. The trick to be mastered is to ensure that fact is not permitted to pierce illusion and despair not allowed to overcome hope. Once prisoners realize this, it isn't really that difficult to keep their balance.
RELEASE
In September 2011, the courts finally dismissed the last of the nine cases against me. Prison wisdom says that the first few months of jail life and the last ones are the most horrible.
As freedom neared, the days grew longer and nights sleepless. Court production dates also got reduced. All reading and writing became extremely burdensome. I started making plans for life beyond Lal Gate. On 27 September, I left prison. I could see my parents standing outside. As they watched, in the company of journalists and my lawyers, a posse of policemen in plain clothes bundled me away in an unmarked vehicle. The police charged me with two more Naxalite-related cases, and I was sent back to prison. I was crushed at the thought of having to [suffer] the same cycle of torture, bail applications and endless waits for trial dates all over again. But this time, thankfully, it was quicker. A vociferous public outcry and the skills of my lawyers worked in my favor. On 4 January 2012, I was released on bail in the last remaining case. After four years, eight months, I walked out of Lal Gate (the exit) a free man.