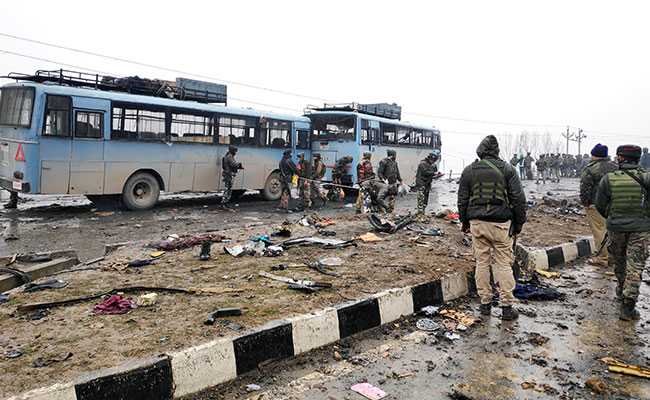 The danger of multiple stories: An assessment of the facts and reporting surrounding the Pulwama attack
Sources alone cannot constitute reporting. Yet most reports since the deadly Pulwama attack have relied heavily on such "sources," government statements, and conjecture without actually providing evidence of the facts. Many serious questions remain unanswered. But rather than investigate these and report on the serious crisis that has taken the two nuclear states to the brink of war, the Indian media has largely ascribed to itself the role of an amplifier of government propaganda.
"By oratory and the influence of the Press, public opinion is largely created by the State, and a tyrannous public opinion is as great an enemy to liberty as tyrannous laws… A free community requires not only legal freedom but a tolerant public opinion, an absence of that instinctive inquisition into our neighbours' affairs which, under the guise of upholding a high moral standard, enables good people to indulge unconsciously a disposition to cruelty and persecution. Thinking ill of others is not in itself a good reason for thinking well of ourselves. But so long as this is not recognized, and so long as the State can manufacture public opinion, except in the rare cases where it is revolutionary, public opinion must be reckoned as a definite part of the power of the State." — Bertrand Russell in "Why Men Fight" (1917) 
On 14 February, 20-year-old Adil Ahmad Dar, a resident of Gundibagh village in Indian-administered Kashmir, rammed a Maruti Eeco car laden with explosives into a bus of a 78-vehicle Central Reserve Police Force (CRPF) convoy at about 3:15 p.m. At least 40 CRPF soldiers were killed in the attack. The suicide bomber claimed to be affiliated with the Jaish-e-Mohammad (JeM), an organization led by Maulana Masood Azhar. What followed was speculation masquerading as facts—often coming from top sources—repeated diligently by the Indian media accompanied by a rallying call for war that resulted in the Indian Air Force's strikes on Jabba, a village near Balakot in Pakistan's Khyber-Pakhtunkhwa, on 26 February. This was followed by further escalation of hostilities by both nations on 27 February.
However, we need to step back and look at whether the reporting on the Pulwama attack itself could have been done in a more responsible fashion. The Indian media published and aired several biased and conflicting reports and on the basis of these reports, they talked tough about the necessity of stern action being taken against Pakistan and whipped up pro-war sentiments across the country resulting in the escalation on 26 February.
Our analysis of various Indian media news reports confirms the following:
There are multiple versions of events reported with respect to the Pulwama attack. The newspapers, for instance, could not even agree on Adil Ahmad Dar's age.
While reports regularly quote "government sources," "NIA officials" and "IB officials," these various institutions leaked conflicting information to reporters that often muddied the waters rather than bestow clarity. Also, the number of "intelligence officers" willing to disclose "classified" information speaks of a larger problem of how information from the state is conveyed and reported.
Sources alone cannot constitute reporting. Yet most reports since the deadly Pulwama attack have relied heavily on such "sources," government statements and conjecture without actually providing evidence of the facts.
Many serious questions remain unanswered and rather than investigate these, the Indian media has largely ascribed to itself the role of an amplifier of government propaganda rather than report on the serious crisis that has now taken the two nuclear states to the brink of war.
None of the news outlets reporting on the attacks have actually questioned the veracity of the official statements, sought independent sources, or investigated the various competing sets of facts.
Who is Adil Ahmad Dar? 
Adil Ahmad Dar, 20, was a resident of Gundibagh, Kakapora (about 10 km from Lethipora, the spot where the attack occurred), who claimed that he was a member of the Jaish-e-Mohammad in a video that was published soon after the Pulwama attack. Between 2016 and 2018 Adil Ahmad Dar was "picked up six times" by forces in Kashmir – twice for stone pelting and four times on suspicions of being an Over Ground Worker (OGW) for the Lashkar-e-Taiba, according to an anonymously quoted Pulwama police official in the Mumbai Mirror. Yet in these two years, he was never formally arrested or named in an FIR. Then Mumbai Mirror quoted an Intelligence Bureau official who stated that Omar Hafiz, a Jaish-e-Mohammad commander, "particularly looked for Kashmiri youths who had managed to avoid scrutiny of security agencies." This information directly contradicts what the Pulwama police official stated.
Another report in The Wire characterised Adil as a "C" grade terrorist along with this report in The Quint. However, both these reports and the handful of others that mention this information do not explain what a category or grade "C" militant is. In 2014, the authors of this piece conducted research in Kashmir where we interviewed an Intelligence Bureau official on counterinsurgency operations. The officer explained to us what the gradings of militants are. The interview was given under conditions of anonymity. In this piece published in The Hindu, Sirnate reproduced part of the conversation with the official. The official had stated, "We [IB agents] only provide information. We don't get awards… There is a grading of militants here. C grade, B grade, A grade. You kill a C-grade militant [the lowest rung, fresh trainees]. The reward is 20,000 to 50,000 [Indian rupees]. If he becomes popular, his grading goes up. Abu Qasim is A plus … J&K police have all information about many militants. But no one will shoot them. C grade is turned into A-plus grade and then they are killed. Killing a B-grade militant carries about 1,00,000 reward. A plus carries 5 lakh."
Adil's father, Ghulam Hassan, told reporters that Adil "never took part in protests marked by stone-pelting." However, he said his son was harassed by government forces in 2016 "which changed him." On 19 March last year, Adil disappeared and didn't come home. His parents state that they haven't seen him since. Some reports state that Adil disappeared along with two of his friends, Tauseef and Waseem. Another report cites that he disappeared with this cousin Sameer Ahmad from their homes. A family member speaking anonymously to Greater Kashmir said that "a few days later" the family "learned that the duo had signed up for the militant outfit Jaish-e-Muhammad." According to Greater Kashmir, two months after his disappearance Adil's father stated that "in May the government forces attempted to torch their house during the night." This information was not reported by any of the Indian newspapers.
Several questions can be raised here.
First, why was this information about Adil switching between the Lashkar and Jaish reported without any analytical context? What does this information shed light on? Second, assuming this information is true, why did Adil Ahmad Dar switch from the Lashkar to Jaish? In the Mumbai Mirror report mentioned earlier, the Intelligence Bureau official explained Adil's switch to Jaish by claiming that entry into Lashkar is difficult because they recruit only those who have a proven track record of violence while the Jaish has an "open door" policy. Then the Intelligence Bureau official speculated that the Lashkar did not have enough weapons and arsenal in the Valley while the Jaish did. The Mumbai Mirror report that profiles Adil relies mostly on these anonymous conversations with an Intelligence Bureau official and someone in the Pulwama police, two persons who seem to have spoken to no other news source.
According to a former researcher at the US State Department, this analysis of the resources of the Lashkar and Jaish is spurious. In the opinion of this researcher, who spoke to us on the condition of anonymity, the Lashkar is an older organization than the Jaish and focuses not only on Kashmir but also the larger South Asian region. There is also documented evidence on the Lashkar operating and conducting attacks in Afghanistan and it has alleged ties to the Indian Mujahideen. The Lashkar also regularly trains members of other networks and regularly collaborates with other groups. It is anything but resource-strapped. This information given to Mumbai Mirror by the Intelligence Bureau official, that the Lashkar is less resourced than the Jaish in Kashmir, is dubious but no effort was made by this particular publication to contact other sources to seek any corroboration of this piece of information. 
Similarly, the Lashkar's recruitment strategies involve twelve different channels of recruitment, "the most common forms of which include recruitment through a current Lashkar member (20 per cent), a family member (20 per cent), mosque or madrassa (17 per cent), LeT speech or literature (12 per cent), and friends (5 per cent). Since 2000 there has been a strong upward trend in recruitment via family members and by 2004 this channel contributed to over 40 per cent of LeT recruitment." This information was confirmed by our US State Department researcher who added, "A demand to prove capacity for violence is something we see in ISIS/ISIL recruitment strategies. More accurately it is how criminal gangs and drug networks recruit, not organisations like LeT. The IB official either doesn't know what he is talking about or providing information that can't be corroborated." 
Second, why was Dar picked up 6 times in two years? This pattern, through our research in the Valley, may point to strategies employed by local regiments to recruit youth as informers to specific regiments. Even if this analysis is wrong (and we admit this is only conjecture), Adil was definitely a person of interest for the security forces since the age of 17. Why did they not file any reports against him? If it is confirmed that he was an OGW for the Lashkar, or a "Grade C terrorist" helping people cross the border and helping the local youth join the Lashkar, and if the military and/or the IB knew about his links to the Lashkar, why was he "picked up" and let go six times?
Reporting on the Pulwama Attack: Conflicting Facts
The IG Police of Kashmir according to reports had already warned top zonal CRPF officials and mentioned the possibility of IED attacks in the Valley. This information was apparently conveyed to them on 6 February. The CRPF was told to sanitize the respective areas before the deployment of their resources. The Jaish had earlier released a statement that suggested they had plans to carry out a Taliban-style suicide attack in the Valley. The forces expected the attack around 26 January 2019. The Intelligence Bureau allegedly knew about the possibility of an attack after monitoring chatter from January 2019 about someone named "Shabir", who was to carry out a suicide attack. Alerts were sent out and "Shabir" was killed on 26 January. Adil then became the next suicide bomber, according to Mumbai Mirror. Why did the intelligence agencies and forces not remain on alert? According to OneIndia, at least four such warnings were issued by the Intelligence Bureau.
The Times of India reported that the CRPF convoy was "ambushed on the Srinagar-Jammu highway at Latoomode in Awantipora." The name of the village was later confirmed to be Lethpora or Lethipora. Latoo More is the name of the turning from which the bomber emerged, not the name of the village.
Initial reports claimed variously that the vehicle employed was some sort of SUV; Economic Times and NDTV stated that it was a Mahindra Scorpio. This matter was settled when on 25 February the car was determined to be a Maruti Eeco that had changed hands seven times till it reached its current owner, Sajjad Bhat, who purchased it ten days before the attack. Bhat went missing on the day of the attack and has resurfaced as a Jaish operative, currently believed to be on the run.
Early reports claimed an IED had been deployed in the Pulwama attacks. But soon the story settled on a vehicle either packed with RDX or containing an IED that used RDX. Used for the first time in the Second World War, RDX continues to be used by military establishments and non-state actors around the world. RDX has limited civilian use, being used only as a rat poison because of the toxicity of its chemical composition.
So we can agree on the fact that RDX was indeed used. However, how much was used became another point of misreporting. India Today claimed that there were 350 kg of explosives. FirstPost claimed that the car was laden with 300 kg of indeterminate explosives. Later this number was revised to 200 kg of RDX by other sources and then again revised down to 80 kg. The National Investigation Agency's inquiry into the matter has put the figure at about 25 kg sourced from the Pakistani army. However, Lt. Gen. (retd) DS Hooda suggested in an initial report that the RDX came from a construction site. Where or how a construction site in Jammu and Kashmir was allowed to have explosives was never explained. This report by Indian News Link, an Auckland-based news source targeted at the Indian diaspora, also added ammonium nitrate along with RDX (80 kg). Ammonium nitrate was also mentioned in this report by The Times of India. Then OneIndia reported, citing official sources, that Superego-90 was used along with the RDX and that it was a "shaped charge."
News 18 reported that the RDX for the Pulwama attack was brought to Kashmir in small quantities over several months, according to its sources. Yet, what remains a mystery is how such a large amount of RDX could have been smuggled into the Valley from Pakistan through the border, keeping the military, CRPF, BSF, police, and intelligence agencies entirely in the dark. 
While various news agencies continue to report "progress," what we know so far is very little. It rained soon after the attack, making it hard to secure evidence that might have washed away although some pictures do reveal that parts of the wreckage were covered with plastic sheets. Since the attack, Pakistan has denied any link to the attack. As of 26 February, NDTV reports that "officers of the state police who have been associated with the investigations into the current case say there is very little evidence."
Further, the NIA has claimed that the IED/explosive device/bomb had to be assembled within 6-7 km of the blast site. On what basis was this conclusion reached? Again, the IED expert cited in this report is not pressed for that information.
The Four "Masterminds" 
OneIndia, a news portal, stated in a report by Vicky Nanjappa that the NIA spokesperson believed that the RDX came in from Pakistan in small batches. A carrier for the said explosives was alleged to be Abdul Rasheed Ghazi. This is when the reporting of the Pulwama attack sank to new lows. First, Ghazi was alleged to be the mastermind of the attack by almost all sources. IB Times reported that he had infiltrated India on foot and by bus in December last year with explosives. How someone could carry explosives ranging from 25 to 300 kg across the Line of Control was never explained. He is also credited with being an IED expert specially sent in to avenge the killing of Maulana Masood Azhar's nephew. Then he was rumoured to have "narrowly escaped" an encounter a few days prior to the Pulwama attack. There was no specific date given for this "narrow escape."
Then it was reported by Money Control that Ghazi had been "gunned down." It also said his alias was "Kamran" which we state below is also alleged to be the alias used by Omar Hafiz. The Times of India agreed that his alias was Kamran. Then the same Money Control report said that he was "captured." If he was captured, then him being gunned down would have been an execution. So what really happened to Abdul Rasheed Ghazi? If he is really dead, what were the exact circumstances of his death?
To date, we have no evidence that corroborates the position that the RDX was smuggled in from Pakistan by Ghazi. The NIA has not made that claim. How were such movements possible given the highly militarised and surveilled nature of the Valley.  These conjectures have been repeated by reporters, often quoting intelligence officials anonymously, without pushing them for more information, corroborating facts or evidence. Speculations are not proof. Repeating speculations and conjectures has created an illusion of facts, without providing the fundamental clarity required to assess or understand what has actually transpired.
Then another mastermind emerged. This time it was again a man called "Kamran" aka Omar Hafiz, a Pakistani national, who did the "overall planning, and who, according to DailyHunt, was operating in Pulwama, Tral, and Avantipora. This was mentioned in a piece where Ghazi was designated as a "main conspirator." Mumbai Mirror also suggested that Hafiz and Kamran were the same person. But Times Now would have none of this and came up with their own theory of the mastermind. They published this piece which bore a headline stating that Muhammad Umair was the mastermind of the attack while the first paragraph contradicted the headline and said that the main mastermind was Maulana Masood Azhar himself and that Azhar was Umair's uncle. However, this piece did not reach the conclusion that Kamran was either Omar Hafiz or Ghazi.  Also, OneIndia concurred that Muhammad Umair was the mastermind. This information was given to the reporter by another "Intelligence Bureau source." So now there were four masterminds in the Indian media.
Which report is to be believed? If it was one mastermind, who was it? If it was all of them (which is quite possible given the level of sophistication of the attack) why has no news report said that? Are Ghazi, Hafiz, and Kamran the same person? If one is dead, are all three dead?
Aftermath Handling
Pulwama is about 19 miles away from Srinagar's Base Hospital. On the fastest route, it takes about an hour and some minutes (depending on traffic) to reach Srinagar. Once the attack occurred was a perimeter set up around the attack site by the CRPF? Were there medical teams in the convoy providing immediate triage? What was the response of the CRPF at the spot? Some people reported hearing firing after the attack. If there was firing, who was firing and at what? How many CRPF personnel died on the spot and how many were moved to the Base Hospital in Srinagar? Why was this information not released?
Conclusion
In the wake of the Pulwama attack, there have been attacks on Kashmiri students in many parts of India and a call for a boycott of Kashmiri people living in various parts of India. Finally, on 26 February the Indian Air Force carried out an airstrike on Balakot in Khyber-Pakhtunkhwa to eliminate a Jaish training camp. The Pakistani army sources rubbished Indian claims that any target was specifically hit and mentioned that there were no bodies so India was inflating the success of its strike. Even with this incident, most Indian media organizations have not bothered to check or write about the counter-narrative. They have unquestioningly presenting the Indian official version as the correct one or come up with their own proof of the success of the retaliatory strike.
It is time we start a discussion on how the government in India is effectively using journalists to become amplifiers of government propaganda without seriously engaging with the ground realities in Kashmir. Reporting on the Kashmir dispute cannot be broken down into a series of discrete incidents; what is happening here is part of a long history and process in which the Indian state has played a massively oppressive role. What is often not brought into focus in these narratives are the Kashmiris, who only appear to the Indian audience as terrorists, stone pelters, or human shields tied to jeeps. Apart from occasional lip-service about "human-rights violations," reporters seldom engage with what it means to administer the world's most militarized zone and its ongoing everyday violence.
Surveillance is integral to this militarization. Every inch of the Valley, its streets, schools, mosques, and homes are constantly watched. Kashmir is constantly under round-the-clock surveillance. Given this constant surveillance and the availability of actionable intelligence, how was it possible for an attack of this nature to be successful? Information gathering in Kashmir is its own industry. The Intelligence Bureau and the Research and Analysis Wing (RAW) are not the only two agencies.  The local police and military have their intelligence units. The CRPF and BSF both have cells dedicated to information gathering. Then every regiment has its own set of local informants, typically former Ikhwani or surrendered militants, that are paid by these regiments for information provided. Given this mammoth architecture of surveillance, how was such an intelligence lapse possible?
These are extremely dangerous precedents because consensuses around "facts" are being manufactured with the complete complicity of the journalistic establishment. Even two weeks after the attack no news site has actually rectified the errors in their reporting, leaving these misleading facts as a matter of public record. We strongly question not only the sources of these stories but also the editorial establishments that have made such irresponsible reporting possible and have allowed misinformation about such important events to become a matter of public record.
Reporting has given up its mandate in favour of screenshotting tweets from political leaders and opinion makers. Most of the pieces on the Pulwama attack carried sections on what was being said on Twitter by politicians. It seems as if tweets have replaced official comment and instead of knocking on doors and asking hard questions, information gathered from Twitter has become an acceptable manner of filing news stories. We caution our readers that people that post on Twitter do not bear any responsibility that the information they present is accurate. What they present is a version of facts as they see it. However, news channels and newspapers do bear such a responsibility. It would seem as if a massive chunk of the Indian media, both print and broadcast, is delinquent in its responsibility towards facts, which are the basic building block of any news story.