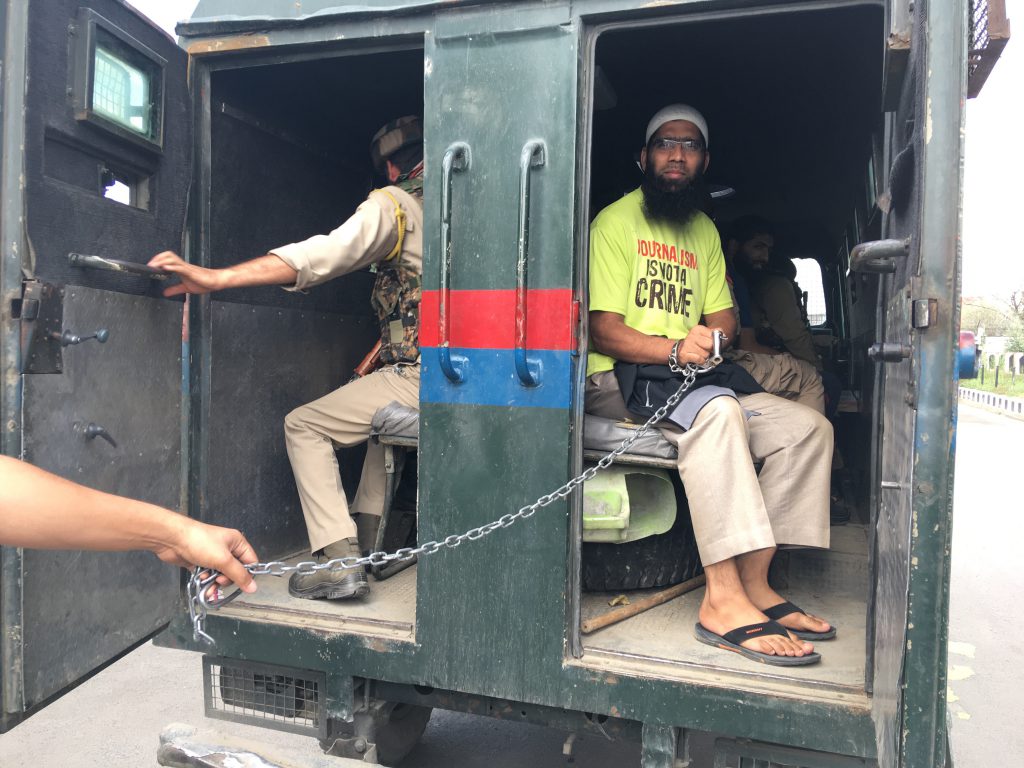 The systematic criminalization of journalism in Kashmir: A profile of Aasif Sultan
23 August 2021
Tazeen Junaid is an activist based in Aligarh and writes on issues of gender equity, Indian minorities, and the anti-CAA movement. She is currently pursuing her Bachelor's degree in Literature at Aligarh Muslim University.
"At no time have governments been moralists. They never imprisoned people and executed them for having done something. They imprisoned and executed them to keep them from doing something. They imprisoned all those prisoners of war, of course, not for treason to the motherland […] They imprisoned all of them to keep them from telling their fellow villagers about Europe. What the eye doesn't see, the heart doesn't grieve for."― Aleksandr Solzhenitsyn, The Gulag Archipelago, 1918-1956
A political prisoner is a person who is imprisoned for their belief. Regimes across the globe arrest people for who they are and not for what they have done, thus making the category of the political prisoner into a criminal offense. It is a thought crime: the crime of thinking, acting, speaking, probing, reporting, questioning, demanding rights and, more importantly, exercizing citizenship. It is also a crime of existing in a Black, Brown, Muslim body that can be targeted and punished for who they are, or what they represent.
These inhumane incarcerations do not just target private acts of courage, they are bound together with the fundamental questions of citizenship, and with people's capacity to hold the State accountable – especially States that are unilaterally and fundamentally remaking their relationship with their people.
The assault on the fundamental rights has been consistent and ongoing at a global level and rights-bearing citizens are transformed into subjects of a surveillance State.
In this transforming landscape, dissent is sedition, and resistance is treason.
A fearful, weak State silences the voice of dissent. Once it has established repression as a response to critique, it has only one way to go: to become a regime of authoritarian terror, a source of dread and fear for its citizens.
How do we live, survive, and respond to this moment?
With Profiles of Dissent, The Polis Project works with individuals and organizations across the world to question and critique the State that has used legal means to crush dissent illegally and eliminate questioning voices.
It also intends to ground the idea that, despite the repression, voices of resistance continue to emerge every day.
AASIF SULTAN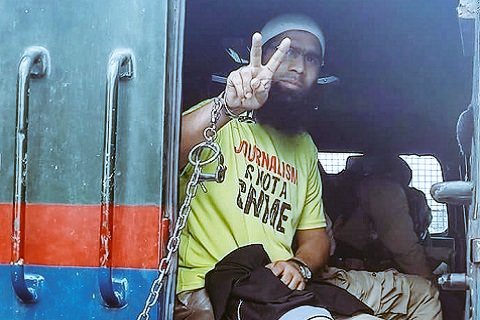 Aasif Sultan Sayed is a 33-year-old journalist based in Indian controlled Kashmir. He was born in Srinagar and his father, a gazette officer in hospital administration, wanted him to become a doctor. Pressured by this expectation, Sultan pursued an undergraduate in microbiology from Sri Pratap College, but he had an uncanny talent and passion for writing, which he cultivated during his school and college years. After completing his undergraduate studies, Sultan applied to three postgraduate courses at the University of Kashmir – journalism, library science and microbiology – and was accepted in all three. Torn between his passion for writing and his father's expectations, he chose to pursue journalism. When he told his family about his choice, his father warned him that journalism was a dangerous career in a conflict area but supported him nonetheless. His father's warning would follow Sultan till 2018, when he was arrested for writing a profile of Hizbul Mujahideen commander Burhan Muzaffar Wani.
Sultan began studying journalism at the Media Education Research Center of University of Kashmir. Impressed by his dedication, Sultan's professors recommended Showkat Motta, an alumnus of the Center, to hire Sultan as an intern at Conveyor, the first monthly magazine to circulate in Srinagar and an immediate success at a time when social media had a negligible presence in the area. Motta recognized Sultan's talent and hired him in 2009 at Conveyor, where he continued working until it shut down. Sultan completed his studies in 2010 and in May 2012, Motta became the founding editor of the daily Kashmir Reader. Most of the staff at Conveyor moved to Kashmir Reader and so did Sultan, who joined as a journalist and left it in 2013 to practice freelance reporting.
Motta left Kashmir Reader and founded the monthly magazine Kashmir Narrator in 2015. As Motta recognized Sultan's integrity, talent and professionalism, he hired him as a ground correspondent. With Motta's mentorship, the quality of Sultan's reportage grew and within a year he was promoted to Assistant Editor, a position he still holds.
On 4 April 2018, Sultan wrote a piece on a gun battle in which six militants were killed by Security Forces in Southern Kashmir. Titled "When a dying rebel wrote 'Kalima' with his blood in Shopian's Kachdoora" and published with a photograph of the writing, it gestured to an ongoing debate on whether the Kashmir unrest is a political struggle or an Islamic one. Within an hour from the publication, Sultan registered on the radar of Security Forces and Motta received a phone call from Abdul Gani Mir, an inspector of the Criminal Investigation Department (CID), who accused him of glamourizing militancy by publishing such pieces.
On the occasion of the death anniversary of the popular Hizbul Mujahideen commander Burhan Muzaffar Wani, Motta and Sultan decided to publish two stories in the week leading up to it: profile of Wani and a detailed account of the encounter in which he was killed.
In the profile titled "The Rise of Burhan," Sultan traced how his martyrdom had become a symbol of protests against the Indian Government and why the mujahideen commander proved to be "more dangerous" for India "in his grave than in his living room." Sultan interviewed former Over Ground Workers (OGW – a term used to describe non-combatant members of militant groups) who had handled logistical tasks for Wani, but cut ties with Hizbul Mujahideen after his death. Interviewing former militants had become rare in Kashmir given the heavy surveillance, making Sultan's article conspicuous since most media houses feared the State's scrutiny as the relationship between Kashmiri media and the Government had become more unsteady after Wani's death.
Sultan pursued sources of the OGWs through one of Motta's contacts in the Police and his meeting with an OGW was facilitated by a Police officer from South Kashmir. The profile included exclusive pictures sourced from Wani's family and details of his life in militancy, which had never been reported before. The profile was published on 1 July 2018 in the monthly issue of Kashmir Narrator and "In the run-up to Bamdoora's back alley," a detailed account of Wani's final encounter, was published in the following days. As soon as the profile was published, its impact could be felt across intelligentsia, political parties and the media. It particularly angered the local Police apparatus because such bold reportage seldom appeared in local media. Soon Motta began to receive indirect and direct threats. On 11 July, ten days after the profile was published, the Media Cell/CID Jammu and Kashmir (J &K) emailed Motta withmany queries.
The email, with the subject-line Publication of content glamorizing terrorism, stated that the stories on Wani were prejudicial to maintenance of law and order. It also accused Kashmir Narrator of endorsing perpetrators of violence and terrorism, of attempting to influence young impressionable minds and of creating ideological activists thus rendering ineffective the Government's efforts to fight terrorism. The email concluded by insinuating that the stories on Wani were a "breach of journalistic ethics to promote terrorism and extremism." The email asked for a response within two days on a given contact number, which was not operational when the staff of Kashmir Narrator tried to call. When reporters contacted the CID, they responded they could not confirm the existence of the email.
On 10 August 2018, the Ministry of Electronic and Information Technology, Government of India sent a legal request informing Twitter that the handle of Kashmir Narrator was breaking Indian law. The request to suspend the account was made under the much criticized Section 69A of the IT Act 2000, which allows the Center to block public access to an intermediary "in the interest of sovereignty and integrity of India, defence of India, security of the State, friendly relations with foreign States or public order or for preventing incitement to the commission of any cognisable offence relating to above." The Twitter handle of Kashmir Narrator was immediately blocked and remains suspended. Twitter claims that they were compelled to withhold the entire account in response to a valid legal demand.
Two days later, on 12 August 2018, a gunfight occurred between the Police and militants in Srinagar's Batamaloo area. One policeman was killed in the operation while three militants managed to escape. On 31 August, the Police added Sultan's name to a pre-existing First Information Report (FIR) filed about the gunfight. At 11 PM on 27 August 2018, around 60 personnel of Indian Security Forces arrived at Sultan's residence in Batamaloo. They scaled two gates, entered the house and conducted a raid from 11:15 pm to 01:45 am. They ransacked rooms and took out books and journals. During the raid, they seized four cell phones, one laptop, documents, books, a hard disk, a Wi-Fi device, a pen-drive, a memory card, a memory card adapter and two SIM cards as well as a downloaded copy of Saleem Shahzad's book on Al Qaeda. The personnel did not possess a search warrant to conduct the raid thus violating both due procedure and Sultan's civil rights.
When the personnel left, the Station House Officer (SHO) of Batamaloo Police station illegally detained Sultan and took him to the Police station. The family was kept in the dark about the reasons that led to the night raid at their residence. The following morning, Sultan's father and Motta went to the Police station, but Sultan had been taken to a different location for interrogation by a Special Investigating Team (SIT). He returned to Batamaloo Police station in the evening where he could meet his father and Motta, but was not allowed to leave. On 29 August, Motta went again to the Police to follow up on Sultan's release. When Motta asked about the reason for Sultan's detention, the officers mentioned provocative posts uploaded on social media and claimed that his Facebook activity established an association with Hizbul Mujahideen. Motta rebuked Sultan in front of the officers for uploading provocative posts, but the SHO claimed that releasing Sultan was out of his hands, insinuating that Sultan's arrest was not a local operation.
After three days of illegal detention in Batamaloo Police station, Sultan's family signed release papers on 31 August 2018 but still, the Police did not let him go. On 31 August, Sultan told Motta that he was questioned about the Saleem Shahzad book, the visits to a madrasa, his alleged attempt at "radicalization" of youth as well as the headlines of Kashmir Narrator. On a separate occasion, the Police asked Motta about Sultan's political ideology, but Motta refused to answer on account of it being an inappropriate question.
The next day, on 1 September, Sultan and his father were asked to sign an arrest warrant, which they refused to do after Sultan had been illegally detained and not produced in Court for five days. Frustrated with the illegal detention, Kashmir Narrator decided to issue a statement about it on Facebook. The news of Sultan's detention spread quickly and the Kashmir Working Journalist Association and the Kashmir Journalist Association demanded his immediate release and asked for disciplinary and legal action against the Police officials involved. The Committee to Protect Journalists (CPJ) also joined in demanding his release: "By reporting on militant activity, Sultan is performing an important public service, not committing a crime."
The mounting public pressure made the Police issue a statement mentioning Sultan's arrest in a FIR registered about a gunfight in Batamaloo area on 12 August and claimed that he was arrested on 1 September on charges of complicity in harboring known terrorists. It also revealed that he has been booked under Unlawful Activities (Prevention) Act (UAPA). The Jammu and Kashmir (J&K) Police failed to provide any evidence to prove the credibility of these charges, but  a judicial magistrate's Court granted the Police seven days of custody.
During the illegal detention, Police had primarily interrogated Sultan about Wani's profile and asked him to reveal his sources. They also pressurized him to become an informer for the J&K Police. When Sultan refused to do so, he was formally arrested and charged with UAPA. His arrest foregrounds the systematic use of UAPA to intimidate journalists, who carry out their professional duties in challenging circumstances.
GV Sundeep Chakravarthi, then Superintendent of Police for Srinagar South, was the investigating officer in Sultan's case. When he was looking into the Batamaloo gunfight of 12 August, his team traced two OGW members and obtained information that led to the raid and Sultan's arrest. Regarding the absence of a search warrant, Chakravarthi maintained that it was mandated by law to conduct raids in situations where any delay could lead to vanishing of evidence as long as the district magistrate was informed immediately. He also claimed that Sultan was never detained illegally or interrogated by any SITs. According to him, the Police had summoned Sultan for questioning on 28 and 29 August, filed a FIR on 31 August and formally arrested him on 1 September. Chakravarthi also claimed that family and friends of Sultan were intentionally misrepresenting facts. He did not reveal details about the incriminating material that justified Sultan's interrogation but claimed that the Police had evidence of Sultan harboring terrorists. The interrogation about his reportage had nothing to do with the case, but Chakravarthi wanted to file another FIR against Sultan for writing against the Armed Forces, supporting militancy and writing against the State. The charges against Sultan were not made public despite significant public pressure and the Kashmir Editors' Guild's request.
On 8 September 2018, Sultan was photographed wearing a T-shirt that carried the slogan "JOURNALISM IS NOT A CRIME" before the Court hearing of his bail plea. He was beaten up for this display and the T-shirt was seized by the J&K Police. In Court, the defense pleaded that Sultan was implicated on false evidence, but the Court rejected the plea, remanded him under judicial custody till 22 September and transferred him to Srinagar Central Jail. Several journalists' bodies including Reporters Without Borders and International Federation of Journalists demanded his immediate release. On 3 October 2018, the State accused Aasif Sultan of being in touch with a militant group and promoting it on social media. Sultan's family and Motta disputed this claim, saying that Sultan was being targeted for his work as a journalist.
According to a judgment given by the local Court when rejecting his bail on 13 November 2018, Sultan has been accused of aiding as well as being a member of Hizbul Mujahideen. Hearings in Sultan's case have been repeatedly delayed in 2019 and the charges against him were not revealed to his lawyer and family for almost a year. It was only when the charge-sheet was filed in February 2019 that charges became public.
The filed charge-sheet accuses Sultan of various charges in relation to a gunfight with the militants in Srinagar's Batamaloo area on 12 August 2018; of being a close associate of a top Hizbul Mujahideen militant and of actively supporting the militant group. The Police charge-sheet lists the recorded statements of fifty independent witnesses to establish the involvement of Sultan in Hizbul Mujahideen, thirty-nine of whom are policemen. Even though Sultan was arrested because of his reportage and questioned exclusively about it, the charge-sheet does not have a single charge related to his career. Journalists allege that it is easier to detain, arrest, interrogate and incarcerate any person on militancy charges in Kashmir rather than on charges of doing journalism as that could reflect poorly on the Indian State.
Sultan's lawyer described the Police case as purely fabricated because most of the charges cannot be invoked as he was not present at the site of the gunfight. He has also been booked under UAPA for harboring terrorists and conspiring against the State by giving assistance to militants, but there is no evidence on record to prove that. In the charge-sheet, the Police claim to have recovered incriminating material from his home: his electronic devices were sent for forensic analysis, but two-and-a-half years later the report is yet to be submitted.
In early May 2019, Sultan was not brought to Court as there was a riot inside the Srinagar Central Jail. On 2 June 2019, Police officers related to Sultan's case failed to appear for a hearing. The judge summoned them on 11 June to record their statements. In July, hearings were further delayed after the Indian Government replaced public prosecutors throughout the State. None of the eight Court hearings scheduled in 2019 proceeded successfully.
On 22 August 2019, the National Press Club of America awarded Sultan the John Aubuchon Press Freedom Award for being incarcerated due to his reporting. The Club formally stated that Sultan's case reflects the worsening conditions for the press and citizenry in Kashmir. One Free Press Coalition, composed of thirty-two prominent international media houses, releases a monthly list of journalists who are incarcerated, under threat or facing injustice to demand their immediate release. In August 2020, Sultan featured in the Coalition's urgent list of journalists jailed without trial. The list marked two years of Sultan's incarceration. One Free Press Coalition argues that the communication blackouts in Kashmir have delayed hearings and that Sultan has been repeatedly interrogated and asked to reveal his sources.
When Sultan completed two years of incarceration on 28 August 2020, the CPJ ran a full page advertisement in the Washington Post pressuring the Indian government to release Aasif Sultan. In response, the J&K Police posted on Twitter that the journalist was not booked for his work, but for hatching a criminal conspiracy.
Following the outbreak of COVID-19 in early 2020, Sultan's case was further delayed. The first hearing of the year was only held on 21 October 2020, where the Court set the next hearing for 10 November. On that occasion, the prosecution's witnesses did not arrive, and the case was delayed until 25 November; at that hearing, the witnesses were deposed and a following hearing was scheduled for 11 December.
The prosecution's case against Sultan is based on two basic points: the Police claim that they have found Hizbul Mujahideen's letterhead in his possession and a statement by a Shazia Yaqoob claiming that Sultan had links to Hizbul Mujahideen. The charge-sheet filed in Court said that Yaqoob had met Sultan and other associates of the militant group several times in Srinagar. But when Sultan was presented before Yaqoob for identification, she denied knowing him at all, stating that she had seen him for the first time in Court when all the accused were brought for trial.
Sultan has been denied bail even though J&K Police amended its plea to drop the most serious charges including a conspiracy against the State and planning a terror attack. Sultan's family is deeply concerned about reports of increasing COVID-19 cases in Indian jails, particularly in Srinagar Central Jail where he is detained.
On 25 May 2021, Sultan completed 1,000 days of incarceration and CPJ again demanded his immediate release. CPJ had also previously written letters to Indian Prime Minister and Jammu and Kashmir Governor with the same request: "[I]nterviewing alleged militants or having sources who are critical of the government is within the scope of a journalist's job and does not implicate them in any crime. Events in Kashmir are of public interest, and covering them is a public service, not a criminal act."
Even as the Police maintains his alleged complicity in the Batamaloo case, Sultan's father believes his son is behind bars because of the profile of Wani: "[My son] is innocent and has been put in jail for only one reason, the story he wrote on Burhan Wani."
Sultan's illegal detention and the following incarceration prompted an online campaign demanding his immediate release. The Free Aasif Sultan campaign currently uses one account on Facebook and one Twitter handle to relay updates of Sultan's case. The account and the handle have been restricted multiple times on request of the Ministry of Electronic and Information Technology, Government of India.
Date of Arrest: 27 August 2018
Charges: Aasif Sultan has been charged for allegedly harboring known militants. Charge-sheet filed on Sultan books him with several charges, include Sections 120-B (Criminal conspiracy) read with Section 302 (Murder) and 326 (Voluntarily causing hurt by dangerous weapons) of Ranbir Penal Code. He's also charged under various sections of UAPA Act for hatching criminal conspiracy for terrorists, harboring terrorists and giving support to a terrorist organization.
Location of work: Srinagar, Kashmir.
Update: Sultan's trial began in June 2019 and has proceeded slowly. The Police interrogates him on a daily basis about his reportage and asks him to reveal his sources. He remains incarcerated in Srinagar Central Jail where more than 100 prisoners have tested positive for the COVID-19.
Clamour of Silence
Aasif Sultan has written poetry while in prison. His poem titled Clamour of Silence was shared by the Free Aasif Sultan campaign on Twitter:
He visits me to say his words
But conveys his pain through his silence
Lifts his eyes like the flight of birds
Lips sealed but say his silence.
He smiles not, grim his face
Wipes his sweat that too in silence
'All is fine,' he says, while showing no trace
Of pain inside his heart, bears it with silence.
Discordant sounds gloom the hall
Disquieting is not their wails but his silence
An affair up against the wall
Drops his head and lets speak his silence.
Unbearable is his too much of silence
Harsh is reality but harsher his silence.