The youngest accused in the Bhima Koregaon violence case – A profile of Mahesh Raut
In collaboration with maraa, The Polis Project launched Profiles of Dissent — a new series centered on remarkable voices of dissent and courage in India and their personal and political histories, as a way to reclaim our public spaces. These are prominent writers, poets, activists, and human rights defenders who have been in prison, held under the Unlawful Activities (Prevention) Act. The profile features Mahesh Raut, an adivasis' rights activist who has been implicated in the connection with Bhima Koregaon investigation.
"At no time have governments been moralists. They never imprisoned people and executed them for having done something. They imprisoned and executed them to keep them from doing something. They imprisoned all those prisoners of war, of course, not for treason to the motherland…They imprisoned all of them to keep them from telling their fellow villagers about Europe. What the eye doesn't see, the heart doesn't grieve for."
― Aleksandr Solzhenitsyn, The Gulag Archipelago, 1918-1956
'Political Prisoner' is a category of criminal offense that sits most egregiously in any civilized society, especially in countries that call themselves liberal democracies. It is a thought crime: the crime of thinking, acting, speaking, probing, reporting, questioning, demanding rights, and, more importantly, exercising one's citizenship. But these inhumane incarcerations do not just target private acts of courage, they are bound together with the fundamental questions of citizenship, and with people's capacity to hold the State accountable. Especially States that are unilaterally and fundamentally remaking their relationship with their people. The assault on the fundamental rights has been consistent and ongoing at a global level and rights-bearing citizens are transformed into consuming subjects of a surveillance State.
In this transforming landscape, dissent is sedition, and resistance is treason.
While the Indian State has a long history of ruthlessly crushing dissent, a new wave of arrests began in 2018. Eleven prominent writers, poets, activists, and human rights defenders have been in prison, held under the Unlawful Activities (Prevention) Act. They are accused of being members of a banned Maoist organization, plotting to kill Prime Minister Narendra Modi, and inciting violent protests in Bhima Koregaon. To date, no credible evidence has been produced by the investigating agency, and those accused remain incarcerated without bail. Since the anti-Citizenship Amendment Act protest began in December 2019, students, activists, and peaceful protesters have been charged with sedition, targeted with violence, and subjected to arrests. Since then, more arrests have followed specifically targeting local Muslim students leader and protestors, including twenty-seven-year-old student leader Safoora Zargar.
Since the COVID-19 lockdown was announced, India's leading public intellectuals, opposition leaders, writers, thinkers, activists, and scholars have written various appeals to the Narendra Modi government for the release of India's political prisoners. They are vulnerable to COVID-19 contagion in the country's overcrowded jails, where three coronavirus-related deaths have already been reported. In response, the State has doubled down and rejected all the bail applications. It also shifted the seventy-year-old journalist Gautham Navlakha from Delhi's Tihar Jail to Taloja, without any notice or due process – Taloja is one of the prisons where a convict has already died of COVID-19.
A fearful, weak State silences the voice of dissent. Once it has established repression as a response to critique, it has only one way to go: become a regime of authoritarian terror, where it is the source of dread and fear to its citizens.
How do we live, survive, and respond to this moment?
In collaboration with maraa, The Polis Project is launching Profiles of Dissent. This new series centers on remarkable voices of dissent and courage, and their personal and political histories, as a way to reclaim our public spaces.
Profiles of Dissent is a way to question and critique the State that has used legal means to crush dissent illegally. It also intends to ground the idea that, despite the repression, voices of resistance continue to emerge every day.
MAHESH RAUT
Mahesh Raut is a land rights activist working with Gram Sabhas in the mining areas of Gadhchiroli. He is a former Prime Minister Rural Development (PMRD) Fellow. As part of his work, he visited local villages and interacted with local communities. In addition to being one of the conveners of Visthapan Virodhi Jan Vilas Andolan, a national organization that fights the displacement of marginalized communities, Raut is also a member of Bharat Jan Andolan, a human rights NGO. Mahesh Raut has done his Masters in Social Work from Tata Institute of Social Sciences (TISS), Mumbai.
Date of arrest: 6 June 2018
Charges: He was arrested under the Unlawful Activities (Prevention) Act, including the following sections: 153 A i.e. promoting enmity between different groups; 505(1) i.e. intent to cause harm to the public/army; 117 i.e. abetting commission of offence by the public or by more than ten persons; and 120 B i.e. concealing design to commit offence punishable with imprisonment. Mahesh Raut was arrested by Pune Police in connection with an event to commemorate the Battle of Bhima Koregaon on 31 December 2017 in Maharashtra. Along with Mahesh Raut, the arrested include an Elgaar Parishad organizer Sudhir Dhawale, leader of Republican Panthers Jati Antachi Chalwal; Delhi-based Rona Wilson of Committee for Release of Political Prisoners (CRPP); and Nagpur-based lawyer Surendra Gadling of Indian Association of People's Lawyers (IAPL). The FIR (on the basis of which arrests were made) was based on an accusation of being a Maoist, his alleged connections to Elgaar Parishad, and its alleged role in inciting violence in Bhima Koregaon.
On 24 October 2018, the Bombay High Court quashed a Pune court ruling that had granted more time to the police to file a charge sheet against Dhawale. Charge sheets were finally filed on 15 November and again on 4 December 2018. Justice Bhatkar's verdict paved the way for Raut and the other activists arrested on 6 June 2018 to apply for bail. Raut's bail hearing was fixed for 14 November 2018 but has now been postponed to 11 December 2018 by the Supreme Court. On 3 November 2018, Raut complained before the court that he was suffering from vomiting and bleeding due to acute gastroenteritis for the past three weeks and has not been taken for treatment at Sassoon General Hospital. Judge Vadane on hearing the complaint questioned the jailor, "Three weeks have past and Raut has not been taken to the hospital, so will you take a person after he dies? Give me a report on the medical condition of Raut at the earliest and I will issue necessary orders." In a reply, the jailor said that jail authorities do not have an escort to take Raut to hospital.
Location of work: Maharashtra
Update: Since the COVID lockdown Raut has been held at the Taloja jail, and he has not been able to meet with his family members or lawyers. Raut suffers from acute ulcerative colitis (a painful bowel ailment), and his family has struggled to get him the medicines he needs.
The youngest accused in the Bhima Koregaon case, on 2nd July 2020, turned 33 inside Taloja central jail.
Mahesh Raut, moved the Bombay High Court on 29 July 2020 seeking a direction for a COVID-19 test. The petition stated that "He is currently suffering from high fever and diarrhea, and has been in touch with fellow prison inmates who have tested Covid-19 positive. His immune system is already compromised as he has been suffering from ulcerative colitis and has been under treatment for the same even prior to his arrest." Mr. Raut came in close contact with Varavara Rao who tested positive for COVID inside the jail. Raut's lawyer argued before the court that the jail authorities and the medical officers repeatedly refused to administer the COVID-19 test and provide adequate medical care. On 8th August 2020, when the medical reports were finally filed, the Bombay High Court sought a clarification from the Maharashtra government after the coronavirus test results of academic Anand Teltumbde and Mahesh Raut, had identical findings on weight, height, and other vital health parameters. Raut remains in prison despite his deteriorating health.
***
New Prison Writing from Mahesh Raut 
Written in June 2023, Mahesh Raut shared this poem with family and friends during one of his court visits. 6th June marks five years of his arrest. The youngest accused in the Bhima Koregaon case, on 2nd July 2023, Raut will turn 36 inside Taloja Central jail.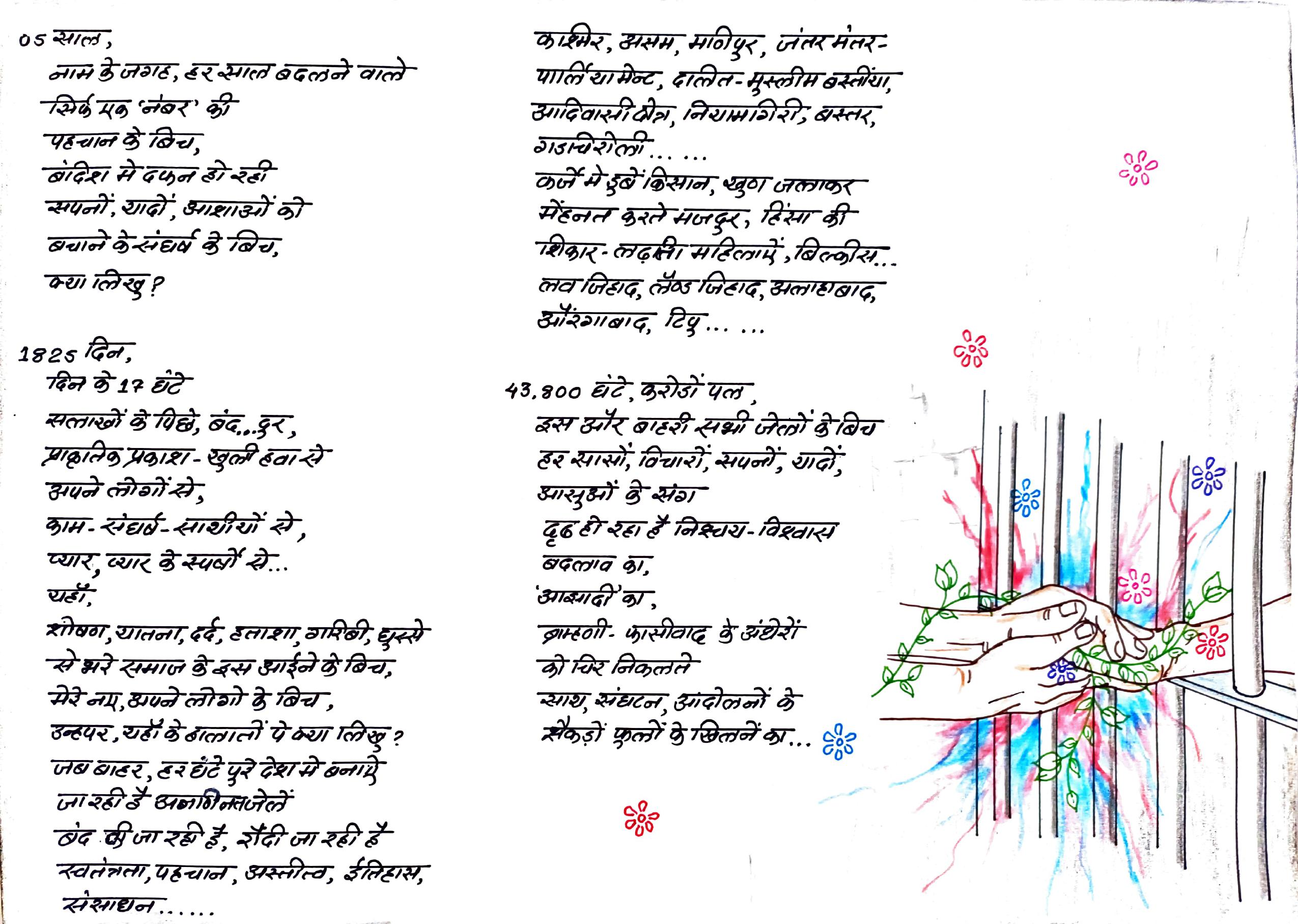 ***
Gadchiroli's 300 Gram Sabhas Pass Resolution in Support of Activist Mahesh Raut by Sukanya Shantha
Four months after Pune Police arrested Mahesh Raut, forest rights activist and former Prime Minister Rural Development Fellow (PMRDF), terming
him an "Urban Naxal", as many as three hundred gram sabhas from Etapalli and Bhamragad tehsils of Gadchiroli have passed a resolution in his support.
Thirty-year-old Raut, a Tata Institute of Social Sciences (TISS) alumnus, had been working with villagers and focusing on the implementation of Provisions of the Panchayats (Extension to Scheduled Areas) Act (PESA) and Forest Rights Act (FRA) in the region for the last six years. The resolution lists Raut's work in the area and the challenges that the villages have been facing since his arrest.
Raut was born in Lakhapur village in Chandrapur district of Maharashtra's Vidarbha region and had migrated to the neighboring Gadchiroli district during his childhood. He pursued his initial education in Gadchiroli and then moved to Nagpur for higher education. In 2009, he joined TISS in Mumbai to study social work. Two years at the institute followed by the PMRD fellowship upon the completion of his master's degree in 2011, gave him an opportunity to work on forest rights and other issues directly impacting Adivasis in eastern Maharashtra.
Senior activists and members of the gram sabha say Raut was involved in a crucial agitation at the time of his arrest. "At Surjagad, the onslaught of mining companies has increased in the past years. Raut along with other activists from the region was in the process of filing a petition in the Nagpur bench of the Bombay high court on 7 June and he was arrested just a day prior," said Sainu Gota of Gatta village, an Adivasi leader and member of the zila parishad from the region.
Gatta is among several villages in Surjagad which are agitating against the mining corporate giants amidst the overwhelming presence of paramilitary. Many, including Gota, have complained of police atrocities and have allegedly been implicated in false cases. The villages have opposed companies like Lloyd's Metal and Energy Limited, Corporate Ispat Alloys, and Gopani Iron and Ispat belonging to Jindal Steel Works for undertaking mining work in the region. But even after a strong resistance against these private mining companies, the state has granted permission to mine iron ore on over three hundred and forty eight hectares of land in the Surjagad region alone. The state is accused of taking the highly exploitative decision to allow Lloyd to extract as much as 1.3 million tonnes of ore every year.
The gram sabha resolutions, especially in seventy villages in Surjagad, have highlighted Raut's participation in their agitations. "He first came to us as a part of the PMRD fellowship in 2013. He would visit every village with other government officials and meticulously note down grievances and parallelly also research on several village and state-level policies that could come to our rescue. His work in the formative years helped us build our struggles in the coming days," said Lalsu Nogoti, another zila parishad member from Bhamragad and an activist-cum-lawyer who has been working on issues of human rights violations here.
Besides the implementation of the PESA laws, which the villagers consider as their essential legislature to ensure Adivasi autonomy, several blocks in the Gadchiroli district have been engaging in tendu patta collection, with little or no involvement of middlemen since last year. "This way the farmers have managed to get appropriate prices for their produce and also exploitation has been reduced to a large extent," Gota adds. Raut and other tribal leaders were at the forefront fighting the middlemen and the state to ensure the tribal farmers get their due.
While this was Raut's first arrest, he has on several occasions been picked up and harassed by the police. Months before his arrest his passport was confiscated.
Raut was arrested along with four others: senior lawyer from Nagpur Surendra Gadling, senior Dalit rights activist Sudhir Dhawale, campaigner for the release of political prisoners Rona Wilson and retired professor from Nagpur University Shoma Sen. In the beginning, these arrests were claimed to be made for their alleged involvement in the targeted violence that was unleashed on the Dalit and other Ambedkarite communities visiting Bhima Koregaon in the outskirts of Pune on January 1. However, the police later claimed that these arrested persons allegedly have deep contacts in the Naxal movement and have been working as urban cadres in the movement.
Their arrests were made as per the FIR registered on 9 January 2018, days after the initial FIR that was registered against two senior Hindutva leaders Milind Ekbote and Manohar alias Sambhaji Bhide. While Ekbote was released on bail, Bhide never faced arrest.