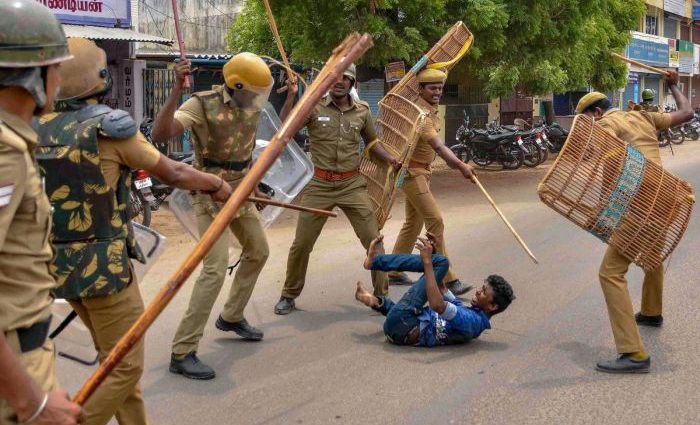 They were killed in Thoothukudi
28 July 2018
Lois Sofia is a former resident of Thoothukudi currently studying Mathematics in Canada. Though not a journalist by training, Sofia has produced some of the most comprehensive reports and dispatches coming from Thoothukudi. She tweets @red_pastures.
Look at the people—their life and death—massacred while they protested or just stood or passed by when the state police—some of them in plain clothes—opened fire at them with weapons like semi-automatic rifles. Most of them were shot in the head and chest.
Antony Selvaraj, 46, a resident of Velankanni Nagar, worked for a private shipping company. His father Stalin said that Anthony was on his way home to eat lunch when he was killed. Anthony leaves behind a wife and a teenage son and daughter.
Snowlin was the youngest victim. She participated in the rally with her friends and family, which included young children. She was shot through the mouth as she was shouting slogans against Sterlite. She was 17.
Jhansi, 47, a homemaker and resident of Therespuram, was returning home after taking some fish curry she had cooked to her daughter's house in the neighboring street when she was hit in the head by a police bullet. Witnesses say the police wrapped her in a banner and threw her in the van. Her family collected her brain, which was strewn on the street, and buried it at sea to prevent dogs from eating it. Jhansi is survived by her husband and four children.
P Tamilarasan, 42, a member of the Revolutionary Students and Youth Front, was one of the people the police are alleged to have targeted. Tamilarasan had decided not to marry and devote his life to working on public issues. He had been involved in anti-Sterlite protests since 1996. His sister-in-law has talked about how Tamilarasan became more determined since his brother succumbed to cancer. So many of the people who were on the streets that day have such personal stories—including the president of the Thoothukudi Bar Association, AWD Tilak, who lost his physician wife to lung cancer. He has been leading the legal fightback since May 22 and is the chief convenor of the Coordinating Committee for People's Inquest into Thoothukudi Police Firing. Tamilarasan's family was terrorized by the police to sign a statement saying that his death was an accident. They also threatened to kill his brother, Muniyasamy, who was taken into custody, harassed, and brutally beaten up.
Karthik, 20, was a student of history at Kamraj College in Thoothukudi. His brother Maharaj says Karthik was ambitious and was planning to study abroad. He was shot in the head. He was shot on his left forehead as he was helping the injured. He died later that day at Thoothukudi Government Medical College Hospital.
S Maniraj was 34 and had been recently married. He is survived by his pregnant wife, Anusuya.
Selvasekhar, 42, of Sawyerpuram died in the Tuticorin Government Hospital after police beatings. Reports say they attacked him with lathis and stomped on his back, chest, and head when he was waiting at a bus stop. Selvasekhar, who never married, leaves behind two sisters and his widowed mother.
Shanmugham, 38, of Teachers Colony, left home to withdraw cash from an ATM near the collectorate. In a petition filed with the Madras high court, his father Balaih said that Shanmugham fled the scene when he realized there was trouble and called his mother. He did not participate in the protests, he was shot and killed.
Jayaraman, 45, of Usilampatti was a member of the Makkal Athikaram. His death has been widely reported as a possible targeted killing. Jayaraman and his wife have a daughter. He was shot in the head—between his right ear and eye—and died at the hospital.
K Glaston, 40, of Lourdhammalpuram. Glaston was shot and dragged away on the road even as the flesh came off his legs. "They chased us away like dogs. These days, people fight for animal rights. But we are human; why are we treated worse than animals?" his brother told The News Minute. He was a fisherman and is survived by his wife and two teenage children.
Ranjithkumar, 23, was shot in the head. His father, Bhaskar, said Ranjith donated blood often and wanted to join the army. His uncle Arumugan told Deccan Chronicle that the tehsildar and other officials demanded that the family sign a statement saying that Ranjithkumar died from lathi charge injuries and not due to police firing, but they refused. Other bereaved families experienced similar harassment from the police and district officials.
K Kandiah, 55, is survived by his wife Selvarathnam and mentally disabled son Jagan who doesn't understand that his father is no more. Kandiah was a daily wage laborer who worked in construction. He was shot in the chest.
Fresh firing in #Thoothukudi claims one more life 22 yr old Kaliappan killed #SterliteProtest pic.twitter.com/15B5pMcXjl

— Shabbir Ahmed (@Ahmedshabbir20) May 23, 2018
Kaliappan, 22, was shot by the police on the second day with a rubber bullet in his spine. He was on his way to meet his employer. There are videos showing policemen saying, "Stop acting," and, "Let him die," as he lay on the ground during the last moments of his life. Photos also show the police dragged his motionless body away. Kaliappan was engaged to be married.
Valiammal, 63, died after a bus she was traveling in was set on fire.
Bharath, 35, died in the Palaymkottai prison. He had been brutally beaten up by the police who claim his death was a suicide.
Justin Selvamithis, 29, was on his way to lunch at his brother's place in Thoothukudi when he fell prey to police brutality. He fell into a coma after the beatings fractured his skull. After nearly seven months of physical and mental suffering, he died on October 15th. Since in their grief Justin's family failed to have an autopsy performed, the authorities are refusing to acknowledge police's attack as the cause of his death.
You can read Sofia's long-form interview about the protest here  and other her other ground reports  below: