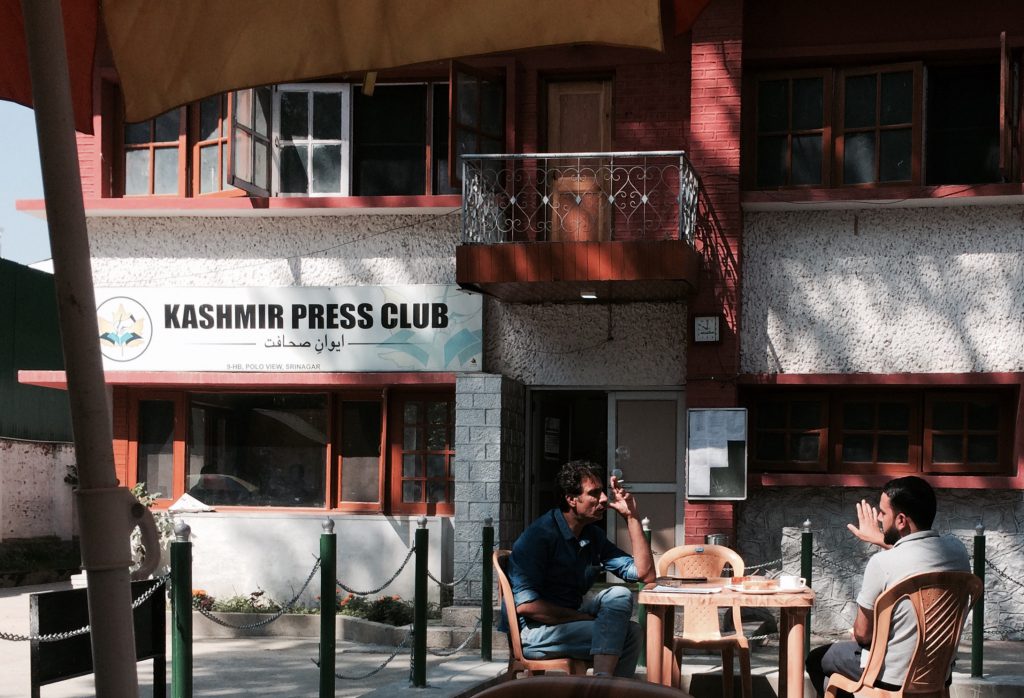 We may have to shut down permanently: Online media in Kashmir has come to a grinding halt
2 October 2019
Zafar Aafaq is a freelance journalist based in Srinagar, Kashmir.
(Face to face interviews with journalists based in Kashmir were conducted in the third week of August 2019. Some interviews were conducted in New Delhi in mid-September. A couple of journalists quoted in this piece were interviewed over WhatsApp).
On the evening of the 4 August, Junaid Bhat sends a message to his employer informing that if they find him off the grid, they should check the website of Greater Kashmir, the largest circulating newspaper in Kashmir, for updates about emerging situation in Kashmir. Bhat is a web developer and works from his home in Lal Bazar, a locality at the edge of Srinagar's old town, for a US-based tech company. At around midnight, the Indian government imposed an internet blackout across the state of Jammu and Kashmir, and Bhat lost touch with the outside world including his employer.
Greater Kashmir updated its website last at around 1:20 am on August 5th. The website shared the news headline: "Omar Mehbooba Lone placed under house arrest, restrictions imposed in Srinagar, mobile internet suspended." Since then the website has not been updated as all forms of telecommunication services including mobile, broadband and special line internet services were indefinitely suspended.
On 5 August Narendra Modi's government removed Kashmir's autonomy by revoking Article 370 of the Indian Constitution. Following the historical decision, the authorities imposed restrictions on movement, public gatherings and protest as the paramilitary presence increased in all towns and cities of the Kashmir Valley to supress any opposition to the decision.
While printed editions of major newspapers continue to come out uninterruptedly in spite of the lock-down, even though in a concise form and devoid of ground reports, the operations of their websites and web-exclusive portals have come to a grinding halt. Kashmir has a vibrant media landscape with around 300 newspapers in English and Urdu published daily – almost all of them have websites and put their content online. Besides newspapers, there are innumerable independent news web-portals and the subscriptions on social media of some of these outlets run in tens of thousands; Greater Kashmir, for example, has over 2 million likes on its Facebook page.
This is how Mukhtar Baba, who runs a website called The Kashmir Press since 2018 puts it. His reporters and stringers, who are spread across the Valley and would send him news stories and multimedia content, are now silent. As the internet remains shut, Kashmiri news website are stuck with updates from August 4th: the editorial staff has no work to do while reporters are unable to contact their offices.
Tahir Bhat, an editor who managed the online section of a weekly, told me he spent nearly a month at home cut off from office. "We used to have a busy news cycle and I would get only two days off in a fortnight, but now I have now no role in the office." Most outlets have lost touch with their reporters in rural areas and reporters have no means to file stories. "I haven't even written a single word all these days," said a journalist who used to report for two dailies from Anantnag. "The situation is tense, you can't risk going into the rural area and search for your reporters," said the editor of another news portal (who agreed to talk on condition of anonymity). He told me he spends most part of his day at the city press club where he stays in touch with the news and rumours.
In comparison to rural areas, Srinagar-based journalists, some of whom work non-local press have been given marginally greater access to the internet at a government run facility.
While there is a total clamp down on the internet, of the staff writers of these websites have taken to freelancing for non-local outlets. For instance, Kaisar Andrabi, who writes from the popular news website the Kashmir Walla, has written a few pieces for thewire.in and firstpost.com. "It was frustrating to be unable to report despite having information," Kaisar said. "My editor gave me emails of the editors of a couple of websites [outside Kashmir], I pitched the ideas and it worked."
Journalists asked the government to restore internet at the Press Club and Press Colony in Srinagar. In a statement dated September 2nd, the Kashmir Press Club appealed "to restore mobile phones, internet and telephone landlines to journalists and media outlets including newspapers and also the Club itself," but the government remained unmoved. It is not only newspapers and web portals that are affected by internet shutdown; wire services are also unable to function normally, and this has a further ripple effect on newspapers as they rely heavily on these services for their news content.
Editors now go with flash drives to their offices and collect the day's news bulletins, which are filled with government hand-outs: "We are not in touch with our staff, so news from the ground does not come to us and statements from government officials dominate our bulletins." The enforced silence of Kashmir's online media is denying audiences access to information.
"We are unaware of what is happening on ground in Kashmir," told me Haris Zargar, a Kashmiri PhD candidate at International Institute of Social Studies, Hague. The blackout is also affecting the journalists who work from Kashmir for non-local media. A news update from a far-off area can sometimes be a news tip for Aakash Hassan, who works from Srinagar for a New Delhi-based outlet. "Local media would keep me updated me about everything related to Kashmir. Now its absence feels like blocking the veins [that bring blood] to the heart."
"Journalist are treated like criminals who might breach whatever the government is trying to establish," said Parvaiz Bukhari, a senior Kashmiri journalist associated with a foreign news agency. He lamented that journalists can't counter the propaganda peddled by government because of the internet shutdown. "When information reaches us, it is not possible to confirm it due to lack of means and even authorities are not available to triangulate it."
Around mid-August, Anuradha Bhasin, the editor of Kashmir Times, the oldest English newspaper in the State, filed a petition to the Supreme Court alleging that there are "strict restrictions on freedom of movement of journalists and media personnel in Kashmir". The government countered her case with saying: "Their [Amuradha Bhasin's] case is factually incorrect. Newspapers are being published from Srinagar and in Jammu. They [Kashmir Times editors] are choosing not to publish." Bhasin had sought court directions for relaxing restrictions on communications.
"We should not see the current restrictions in isolation," said a Kashmiri PhD scholar at Delhi Jamia Milia Islamia University. In the immediate aftermath of the 2016 unrest, India's Home Ministry came up with a report asking to keep Kashmir's local media under control. According to a news article in the Indian Express: "News organisations in the Valley fomenting anti-India sentiment should be 'discouraged' from telecasting any 'negative propaganda'". Since then journalists in Kashmir have regularly complained of coercion.
In February 2019, the Indian government banned ads on prominent newspapers Greater Kashmir and Kashmir Reader. This meant a drastic decrease in revenues, forcing the newspapers to curtail salaries. A few months later, the editors of these two newspapers were summoned for questioning by a federal investigation agency in connection with cases concerning the conflict in Kashmir.
"We have avoided reporting news stories about militant funerals," a web editor told me in July. "We can't afford to annoy the state."
While restricting common people from accessing internet is linked to security and public order, what does explain the State's same continuous denial to newspaper offices? Observers argue that the increasing restrictions are aimed at controlling the narrative around the Kashmir story. "Restricting internet to media houses is chocking the flow of information coming from Kashmir to the outer world," said Riyaz ul Khaliq, a former online editor at Kashmir Life, a weekly published from Srinagar. "The main problem for the Indian State has been the evolution of a vibrant media scene in the Kashmir Valley and that is what has been largely tamed."
The curb on media in Kashmir has gained significant global attention. On August 5th, the Committee to Protect Journalists (CPJ) – a global organisation that promotes press freedom – asked the Indian government to ensure access to the internet and communications services in Kashmir. The organisation issued a statement quoting Aliya Iftikhar, a senior researcher for the CPJ's Asia program: "We call on Prime Minister Narendra Modi and his administration to guarantee that all communication blocks in Kashmir are lifted and that journalists are able to report freely. Communication blocks have no place in a democracy." The organisation has been repeatedly raising the issue of media censorship in Kashmir. Besides CPJ, media organisation like New York Times, Al-Jazeera and TRT World have published articles detailing the challenges that Kashmir journalists face to tell their stories.
Financially, media in Kashmir is a struggling sector. In absence of a proper corporate setup, generating revenue is a huge challenge. Compared to their counterparts in other states in India, journalists in Kashmir are underpaid. Many newspapers get ads from government and those revenues keep them running; the online arena however is mostly impoverished. "We were able to raise ten dollars from Google ads in the third month since our inception." Sheik Uzair, who started a news website called PostcardKashmir.com in May 2019, told me in an interview. "We used that sum to pay a part of the rent of this two-room office." Uzair's journalist friends assist him for free. "The send news updates and photographs without charging me." He hoped that one day his website will be in a position to generate employment. "The revenue model is destroyed, and all advertisers have pulled out, which basically means we cannot pay the salaries of the staff," Qazi Zaid, the editor and owner of Free Press Kashmir, an independent news website, told me. "We may have to shut down permanently."
Even prominent newspapers are bereft of regular ads and consequently the staff is not getting paid on time. There have also been complaints of salary cuts. Some journalists reported that they have not received their salaries since August. "I go to office every day and despite that I have not been paid for my work for past two months," a journalist who works with an English daily said. He had been expecting a pay raise for long, but his hopes are dashed now. "The management now has an excuse and if I insists I will be asked to resign".