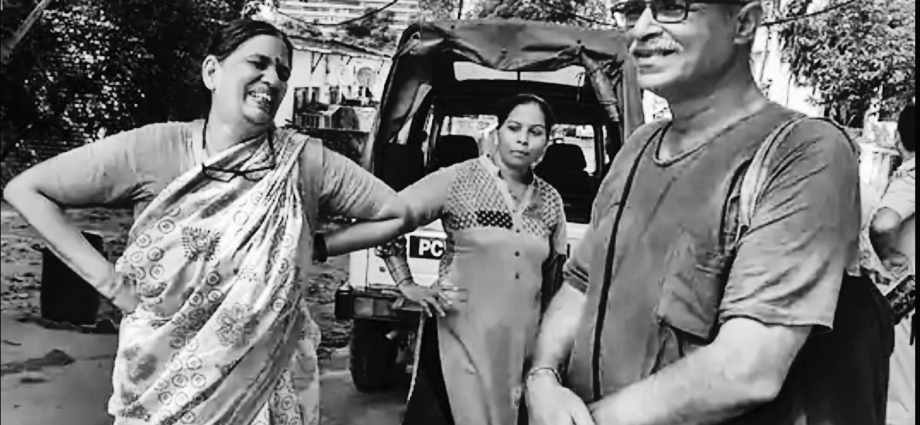 We need groups organized to fight, they're the ones who can make a dent – A profile of Sudha Bharadwaj
​"At no time have governments been moralists. They never imprisoned people and executed them for having done something. They imprisoned and executed them to keep them from doing something. They imprisoned all those prisoners of war, of course, not for treason to the motherland…They imprisoned all of them to keep them from telling their fellow villagers about Europe. What the eye doesn't see, the heart doesn't grieve for."
― Aleksandr Solzhenitsyn, The Gulag Archipelago, 1918-1956
'Political Prisoner' is a category of criminal offense that sits most egregiously in any civilized society, especially ​in ​countries that call themselves liberal democracies. It is a thought crime: the crime of thinking, acting, speaking, probing, reporting, questioning, demanding rights, and, more importantly, exercising one's citizenship. But these inhumane incarcerations do not just target private acts of courage, they are bound together with the fundamental questions of citizenship, and with people's capacity to hold the State accountable. Especially States that are unilaterally and fundamentally remaking their relationship with their people. The assault on the fundamental rights has been consistent and ongoing at a global level and rights-bearing citizens are transformed into consuming subjects of a surveillance State.
In this transforming landscape, dissent ​is ​sedition, and resistance is treason. 
While the Indian State has a long history of ruthlessly crushing dissent, a new wave of arrests began in 2018. Eleven prominent writers, poets, activists, and human rights defenders have been in prison, held under the Unlawful Activities (Prevention) Act. They are accused of being members of a banned Maoist organization, plotting to kill Prime Minister Narendra Modi, and inciting violent protests in Bhima Koregaon. To date, no credible evidence has been produced by the investigating agency, and those accused remain incarcerated without bail. Since the anti-Citizenship Amendment Act protest began in December 2019, students, activists, and peaceful protesters have been charged with sedition, targeted with violence, and subjected to arrests. Since then, more arrests have followed specifically targeting local Muslim students leader and protestors, including twenty-seven-year-old student leader Safoora Zargar, who is currently pregnant.
Since the COVID-19 lockdown was announced, India's leading public intellectuals, opposition leaders, writers, thinkers, activists, and scholars have written various appeals to the Narendra Modi government for the release of India's political prisoners. They are vulnerable to COVID-19 contagion in the country's overcrowded jails, where three coronavirus-related deaths have already been reported. In response, the State has doubled down and rejected all the bail applications. It also shifted the seventy-year-old journalist Gautham Navlakha from Delhi's Tihar Jail to Taloja, without any notice or due process – Taloja is one of the prisons where a convict has already died of COVID-19.
A fearful, weak State silences the voice of dissent. Once it has established repression as a response to critique, it has only one way to go: become a regime of authoritarian terror, where it is the source of dread and fear to its citizens.
How do we live, survive, and respond to this moment? 
In collaboration with maraa, The Polis Project is launching Profiles of Dissent. This new series centers on remarkable voices of dissent and courage, and their personal and political histories, as a way to reclaim our public spaces.
Profiles of Dissent is a way to question and critique the State that has used legal means to crush dissent illegally. It also intends to ground the idea that, despite the repression, voices of resistance continue to emerge every day.
The following excerpt is published from maraa, READ ALOUD: Ideas Can Never Be Arrested. You can read Varavara Rao's profile here. 
SUDHA BHARADWAJ 
Sudha Bharadwaj, fifty-nine, was born in the US but renounced American citizenship when she turned nineteen. She is an IIT Kanpur alumnus. Leaving her teaching job in DPS, New Delhi, Bharadwaj came to Chhattisgarh in 1986 to work with union leader Shankar Guha Niyogi, who was assassinated at the behest of a local industrialist. Niyogi ran a movement of laborers in Chhattisgarh, which was called Chhattisgarh Mukti Morcha (CMM). The work of CMM was effective during Niyogi's lifetime, but the movement shattered after his death. It was Bharadwaj who continued to work in the set-up of a splintered CMM and cobbled together the activists of various factions without becoming its official leader. She moved to Jamul labor camp during the years of the Bhilai Andolan as part of the Chhattisgarh Mukti Morcha. Bharadwaj lived and worked among the workers of Bhilai for over a decade. In 2005, Bharadwaj started practicing in the High Court of Chhattisgarh.
Her litigation and activism against corporate groups like Jindal, Birla, Adani, and Vedanta became well known amongst people's movements. She formed Janhit, a lawyers group to fight workers' cases in courts. She also served as a member of the Chhattisgarh state legal services authority and holds the post of vice president of the Indian Association for People's Lawyers (IAPL).
Date of arrest: 28 August 2018
Charges: Sudha Bharadwaj was arrested along with five other activists under the Unlawful Activities Prevention Act, including the following sections: 153 A (promoting enmity between different groups) of the IPC; 505(1) (intent to cause harm to the public/army) of the IPC; 117 (abetting commission of offence by the public or by more than ten persons) of the IPC; and 120 B (concealing design to commit offence punishable with imprisonment) of the IPC.
A dramatic midnight raid on Bhardwaj's house in Faridabad was conducted by the police, wherein her pen drives, laptops, and work papers were seized. The Punjab and Haryana high court stayed the transit remand, preventing the police from taking her to Pune, and placing her under house arrest until the allegations made in the First Information Report were verified. This was after the police kept her lawyer in the dark about her whereabouts, a breach of the high court order. Bhardwaj's plea claimed that she was given arrest documents in Marathi, which she does not understand, and the FIR based on which she was arrested did not name her, both of which would mean the conditions for transit remand had been unsatisfied. She was arrested based on an accusation of being a Maoist, her alleged connection to Elgaar Parishad, and its alleged role in inciting violence at Bhima Koregaon. In July 2018, Republic TV anchor Arnab Goswami in his segment "Super Exclusive Breaking News", claimed Bharadwaj had written a letter to one "Comrade Prakash", strongly hinting at her alleged Maoist links. Bharadwaj sent a legal notice to Goswami demanding a copy of the letter, which the channel failed to produce.
Update: After her arrest, Sudha Bharadwaj was placed under house arrest as per Supreme Court orders for four weeks. She was then arrested on 26 October, as her bail plea were rejected, and was sent to jail. Bharadwaj is still in jail. The police are yet to file a charge sheet against her as of 23 November 2018, requesting an extension of another ninety days.
Location of work: Chhattisgarh
Update 8 June 2020: Sudha Bharadwaj is currently being held at the Byculla jail, where an inmate has tested positive for COVID-19. An interim medical bail plea, filed on 29 May 2020, was rejected by a special court.
Bharadwaj's bail petition states that she falls under the "the most vulnerable category facing high fatality rate should she contract coronavirus. If she continues to remain in incarceration, there is a grave danger to her life as she has diabetes and high blood pressure."
The petition further alerted the judges to the "alarming news" that "despite measures taken by Byculla Jail their own jail doctor has tested positive for Covid-19 along with another inmate […] Inmates with co-morbidities are not safe inside and therefore there is a grave danger to the Applicant's health inside. This danger has been acknowledged by Jail Superintendents themselves who have asked that temporary bail be granted even in serious offenses to help decongest the prison." The People's Union for Democratic Rights (PUDR) in its most recent statement has described the denial of bail to arrested activists during the pandemic as "double persecution." Terming the bail denials as "callous," the statement added that the arrested activists are being "doubly penalized by being forced to live in overcrowded jails despite their age and health issues."
On 30 March 2020, the Byculla prison authorities were directed to provide "proper facility of telephonic communication to the undertrial prisoners as per rules and report." Despite several reminders, the order is yet to be implemented. The Wire reported that Sudha Bharadwaj's daughter, Maaysha, saw her mother last on 22 February 2020. It was a day after she turned 23. Maaysha traveled from Delhi for this meeting that lasted less than five minutes.
Maaysha told The Wire: "All of these efforts have only added to my anxiety. My mother is locked in the jail where at least one person has already been infected (by coronavirus). She is diabetic and has hypertension. Since the lockdown, I have not been able to even handover her routine medicines. I don't even know how she is coping in there."
***
Excerpts from an interview conducted by Alternative Law Forum with Sudha Bharadwaj 
Well, I had no idea that I would become a lawyer. I basically joined a trade union Chhattisgarh Mukti Morcha. It was led by the legendary trade unionist of Chhattisgarh, Shankar Guha Niyogi. And I came in about the year 1986 to join the union, and in fact, originally, I had come with the idea of helping in the schools in which the union was working. But, gradually, I got drawn into the organizing of the movement itself, particularly when the movement in the 1990s shifted to Bhilai.
I remember my mother being very worried and saying that for a woman, it is very difficult. You don't have an identity. Why are you quitting your studies and going? But I was very convinced. I said, whatever they want me to do, I'll do. Maybe she would have been happy now, to see me as a lawyer. Maybe she would have thought that okay, you are more useful like this. But actually it is the workers who taught [me].
From the 1990s onwards, there was a huge movement of the contract labor in Bhilai. The union itself was very interesting, a very different kind of union. But that was quite a massive organization of the contract workers—the right to form a union, living wage, and very basic things, eight hours work, minimum wages, proper documentation, and gate passes, hazari card and all that kind of stuff. At that time, the movement in Bhilai covered sixteen industries, and most of them belonged to five big industrial houses—Simplex, Kedia, BK, BC, and Bhilai Wires. That is the point at which I became a sort of paralegal because being one of the few people in the union who could deal with lawyers and who was an educated person—who could document things. I practically became a representative of all the workers who are dealing with all this. It was difficult to get lawyers who would represent them with honesty. It was actually the workers who told me that you have to run around behind the lawyers and you have to pay them fees which you can't afford. So they were the ones who persuaded me to become a lawyer. That was around the time that I also adopted my daughter. So, while I was at home, I decided to do a lawyer course.
In the year 2000, I became a lawyer—at the ripe old age of forty. And then started doing the cases of the contract laborers. Then I realized that actually all people's movements faced the same problems as our union faced, which was that the implementation of those laws which give people rights was very poor. They need to struggle for it. On the other hand, when they agitate a lot of cases are put on them. Criminal cases are put on them, and they have to defend themselves in those cases. So, actually they don't find lawyers who understand their viewpoint, who also will not fleece them, and won't be too formalistic and understand the exigencies of the movement. And above all, the fact that the legal strategy has to intertwine with the strategy of the movement. So this is how slowly we came to form this group called Janhit, which is based in Bilaspur—the seat of the High Court.
And now we do many, many cases of villagers who are protesting, illegal acquisitions, people who are protesting environmental public hearings, some human rights cases, cases of forest rights, of course, labor matters, and Public Interest Litigations. Rather than, official legal aid—which is basically a legal aid to individuals—Janhit is actually like a group legal aid. We believe that actually changes will come in society when groups get organized and then they fight. So it is actually a legal aid to help groups and to help those who are struggling… Organizations who are struggling. So we take very few individual cases unless they sort of represent or they really are in a great need. But largely it is these group cases because that is where we hope we can make some sort of a dent. Some changes can come about.