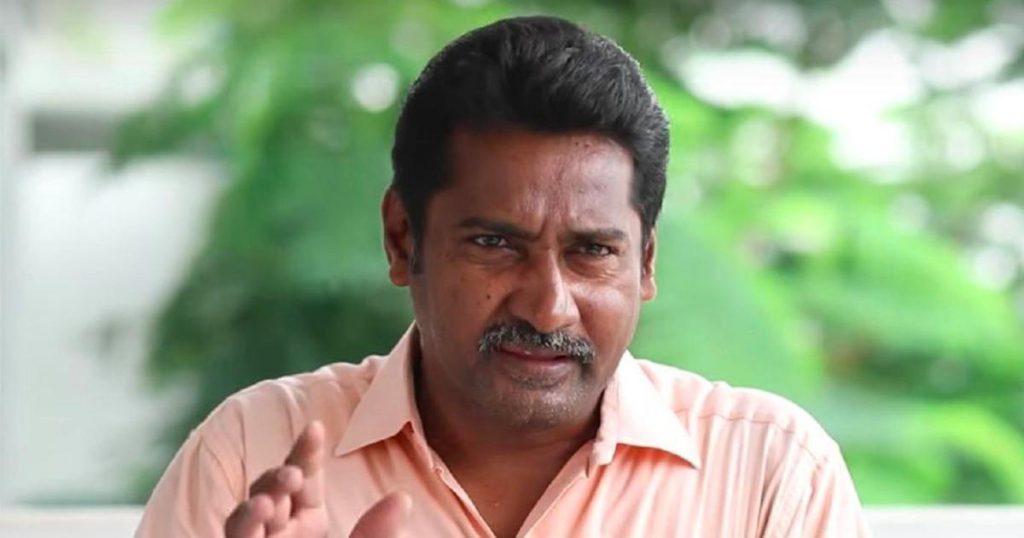 Where is Mugilan?
2 June 2019
Lois Sofia is a former resident of Thoothukudi currently studying Mathematics in Canada. Though not a journalist by training, Sofia has produced some of the most comprehensive reports and dispatches coming from Thoothukudi. She tweets @red_pastures.
Activists and lawyers in Tamil Nadu's Thoothukudi believe that the activist's disappearance is linked to his environmental activism against Vedanta and his demand for Police accountability.
RS Mugilan, an environmental activist from the southern Indian state of Tamil Nadu, went missing on 15 February 2018 after he organised a press conference regarding the killing of 15 protestors at a demonstration in Thoothukudi against the UK-based mining corporation Vedanta in May last year.At the press conference, Mugilan released a 46-minute documentary, Koluthiyathu Yaar? Maraikkapatta Unmaigal (Who lit the fire? The Hidden Truths). The documentary alleged that the police, in collusion with the Vedanta's copper-producing subsidiary, Sterlite Copper, disrupted the protests. After the screening, Mugilan demanded that police officers involved in the shooting be arrested and held accountable. He specifically named high ranking officers, including the then Inspector General of Police, Shailesh Kumar Yadav, and Deputy Inspector General of Police, Kapil Kumar Saratkar, as being complicit in orchestrating the police firing. It was also reported that "after the press conference, Mugilan told close friends that he received threats." Mugilan boarded a train after addressing the media. He has not been seen since.
Many of the local activists and lawyers believe that this disappearance is linked to his environmental activism against Vedanta and demand for police accountability. It has been over three months since his disappearance, but the state and legal institutions have largely remained silent.
On the 6 June, a day after this report was filed, Mugilan's habeas corpus petition was heard again at the Madras high court; this was the fifth hearing on the matter. The Crime Branch-Criminal Investigation Department (CB-CID) filed the status report in a sealed envelope. During the inquiry, the investigating officer stated that they had an "important lead" and asked that the report not be made public as it will affect the ongoing investigation. The Madras High Court granted another three weeks to the investigating team. Mugilan's wife said that this development was a result of the protest held in Chennai last Saturday. There are more planned on 15 June, in six districts across the state.
The Anti-Sterlite Movement is a people's movement that started in 1995 which opposed Vedanta's copper smelter in the port town of Thoothukudi. In February 2018, fresh protests broke out against the smelting plant and its proposed expansion. A hundred days of peaceful protests by locals ended brutally with the police opening fire at an unarmed crowd of about 20,000 protestors. Fifteen people lost their lives and several dozens were severely wounded. Eyewitness accounts, press reports, and inquiries by human rights organizations all suggest that the police officials made little or no effort to avoid loss of life. Instead, they used the violence strategically to clamp down on protestors, activists, and lawyers. More than a year after the protests, the Central Bureau of Investigation (CBI), India's premier investigating agency, has not charged any of the officers for their role in the massacre despite overwhelming evidence of complicity: the shootings were recorded and broadcast by various news channels.
Mugilan, who has been a grassroots environmental activist for more than two decades, previously opposed and fought against illegal mining of granite and sand, and the construction of a nuclear power station at Kudunkulam. For this, he was arrested and received various death threats. The sand mafia has a long history of silencing activists and government officials with murder and violence. Mugilan's lawyer, J Kennedy, states that Mugilan was previously threatened by sand mining baron S Vaikundarajan after he exposed the illegal mining activities. Sandhya Ravishankar, an investigative journalist, who reported extensively on the sand mining cartels in the region was stalked and harassed. She also received death threats from Vaikundarajan and others.
In 2012, Mugilan was illegally detained during the height of another environmental agitation—the anti-nuclear struggle against the Russian built Kudankulam nuclear power plant. During these protests, more than 22,450 people, including Mugilan and Anti-nuclear activist Dr SP Udayakumar were charged with "sedition" and "waging war against the country." Mugilan spent a year in prison, where he was "treated inhumanly," held in "solitary confinement in a cell stinking of faeces." During his incarceration, more unsubstantiated charges were added and his bail was refused multiple times before he was finally released.
Dr Udayakumar who was at the forefront of the Kudankulam movement and worked alongside Mugilan said that the government targets environmental campaigners because they mobilize the marginalized in Indian society—women, indigenous people, and Dalits. He says, "There is widespread environmental awareness among the public because they directly experience the effects. They embrace our activism and organise and lead, which the government finds threatening." He added, "We are accused of acting against the interests of India for opposing so-called "development projects." But these projects only serve the interests of corporate India—Adani, Ambani, and Agarwal [prominent Indian industrialists]."
Prafulla Samantara, an activist in the eastern Indian state of Odisha has led the indigenous Dongria and Kutia Kondhs' movement opposing Vedanta's plans to mine bauxite from their ancestral hills. In October 2004, the Odisha State Mining Company (OMC) signed an agreement with UK-based Vedanta Resources to mine bauxite, an aluminium ore, in the Niyamgiri Hills. The proposed open-pit mine would destroy 1,660 acres of untouched forestland in order to extract more than 70 million tons of bauxite, polluting critical water sources in the process. Since 2004, Vedanta has been trying to expand its footprint in the region. The Odisha government has repeatedly imprisoned organisers by terming them "Maoists" and "anti-social elements." Like Mugilan, Samantara has also been targeted. He said there have been at least three attempts on his life. The activist also affirmed the ongoing patterns of environmental plunder, use of violence to crush dissent, and the state's complicity in the crackdown of protest, saying that Anil Agarwal, Chairman of Vedanta, "captures the political establishment, local administration, bureaucracy, police, and local mafia and uses them against people fighting ecological destruction."
India has been witnessing a growing number of environmental movements over the past two decades and, with it, an increase in the use of indiscriminate state and vigilante violence, threats, clampdown by the state on dissent, crony capitalists and their goons. The country's capitalist and political elites have successfully seized the institutions to execute legally sanctioned plunder and exploitation of resources. The BJP government's proposed changes to the Indian Forests Act, that gives more powers to the police officials and opens the protected forest regions for commercial exploitation, should be seen as a part of the ongoing onslaught against the indigenous people, and their lands. Arrest and intimidation of journalists covering these stories targeted killing of activists, and the imposition of draconian sedition laws against protestors have criminalized dissent and created a climate of fear. For instance, 22-year-old student activist Valarmathi was charged under a preventive detention law for distributing pamphlets against potentially ecologically harmful methane and hydrocarbon extraction projects in 2017. She spent several months in prison before a court quashed her detention. Since her release, she has been repeatedly targeted by the police. Valarmathi was arrested again in 2018 when she arrived at Achankuttapatti village where its people were protesting the Salem 8-way project and was charged with sedition for protesting.
In 2017, The Guardian reported that India "may be the world's largest democracy, but journalists say the room for critical coverage and dissent is shrinking." Just in the last year, authorities in Tamil Nadu investigated three international journalists in two separate incidents. Union minister Pon Radhakrishnanaccused the two French journalists who were in Kanyakumari, a district plagued by illegal sand mining, of being "spies who entered the country via boats." The local journalists who assisted them were illegally detained and charged. A month later, an independent American journalist who was in Thoothukudi to report on the killings was deported after being questioned for several hours.
According to a study by Global Witness, with each passing year, our planet is becoming increasingly dangerous for the people who defend it. The indiscriminate firing in Thoothukudi by the state police against unarmed people is a chilling reminder of the cost of protest in the world's largest democracy. Mugilan's disappearance must be seen as a part of the overt and ongoing attacks against environmental mobilizations in India, often fought by some of the most marginalised communities. Earlier this year the UN Human Rights Council adopted a resolution calling for an end to violence and repressive actions which are directed at environment defenders. Is India listening? If so, where is Mugilan?