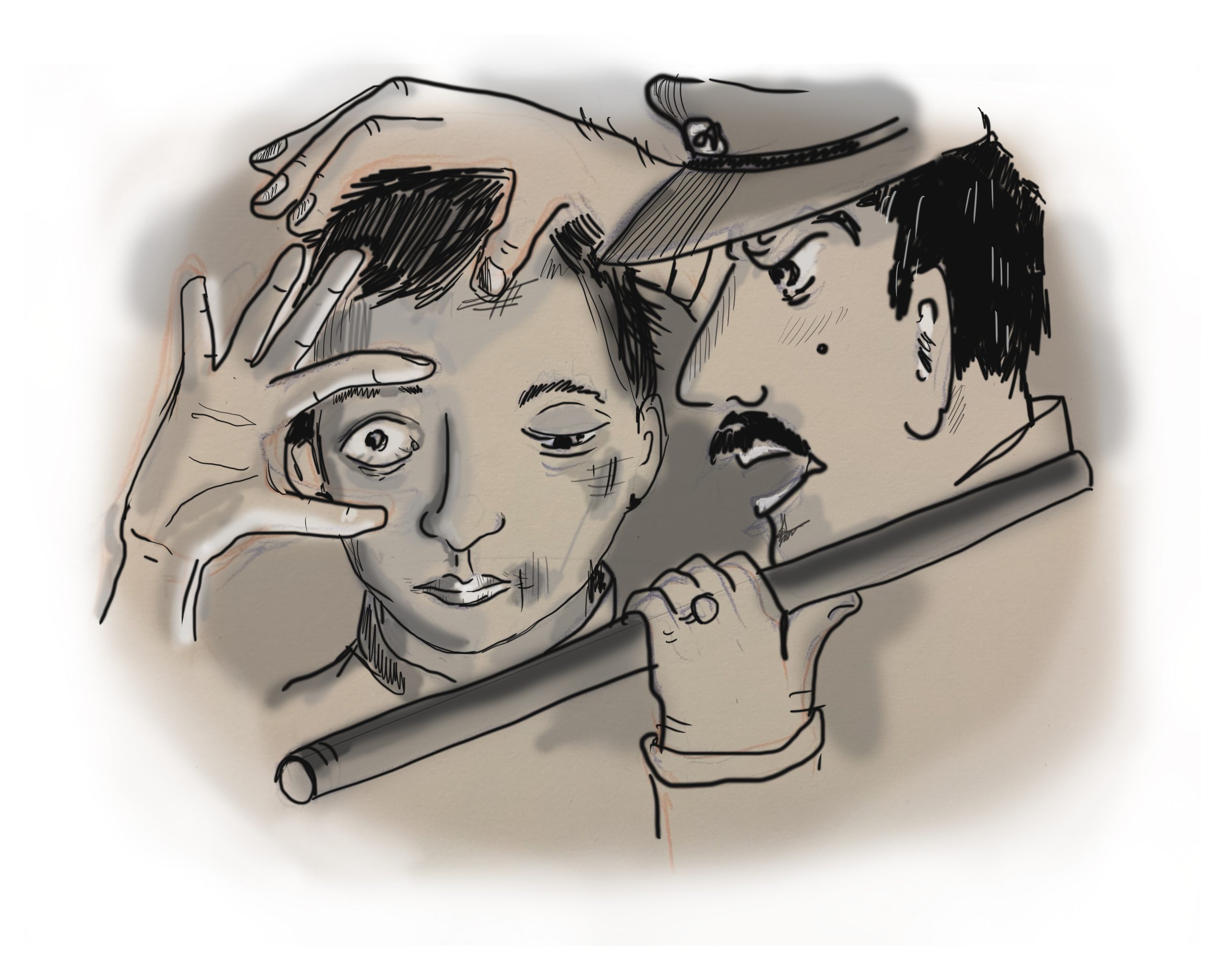 Impunity and complicity: The role of the State and non-state institutions in cases of custodial deaths in India – 4
Chasing accountability: The case of custodial deaths in India is a series of five essays in which Watch The State analyzes judicial and administrative accountability in cases of custodial deaths in India from 2015 and 2016. The time period has been selected because enough time has passed to analyze whether any measures of accountability have been taken while being aware of the pace of the Indian criminal justice system.
The investigation finds that, despite existing legal frameworks, custodial deaths and torture often go unpunished; police brutality and torture are ubiquitous, along with abuse of authority and discrimination against caste and religious minorities.
This essay focuses on highlighting the identity of the victims, the impunity with which the Police function and the complicity of State and non-state institutions including the medical and judicial fraternity and the mainstream media in aiding and abetting violence against prisoners.
In part four of this series, we discuss the legal hurdles in convicting police officials in cases of custodial deaths in India. We also attempt to shed light on some of the existing biases and prejudices within state institutions against marginalized communities, such as poor, working class Muslims and those belonging to Scheduled Castes. These biases make custodial deaths by the State "justifiable" and in some cases "desirable" due to the entrenched notion of the victim's "criminality." Multiple factors show that violence against minorities and marginalized communities is de facto identitarian violence: for example, when persons from minority communities are in custody in relation to cow slaughter or terrorism, their identity makes their situation doubly precarious.
As highlighted in the introductory essay in this series, victims of custodial violence and torture in India are mostly men from oppressed castes, lower class and religious minority groups. Arrested and in custody on charges that would never be proved, the State is allowed to perpetuate its institutional biases through violence against its citizens. The concept of identitarian violence is essential in investigating the reasons and causes as to why the victims were in custody in the first place. It is also important to understand the institutional and underlying biases of the Indian state against persons from minority communities and marginalized groups or, in Ather Zia's words,"how the Indian nation-state constructs bodies that are seen as fit to be eliminated without accountability." (page 50)
As Amartya Sen notes in Identity and Violence: The Illusion of Destiny (2006), "Our freedom to assert our personal identities can sometimes be extraordinarily limited in the eyes of others, no matter how we see ourselves." (page 31) Choices, according to Sen, "are always made within particular constraints, and this is perhaps the most elementary aspect of any choice." Victims of custodial deaths often do not have the choice and freedom that others with privileged identities have. In a State that is institutionally biased, the notion of "criminality" underlies marginalized identities.
Padma was called in for questioning to the Asifnagar police station in Hyderabad, Telangana, in connection with a theft case. She was called in for questioning on 21 August 2015, when she was sick and called in again the next day on 22 August, when she collapsed and died, according to the Police. N. Padma was a daily wager at function halls. Kuppuswamy was a small shop owner who was arrested for illegal liquor sale. He was lodged in Madurai prison (Tamil Nadu) under judicial custody and died on 15 August 2016 in prison. Mohan, a Sri Lankan national in his early forties, was picked up by the Police in Tamil Nadu. He died a few hours after he was picked up and taken for questioning on 3 September 2015. Mohan had to shut his business and was doing odd jobs. N. Gokulakannan was a contract laborer who was picked up by the Police in connection with a murder. He was picked up around midnight and was rushed to the hospital in Salem, Tamil Nadu, where he was declared "brought dead." He died on 6 June 2015. Bhushan Deshmukh was arrested under the Arms Act for possession of illegal weapons on 20 September 2015 in Kolkata, West Bengal. Burtolla police claimed he died of diarrhea, but a post-mortem report revealed multiple injuries all over the body suggesting that he was beaten up by more than one individual. Deshmukh worked at a jewelry shop. Bujji was a suspect in a chain snatching case in Tamil Nadu. He was detained for his role in the killing of the police constable who was pursuing the suspects in the chain snatching case. Bujji died a few hours after he was taken into police custody on 15 June 2016. T. Lakshman was a mason, who was an accused in a murder case and was arrested by the Telangana police. According to the Police, while Lakshman was in the sub inspector's room in the police station, he removed his shirt and attempted to hang himself from window grills. A constable noticed Lakshman and had him moved to a nearby hospital from where he was referred to a government hospital in Hyderabad. However, he died on the way to the hospital on 12 March 2015.
These cases of poor, working class citizens who were picked up by the Police on various charges that were never proved highlight their perilous social locations.
Legal hurdles contribute to making conviction rates for police officials low. Section 197 of the Code of Criminal Procedure 1973 (CrPC) states that no government official or member of the armed forces suspected to have committed a criminal offense while acting or purporting to act in the discharge of their official duty can be prosecuted without prior sanction of the central or state government. Further, Section 132 of the CrPC also protects police and armed forces who engage in activities to help disperse crowds from prosecution. The report of the Law Commission that was drafted to help India ratify the United Nation's Convention against Torture and pass legislation in the country recommended that Section 197 should be removed to ease the prosecution of public officials in cases where they have committed criminal offenses.
In 2005, changes were made to Section 176 of the CrPC that deals with inquiry by a magistrate into the cause of death while in judicial or police custody. These changes stated that inquiries after police custodial deaths were to be conducted by judicial magistrates rather than executive magistrates. The close affinity between the Police and executive magistrates was seen as a reason for the change along with the presumption that the judicial magistrate would be an independent body. As Human Rights Watch noted, an executive magistrate is part of the executive branch of government, as are the Police, and thus face pressure not to act impartially. The People's Union for Democratic Rights (PUDR), a civil society organization working on human rights issues in India, in a report on custodial deaths in Delhi from 2016 to 2018, noted that this change to Section 176 was welcome with the promise of greater accountability and transparency. However, while judicial magistrates' inquiries are now mandatory, and the postmortem supervision must be carried out under their supervision, a few challenges remain. The magistrate's report is not in the public domain so there is no way for citizens to know if the report has been completed, and any inquiry about the response receives the standard answer – that it is sub judice. PUDR also noted that these reports are supposed to be sent to the National Human Rights Commission (NHRC) as they are part of police action, however, they are not accessible or made part of the public domain. A 2016 Human Rights Watch (HRW) report on cases of custodial deaths show that according to government data, a judicial inquiry was conducted in only 31 of the 97 custodial deaths reported in 2015. In 26 cases no autopsy was conducted.
On the other hand, the NHRC has interpreted Section 176 of the CrPC to mean that an inquiry by a judicial magistrate is not mandatory in all cases of custodial deaths. In April 2010, the NHRC sent a notification to all states saying a judicial inquiry is mandatory only in those cases of custodial deaths "where there is reasonable suspicion of foul play or well-founded allegation of commission of an offense. All other cases of custodial death where the death is natural or caused by disease may be enquired into by an executive magistrate."
Importantly, PUDR also notes that there are no independent eyewitnesses to custodial deaths other than police officials. The judicial magistrate relies on the Police in gathering evidence and even in cases where the magistrate interviews family members and others known to the victim, the Police can, as is apparent in the 15 cases tracked in this series, influence the investigation in different ways. The Police often threaten and intimidate the families of the victims and also offer them bribes to maintain their silence, as in Meenkulambu Karthik's case from Tamil Nadu, where the Police paid his family a bribe of Rs. 200,000 to hush up Karthik's death in police custody. Often, police investigators close cases relying entirely on the account of the accused police officers.
According to the data submitted by the Home, Prison and Disaster Management Department in the Jharkhand State Assembly on 7 March 2022, the state recorded 166 custodial deaths — 156 in jails and 10 in police custody. The number of custodial deaths stood at 67, 45, 54 in the years 2018-19, 2019-20, 2020-21, respectively. This is the first time that data on custodial deaths has officially been released by the state government proving that the State doesn't imagine such data to be essential public knowledge.
The bias against Muslims among executive bodies of the Indian state and its failure to hold itself accountable is best highlighted in a conversation in Abdul Wahid Shaikh's Innocent Prisoners (2021). The following exchange takes place between Wahid and his brother Javed who had come to meet him at the police station:
Javed: "Bhai [brother] why are these ATS [Anti Terrorism Squad] fellows harassing you repeatedly?"
Me: "Not just me, brother. They are harassing many Muslims."
Javed: "But you are innocent, Bhai. Then why?"
Me:  "Being a Muslim itself is the biggest crime in their eyes."
Javed: "I am going to complain against the ATS then."
Me: "Who will you complain to?"
Javed: "To the police."
Me: "The ATS is also police […] Police will not register a complaint against the police." (page 288-298)
Bias against Muslims among institutions such as the Police and the judiciary have been documented in various cases. This also stems from institutional exclusion and lack of adequate representation in state bodies such as the Police, the Parliament and the judiciary. Political scientist Christophe Jaffrelot in his book Modi's India: Hindu Nationalism and the Rise of Ethnic Democracy (2021) states that Muslims were never well represented in the Indian state apparatus and have remained on the sidelines of some of India's institutions since 1947. There is institutional exclusion of minorities within the Police as well. While the share of Muslims in the population subsequently rose, reaching 14.25 percent in 2011, the proportion of Muslims in the IPS dwindled, falling below 3 percent in 2016 and as low as 2.5 percent of the whole service if Jammu and Kashmir is excluded from calculation. The gap between the share of Muslims in the population and their proportion in the IPS has always been considerable. According to Jaffrelot, in 2013, Muslims made up 6.27 percent of police officers in India but their strength was on the wane. In 2004 they composed 7.1 percent, then 7.5 percent in 2005, 9.1 percent in 2008 (a year for which statistics are skewed due to a lack of reporting by Madhya Pradesh) and 6.5 percent in 2011.
The 2018 Status of Policing in India report led to the creation of an indicator of sociocultural diversity within the Indian police forces. The report confirms that between 2006 and 2013, Muslims were particularly underrepresented in law enforcement agencies. In Delhi, data showed that in 2017, the proportion of Muslims in the police was at an all-time low at 1.7 percent whereas Muslims represent 13 percent of the state population.
Religious bias is an important factor in cases of custodial deaths. Questions regarding the identity of the victim and why they were in custody at all help understand the multiple factors that could contribute to a person's detention. According to the Status of Policing in India Report 2018, 54 percent of Muslims are fearful of the Police as opposed to 24 percent Hindus (though opinions vary considerably by caste). Muslims who are the most fearful of the Police believe that the Police could falsely implicate Muslims in terror cases. The deaths in custody of Viqaruddin Ahmed, Sheikh Hyder, Obaidur Rahman and Shameel Basha – all poor, working class Muslims – highlight their precarious social situations.
Viqaruddin Ahmed was a suspect in the Mecca Masjid bombing in which two policemen died in Hyderabad. The Police killed Ahmed and four others in an "encounter" in Telangana on 7 April 2015 while escorting him to the Hyderabad Court from Warangal Jail. A fact finding report by Civil Liberties Monitoring Committee's (CLMC) stated that "The role of the Police is inhuman and highly objectionable. It is the practice of the Hyderabad police to create fictitious stories about Muslim youth and create the image of a terrorist. Then on that basis they target and arrest large number of Muslim youth. This has been the trend since the 1980s. The latest trend was Viqar [Ahmed], he was the target of the Police and other youths were also linked to him and killed."
On 3 October 2016, Minhaj Ansari and two of his friends were arrested from their village Dighari in Jamtara district, in the state of Jharkhand. The arrests were based on a complaint by a Vishwa Hindu Parishad (VHP) leader to the Police. Ansari was taken to a hospital in Ranchi after two days in police custody to be treated for injuries and died there on 9 October 2016. Ansari's case received a lot of public attention since it was a custodial death linked to cow-protection violence and lynching. Human Rights Watch listed Ansari's case in their 2019 report on incidents where vigilante groups attacked minorities under the guise of cow protection. The State showed no interest in prosecuting Ansari's case as the charge sheet was not submitted for two years since it was filed in October 2016 and at the time of writing it is uncertain whether it has been submitted. The last update that we received was that the case was listed for hearing on 1 April 2022. The 2017 Khudai Khidmatgaar writ petition (Khudai Khitmatgaar vs. Union of India, 2017) in the Supreme Court of India regarding beef-related lynchings states that "Though the Police earlier denied the allegations of excesses, they've now admitted that there were prima facie lapses on the part of the officer-in-charge of police station Narayanpura sub Inspector Harish Kumar Pathak who has been suspended and an FIR of murder has been registered against him."
In recent years, laws protecting cows have led to vigilantes taking matters into their own hands, as well as a rise in lynching cases where self-proclaimed cow protectors operate with impunity. According to the Armed Conflict Location and Event Data Project (ACLED), a US-based disaggregated data collection and crisis mapping project, perpetrators in several cases of lynching are reported to be members of Hindu nationalist groups, such as the Rashtriya Swayamsevak Sangh, the Hindu Yuva Vahnini, Bajrang Dal and Vishwa Hindu Parishad. From 2016 until the end of 2020, over 50 fatalities were reported because of lynching or mob violence following suspected cow slaughter or trade. The victims of these attacks belonged mostly to Muslim, Dalit or Adivasi communities who have relied on the cattle, beef and leather industry for their livelihoods. A 2017 report by IndiaSpend found that 97 percent of all cow related violence in India happened once Prime Minister Modi started his first term and that 84 percent of those killed were Muslims. The data also showed that half the attacks were based on rumors, and ironically, in 30 percent of the attacks, the Police registered cases against the victims. In Minhaj Ansari's case, based on the complaint of a self-proclaimed cow protector and a rumor, the Police picked up Ansari and tortured him to death. The links between cow-protection related lynching and police brutality, and between the Police and Hindutva groups, are evident.
From the Status of Policing in India 2019 report, one of the questions asked in the survey was: "In your opinion, to what extent is it natural for the mob to punish the culprits on their own when there is a case of cow slaughter?" IndiaSpend's overview of the report reveals that across 21 states, 15 percent respondents said they think mob violence over cow slaughter is natural to a large extent, while 20 percent chose "somewhat natural," 16 percent chose "rarely" and 46 percent chose "not at all." Jharkhand had the highest percentage (66 percent) of police personnel who said such violence was natural ("to a large extent" or "somewhat"), which means that two in three police personnel in Jharkhand think mob violence over cow slaughter is "natural."
From cases we tracked, on 21 March 2015, Sheikh Hyder was arrested for an alleged bicycle theft and died the same day in the police station in Telangana. Similarly, Shameel Basha was picked up by the Police in connection with a missing person's case of a former colleague. He died in Rajiv Gandhi Government General Hospital, Chennai, Tamil Nadu on 26 June 2015 following health complications he reportedly developed while he was in police custody. In another case, Obaidur Rahman was wanted by the West Bengal police in a criminal case arising out of a land dispute with his neighbor. Rahman died in police custody in Malda within 24 hours of his arrest on 21 January 2015. All these victims were Muslims.
The understanding of caste is also inherently tied to state violence in India. The caste system is a fecund ground for attributing criminality to certain communities. The system of targeted policing, a relic of colonial policing systems in India, identifies certain social groups that are deemed to be the proper objects of policing, according to Criminal Justice and Police Accountability Project's (CPAP) report on policing during the COVID-19 lockdown in Madhya Pradesh. The report also notes that in order to maintain public law and order, it becomes necessary for the Police as an institution to police lower levels of offenses and misdemeanors. Evidence of the Police's biases has been discussed in section one of the series, with disproportionate numbers of marginalized groups who are regularly arrested and placed as undertrials in prisons in India. This was echoed in the 1994 Law Commission of India report on custodial crimes in India.
In G.Bonappa and in P.Ramkumar's cases, their  Scheduled Caste identities play an influential role in their arrest and the ensuing investigation into their deaths. The Police are able to make decisions regarding which laws have been violated, who must be searched and who must be arrested due to the great discretionary power allowed by the ambiguity of Indian criminal laws. From the analysis of 500 FIRs as part of their study on policing during the pandemic in Madhya Pradesh, CPAP found that 60 percent of the FIRs provide no factual information or evidence as to why the Police decided to accuse the individual or pick them up for questioning.
This ambiguity is evident from the 15 cases we focus on, where the victims of custodial deaths were picked up from the streets or from their homes by the Police for questioning, based on vague reasons or with no evidence of their association to ongoing investigations. This ambiguity in discretionary powers is a major hurdle in demanding accountability and transparency from the Police in their routine interactions with citizens. Meenkulambu Karthik was picked up by the Police for a robbery in Chennai, Tamil Nadu. Hospital authorities declared that he was brought dead to the hospital after he complained of breathlessness. In Karthik's murder, the CPIM report stated that the police officials resorted to custodial torture after learning that the victim and his friends belonged to the Scheduled Caste community.
Properly conducted autopsies and post-mortem reports can be used to prove police abuse in custody. However, the lack of adequate medical care, medical negligence, the failure to acknowledge signs of torture, the failure of medical authorities to conduct rigorous independent post-mortem examinations and writing post-mortem reports that incorrectly support the police version of events are all markers of complicity by the medical fraternity. In many cases the Police neglect to call for medical help when the arrested person complains of pain and discomfort. The complicity of the Police and the medical authorities in covering up custodial violence and torture, erode the road to justice for the victims of custodial deaths and their families.
Sheikh Hyder died in police custody the same day he was arrested. According to the Police, he died as a result of injuries sustained when he tried to escape. However, according to the 2016 Human Rights Watch report, Hyder's family alleges that he died because of brutal beatings by the Police. They said that the Police failed to get him timely medical treatment and that he lay injured within police premises for hours before the Police gave the family permission to take him to a hospital. Despite Hyder's serious injuries, the Police did not take him to a hospital, but put Hyder in an auto-rickshaw and asked his sister and brother to take him to a nearby hospital. After two hours at the hospital, the doctors asked the family to take Hyder for better care to a hospital in Hyderabad city, where he was declared dead on arrival.
Although the NHRC now calls for a video recording of the post-mortem to be submitted alongside the report itself, not all states adhere to the guidelines. In many cases post-mortem examinations are conducted not by doctors but by so-called cleaners, the men who help with dead bodies in the morgue, according to HRW. In many cases, due to the unreliability of the autopsy report, the NHRC has to fall back on forensic experts causing delays in the investigation. The Commission also has to rely on secondary evidence because it does not have access to the body of the deceased.
As previously mentioned, Section 197 of the CrPC provides immunity from prosecution to all public officials for actions they undertake in carrying out their official duties unless the government approves the prosecution. This provision is intended to ensure government officials are able to perform their duties without fear of malicious prosecution. The Courts have held that prior approval is required only if police commit an act as part of their official duties, pointing out that illegal detention or assaulting or killing someone in lock-up are not part of their duties. According to HRW, authorities often ignore limits set out by Courts and instead use this provision to resist filing complaints against police officers and to deny or delay prosecutions.  State authorities also back the Police accused of wrongdoing in other ways. For instance, public prosecutors, who are officers of the Court and are supposed to represent the State, often favor police personnel accused of wrongdoing. This is despite court rulings that have clarified that the role of the public prosecutor is independent of the Police and is to "ensure that full and material facts are brought on record so that there might not be miscarriage of justice."
While discussing and highlighting the complicity of state and non-state institutions in the impunity of perpetrators of custodial violence and torture, it is important to discuss the role of media. On the one hand, the media can pressurize the State to hold it accountable and help victims' families get justice. On the other hand, the Indian media's propensity to sensationalize stories and highlight "official" narratives as the truth can hamper the road to justice and cause despair and harassment to the families.
The media's sensationalizing tendencies also stems from a bias against people from marginalized communities, which is evident from the lack of diversity in media houses: the latest Oxfam India report finds 90 percent of leadership positions in media houses occupied by individuals from the upper caste groups. The inability to empathize and understand class, caste and religious identities are at the root of this bias.
Take P. Ramkumar's case for instance. Ramkumar, a Dalit youth, was arrested by the Chennai Police on 2 July 2016 in connection with a murder that took place on 24 June 2016. The murder victim, S. Swathi, was a 24-year-old IT professional belonging to the Brahmin community. According to a report in The Caravan on 1 August 2022, "The local media framed the Swathi case as Tamil Nadu's Nirbhaya moment—the equivalent of the infamous rape and murder of a young woman in Delhi, in 2012, that led to mass outrage and a reckoning over women's safety. For months, Ramkumar's face was on every broadsheet and news show, his name on every radio station. Op-eds were published about women's safety, tinged with a certain hysteria about working-class men who followed girls above their station." The report further noted that "before the Police had uncovered any proof, a media trial convicted Ramkumar of the worst transgressions possible in a caste-based society: the sexual pursuit and killing of a dominant-caste woman by an oppressed-caste man." The police version of events was later memorialized in a film titled Nungambakkam, which according to The Caravan, framed Ramkumar as a "terrifying example of South Asia's epidemic of violent patriarchy." When the accused is unable to defend himself, a media trial ensures that he is culpable, with no recourse to clear his name in the eyes of the public.
In custodial death cases, families of victims who are poor and socially marginalized often face intimidation and threats and are vulnerable to harassment while seeking justice for their kin. Families of victims are also threatened and pressured to not press charges and in some cases coerced to accept bribes from officials, as the PUDR report notes. The cycle of violence and oppression continues in other forms even after the death of victims. In some cases, the Police refuse to file FIRs by family members against fellow police officers and in other cases some form of disciplinary action is taken against the accused police officers only after the family members manage to exert pressure with the help of their communities. There are also instances where eyewitnesses of torture in police or judicial custody, who themselves were detained, might turn hostile and not testify against the accused police officers. Family members also frequently allege that the Police threaten to file made up criminal charges to deter them from pursuing justice for the victims.
When the Police are backed by the government machinery, they enjoy unrestrained power. Custodial deaths should not be viewed in isolation and merely as an aberration to routine police procedure. Rather, they must be viewed in the context in which the Police routinely operate with its biases against caste and religious minorities, which are inextricably linked with their abuse of authority and power over citizens with impunity. Writer Arsheen Kaur noted that one of the reasons that encourages a culture of impunity around custodial deaths is that people in India find it difficult to condemn police brutality, especially those from affluent backgrounds that have the caste and class privilege of denying the existence of such brutality. While the Police are guilty of committing the crime, the doctors cover up for them. The media reports the Police version of events as the "official" narrative, the judiciary fails to take any action on time and the executive fails to hold itself accountable. The Indian State perpetuates violence with the aid of both state institutions and non-state bodies.