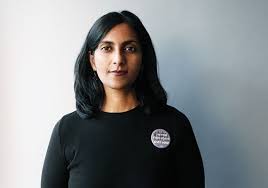 The Polis Project hosts activists, organizers, writers, reporters, and progressive voices as a part of our Politics Podcast. They don't just tell you what happened. They inform you of the issues, policies, and legislation that matter to their communities, beyond the headlines. Joining us today to discuss the recent resolution in support of the farmer's protest, why she introduced it, and understand the significance and effectiveness of these resolutions is Council Member Kshama Sawant.
Kshama Sawant is an American politician and economist who has served on the Seattle City Council since 2014. A former software engineer, Sawant became an economics instructor in Seattle after immigrating to the United States from her native India. She was the first socialist to win a citywide election in Seattle since Anna Louise Strong was elected to the school board in 1916. In the United States, Council Member Kshama Sawant is seen as an important ally in this fight. This month, she introduced the Seattle city council resolution in solidarity with farmers' protests in India. In February this year, she also introduced the resolution that urged India to uphold the Constitution by repealing the citizenship laws and to stop the National Register of Citizens.
Since September, thousands of farmers have been protesting the new laws that aim to deregulate Indian agriculture.
They have clearly stated that these neo-liberal laws will dismantle safeguards, create greater instability, severely affect their livelihoods, and put the country's food security at risk. While simultaneously creating an opportunity for large private corporations to enter and exploit the agriculture sector. Organized by more than 31 trade unions, the protest has drawn support from nearly all Punjabi society segments. These peaceful protests have been met with tear gas, water cannons, and violence by the Indian Police. Yet, the protests continue to grow and have now spread to other Indian cities. The Indian diaspora and their allies have also taken to the street to support the farmer's protests. They are building a powerful solidarity movement globally to fight against the emergence of Hindutva, its politics, and violence.
The podcast is available in video and audio formats. You can listen to our last episode guest-hosted by Madhuri Sastry here.
---