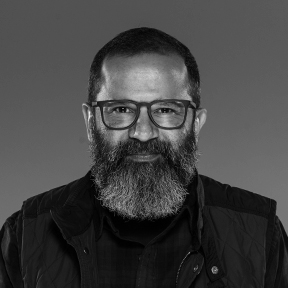 The elusive distance between the photographer and the photographed — is often impossible to bridge. Reflections on Representation is a conversation series hosted by the CPB Learning Lab and The Polis Project in April 2021. It brings together four photographers, educators, and visual practitioners. Ritesh Uttamchandani, Sinthujan Varathrajah, Laura Saunders, and Rishi Singhal in conversation with Suchitra Vijayan. They rethink power, representation, and relationship image-making.
Rishi Singhal is a photographer and educator.
"What we must eliminate are systems of representation that carry with them the authority which has become repressive because it doesn't permit or make room for interventions on the part of those represented." – Edward Said
"The making of a human likeness on film is a political act." – Allan Sekula
Using writer and photographer Suchitra Vijayan's recent book Midnight's Borders: A People's History of Modern India as the point of departure, the conversations return to fundamental questions of representation – who gets to document and describe our social worlds? How do we rethink the relationship between text and photographs, mediated by neoliberal aesthetics of image-making and sharing? How does this affect the process of documentation, display, and creating an archive that depicts acts of violence, erasure, police brutality, occupation, and displacement?  How do communities in resistance use photographs, media, and video to challenge the powerful? How do we locate questions of ethics within this discourse of representations?
Reflections on Representation | Series 
History Begins at Home: Conversation on Photography, and Memory
Speakers: Ritesh Uttamchandani + Suchitra Vijayan
Bombay-based photographer and author of The Red Cat and Other Stories Ritesh Uttamchandani and Suchitra Vijayan discuss her book Midnight's Borders, as a continuation of their decade-long conversation about history, memory, and photography.
You can watch the conversation here.
Representing geographies of displacement.
Speakers: Suchitra Vijayan + Sinthujan Varatharajah
Sinthujan Varatharajah is a political geographer, essayist, and researcher based in Berlin. Their work focuses on geographies of displacement and statelessness. In this conversation, they discuss the relationship between spatial politics, geographies of power, and statelessness?
You can watch the conversation here.
Records of resistance
Speakers: Suchitra Vijayan + Laura Saunders
Photographer and filmmaker Laura Saunders discuss her work on the US / Mexico Borderlands, by interrogating the multifaceted histories of migration; and the colonial violence of the border as a site that produces narratives of criminality. Laura is documenting the construction of the Mountain Valley Pipeline, an expansive fracking project that began in 2015. She has rooted this work in looking at "community resistance from the edges of Appalachia, where environmental and economical extraction has become commonplace."
You can watch the conversation here.
Rethinking Pedagogy: Dignity in Representation
Speakers: Rishi Singhal + Suchitra Vijayan
Photographer and educator Rishi Singhal reflects on teaching photography and visual practice to a new generation of artists and practitioners who are committed to producing and creating socially relevant bodies of work.
You can watch the conversation here.
About the Speakers 
Laura Saunders 
Laura Saunders is an awarded photographer and filmmaker working in southern Arizona and southwest Virginia. She graduated with distinction from the Documentary Photography & Photojournalism Masters Program at The London College of Communication in 2011. Her work deals with environmental extraction in rural Appalachia where she grew up, as well as stories rooted in the historical understanding of forced migration, for-profit incarceration, and the growing industry of U.S. border militarization. She is a member of the Juntos photo cooperative, Women Photograph, and an IWMF fellow.
Rishi Singhal 
Rishi Singhal is a photographer and an academician based in Gandhinagar, India. He has received his education from the Centre for Environmental Planning & Technology (Ahmedabad), Visual Studies Workshop (Rochester), and the College of Visual & Performing Arts at Syracuse University. Currently, he is leading the master's program in Photography Design at the National Institute of Design, India.
Ritesh Uttamchandani 
Ritesh Uttamchandani is a Bombay-based photographer. He started his career at the Indian Express in 2004, before working with the Hindustan Times and OPEN Magazine. Since 2015 he has been a freelance photographer and published his debut photobook, The Red Cat and other Stories. His personal work is currently centered around the magic in the mundane, in tongue-in-cheek moments that are lost if one blinks too long.
Sinthujan Varatharajah
Sinthujan Varatharajah is a political geographer and essayist based in Berlin. Their work focus on forced displacement, statelessness, and geographies of power. Varatharajah's exhibition "how to move an archive", on refugee movements through the divided city of Berlin, was part of the 11th Berlin Biennale for Contemporary Art. Their first book will be published in German next spring.
Suchitra Vijayan
Suchitra Vijayan was born and raised in Madras, India. Her work has appeared in The Washington Post, GQ, The Boston Review, The Hindu, and Foreign Policy. A Barrister by training, she previously worked for the United Nations war crimes tribunals in Yugoslavia and Rwanda before co-founding the Resettlement Legal Aid Project in Cairo, which gives legal aid to Iraqi refugees. She is an award-winning photographer, the founder, and executive director of the Polis Project, a hybrid research and journalism organization. Her book Midnight's Borders: A People's History of Modern India was published by Contest Books in India, and Melville Housein US and UK in May 2021.
The conversations are supported by PhotoSouthAsia – an online project of the MurthyNAYAK Foundation. 
Get a copy of Suchitra Vijayan's book Midnight's Borders: A People's History of Modern India here.