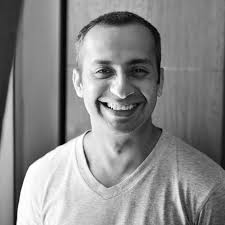 For each episode, our guests will be asked to choose five pieces or items that have influenced their intellectual life and their work. These five items can be books, art, music, poetry, photographs, performance, a person, an event, or an experience. The choices then become the basis of a free-flowing conversation that discusses our guest's life, their personal, political and intellectual journeys and histories. At the end of the program, our current guest will nominate the person to be interviewed next in the series making this podcast an exercise in serendipity and intellectual history of a new generation of writers/ scholars/ artists and activists.
Ritesh Uttamchandani is a Bombay based photographer.
It is not often that one gets to record a podcast that is part of a conversation that has lasted 10 years. Past week, I spoke to Bombay-based photographer Ritesh Uttamchandani. He is one of the first contemporary photographers whose work I became familiar within 2007. For over 10 years we have spoken about photography and representation, ethics, and aesthetics story.
Recently I saw his wonderful book, THE RED CAT AND OTHER STORIES.
It is a story about a family, a city and a photographer. It is an honest and intimate work of love and labor, that doesn't pander to 'isms'. Doesn't follow the genre of personal photo stories that quickly become an exercise in navel-gazing. It is not a coffee table book and it doesn't quote Barthes or Benjamin as a part of a complex sentence that tries to emulate the lexicon of the biennales. Instead, it walks with you, holds you and quietly tells you a story. Its beauty is its subtle eloquence.
I asked Ritesh for five things that have influenced him and he gave me more :
In his own words,
1.
Radio
and our lack of tv, and then
Doordarshan
that exposed me to Indian Cinema, especially Hrishikesh Mukherjee. That whole phase of films about the
indian
middle class which was all based on small stories. Films like Saleem Langde, Pe Mat Ro and international stuff like Red Desert.
2. Family
3. Non-fiction writers like Gay Talese, Kapuscinski, John Mc Phee and recently Rohit Brijnath (sports writer)
4. Aarey Milk Colony
5. My mentor – A Srinivas and Soumitra Ghosh.
6. The White Viv.