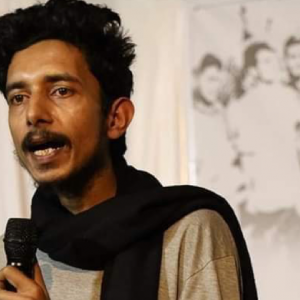 Muslims are attacked for their Muslim identity and it is only fair that they assert their identity and then protest – A Profile of Sharjeel Usmani
In collaboration with maraa, The Polis Project launched Profiles of Dissent — a new series centered on remarkable voices of dissent and courage in India and their personal and political histories, as a way to reclaim our public spaces. These are prominent writers, poets, activists, and human rights defenders who have been in prison, held under the Unlawful Activities (Prevention) Act. The profile features Sharjeel Usmani, a young student activist from Aligarh Muslim University, who has been arrested for his prominent role in organizing protests against the discriminatory Citizenship Amendment Act, 2019.
27 July 2020
Iqbal Salahkar is an undergraduate student at Aligarh Muslim University, who writes on the themes of islamophobia and Islamism.
"At no time have governments been moralists. They never imprisoned people and executed them for having done something. They imprisoned and executed them to keep them from doing something. They imprisoned all those prisoners of war, of course, not for treason to the motherland…They imprisoned all of them to keep them from telling their fellow villagers about Europe. What the eye doesn't see, the heart doesn't grieve for."
― Aleksandr Solzhenitsyn, The Gulag Archipelago, 1918-1956
'Political Prisoner' is a category of criminal offense that sits most egregiously in any civilized society, especially ​in ​countries that call themselves liberal democracies. It is a thought crime: the crime of thinking, acting, speaking, probing, reporting, questioning, demanding rights, and, more importantly, exercising one's citizenship. But these inhumane incarcerations do not just target private acts of courage, they are bound together with the fundamental questions of citizenship, and with people's capacity to hold the State accountable. Especially States that are unilaterally and fundamentally remaking their relationship with their people. The assault on the fundamental rights has been consistent and ongoing at a global level and rights-bearing citizens are transformed into consuming subjects of a surveillance State.
In this transforming landscape, dissent ​is ​sedition, and resistance is treason.
While the Indian State has a long history of ruthlessly crushing dissent, a new wave of arrests began in 2018. Eleven prominent writers, poets, activists, and human rights defenders have been in prison, held under the Unlawful Activities (Prevention) Act. They are accused of being members of a banned Maoist organization, plotting to kill Prime Minister Narendra Modi, and inciting violent protests in Bhima Koregaon. To date, no credible evidence has been produced by the investigating agency, and those accused remain incarcerated without bail. Since the anti-Citizenship Amendment Act protest began in December 2019, students, activists, and peaceful protesters have been charged with sedition, targeted with violence, and subjected to arrests. Since then, more arrests have followed specifically targeting local Muslim students leader and protestors, including twenty-seven-year-old student leader Safoora Zargar, who is currently pregnant.
Since the COVID-19 lockdown was announced, India's leading public intellectuals, opposition leaders, writers, thinkers, activists, and scholars have written various appeals to the Narendra Modi government for the release of India's political prisoners. They are vulnerable to COVID-19 contagion in the country's overcrowded jails, where three coronavirus-related deaths have already been reported. In response, the State has doubled down and rejected all the bail applications. It also shifted the seventy-year-old journalist Gautham Navlakha from Delhi's Tihar Jail to Taloja, without any notice or due process – Taloja is one of the prisons where a convict has already died of COVID-19.
A fearful, weak State silences the voice of dissent. Once it has established repression as a response to critique, it has only one way to go: become a regime of authoritarian terror, where it is the source of dread and fear to its citizens.
How do we live, survive, and respond to this moment?
In collaboration with maraa, The Polis Project is launching Profiles of Dissent. This new series centers on remarkable voices of dissent and courage, and their personal and political histories, as a way to reclaim our public spaces.
Profiles of Dissent is a way to question and critique the State that has used legal means to crush dissent illegally. It also intends to ground the idea that, despite the repression, voices of resistance continue to emerge every day.
This profile has been compiled by Iqbal Salahkar. You can read Varavara Rao's profile here, the profile of Sudha Bharadwaj here, that of GN Saibaba here, Gautham Navlakha's profile here and Anand Teltumbde here.
SHARJEEL USMANI
Sharjeel Usmani, twenty-three, is an undergraduate student of Political Science at India's Aligarh Muslim University (AMU). He is also National Secretary of the Fraternity Movement of India – an organization campaigning for empowerment of Muslims and Dalits in India.
Usmani joined AMU in August 2014, barely two months after the Hindu Nationalist Bhartiya Janata Party (BJP) came to power in India. He has since been involved in student activism and, by organizing numerous public discussions and events, he has been instrumental in opening up AMU to discussions on sensitive issues such as the Kashmir conflict and excesses committed by the Indian Army on civilians. He is also a writer and a published author.
Usmani was among the students who started the protest against the discriminatory Citizenship Amendment Act (CAA), 2019 in AMU. He played an important role in organizing the students and, by inviting several renowned activists to address the protesters, expanded the reach of the mobilization beyond the city.
Date of Arrest: 8 July 2020
Charges: Sharjeel Usmani has been named in four different First Information Reports (FIRs), all filed in December 2019. The key allegation against him is inciting and participating in the violence that erupted in AMU campus the night of 15 December 2019, when protest against police atrocities on students of New Delhi's Jamia Millia Islamia turned into a clash between the protestors and the Police.
In a separate FIR it has been alleged that, along with several other students, he forcibly snatched away cartridges from a police official, and has thus been charged under Sections 332 (Voluntarily causing hurt to deter public servant from his duty), 353 (Assault or criminal force to deter public servant from discharge of his duty) and 395 (Dacoity) of the Indian Penal Code (IPC).
Besides these two FIRs related to the violence of 15 December 2019, he has been booked for violating Section 144 of the Criminal Procedure Code on 10 December 2019 by participating in a protest march against Citizenship Amendment Act, 2019 (which was still a Bill at the time). His associates, however, claim that he was not even a present in the said protest march.
In another FIR dated 6 December 2019, it is alleged that he shared a poster on social media which was disrespectful to senior BJP leader and former Home Minister of India Lal Krishna Advani. For this he has been booked under Section 153-A (Promoting enmity between different groups on grounds of religion, race, place of birth, residence, language, etc., and doing acts prejudicial to maintenance of harmony) of the IPC and Section 67 (Publishing or transmitting obscene material in electronic form) of the Information Technology Act.
Sharjeel Usmani was picked up from his uncle's house on the evening of 8 July 2020 in Azamgarh District, Uttar Pradesh (UP). Around 6 pm, five men in plain clothes, claiming to be from the Crime Branch of UP Police entered the house, arrested Usmani and confiscated his books, mobile phone and laptop. According to family members, they had no warrant, arrest memo or any other official document with them. Family members also claim that when they asked them the reason for arresting Usmani, they simply pointed at him and said that he would know why he was being arrested. They further alleged that everyone in the house was forcibly photographed.
For the initial 24 hours, there was no information about Usmani's whereabouts, who the five men were, and why they had arrested him. In the late evening of 9 July 2020, Usmani was produced in a Court in Aligarh District and subsequently put under judicial custody. It was later reported that Usmani had been arrested by UP's Anti-Terrorist Squad (ATS). He is currently lodged in a temporary jail in Lodha, around 20 km from Aligarh.
Location of Work: Aligarh
Update 27 July 2020: As of this date, the Court of Judicial Magistrate is yet to decide on his bail plea
Update 1 September 2020: Sharjeel Usmani was released on bail on 1 September 2020 following the order of a Sessions Court in Aligarh. In the bail order, the Court observed that the co-accused persons have already been released on bail, and keeping Usmani in jail will "serve no purpose at all". The Court also took into consideration the period Usmani had already spent in jail and his bright academic record while granting him bail.
Talking about his release to The Wire, he said, "I don't see it as a legal victory for myself. Take the example of an innocent man walking on the streets. Somebody comes and puts a knife to his throat. After a while, the knife is removed and the man is asked to celebrate his newly found freedom. I can't. They should apologise for putting a knife to the throat in the first place."
***
Excerpts from Usmani's interview conducted by Dalit Camera
Invoking the constitution in the anti-NRC-NPR-CAA movement does not help us. NRC and CAA are a direct attack on Muslim community, an attempt to disqualify Muslims from their membership in the Indian society. And the best argument against it is "that constitution is being attacked"? That is a completely misleading argument. It invisiblizes the fact that Muslims are being oppressed, disenfranchised, often dehumanised and criminalised systematically. … When the movement was started in AMU, long before others protested, it was made clear by the students that this was a struggle inspired by Black Lives Matter for the self-respect and dignity of Muslims as a community in India. Reducing it to a fight between "saviours of constitution vs killers of constitution" automatically invisiblizes the fact that the fight was between "oppressors vs the oppressed". … Muslims are attacked for their Muslim identity and it is only fair that they assert their identity and then protest. That is what all the oppressed communities across the world do.
I do advocate identity politics and do not see why I should feel threatened for doing so. They [The Left] say that we don't appeal to larger audience, and our constituency is narrow and very limited. Guess what, their appeal to the larger audience hasn't brought us any good over decades and that is why identity politics is needed. The established system, one that tends to benefit only people of a particular caste and religion has brought us down to a level that we have to fight to save our citizenship.