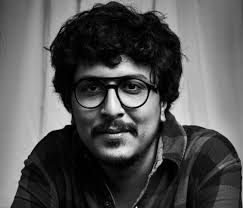 For each episode, our guest will be asked to choose five pieces or items that have influenced their intellectual life and their work. These five items can be books, art, music, poetry, photographs, performance, a person, an event, or an experience. The choices then become the basis of a free-flowing conversation that discusses our guest's life, their personal, political, and intellectual journeys and histories. At the end of the program, our current guest will nominate the person to be interviewed next in the series making this podcast an exercise in serendipity and intellectual history of a new generation of writers, scholars, artists, and activists.
Ronny Sen is a film director, writer and photographer. His debut feature film Cat Sticks premiered in the competition section at Slamdance, 2019 where it won a Grand Jury award.
Our guest for this podcast is Indian photographer Ronny Sen(1986). A free roving conversation, we talk about the influence of Left politics, of an early life spent lost in drugs, and the ways in which the city of Calcutta, music, family and politics influences his work.
In the early 90's, Ronny moved with his family to Salt Lake City in Calcutta where he still lives and works.
He made his first artist book titled Khmer Din in 2013. Sen represented India at the World Young Artists Event in Nottingham (2012) and was the recipient of the Jenesys Creators' Programme for an artist residency in Japan, on invitation by The Japan Foundation (2012). His work was part of the exhibition In Secrecy at the Art Heritage gallery (2011). He was invited for a masterclass at the University of California in Berkeley and won the first prize at the MFI Awards (2014).
Sen has photographed the Indian General Elections in 2014 for the United Nations and Fabrica, Italy. In 2015, the Polish Institute invited him to be an artist-in-residence in Poland which resulted in two solo residency exhibitions at gallery Tarq in Bombay and Latitude 28 in New Delhi. His works were part of the exhibition Abandon, presented by the Gujral Foundation (2015). His photographs are included in the permanent collection of the Alkazi Collection of Photography. In the year 2016, he won the Getty Images Instagram Grant for his work End of Time in the Jharia coal mines, which were exhibited at Noorderlicht Festival's show Arena at the Belvedere Museum, Netherlands and at Photoville in New York. He published is second book End Of Time with Nazar Monographs in 2017. He is working on his next book and his first feature film Cat Sticks.
Ronny recommended that we meet and speak to the photography duo of Madhuban Mitra and Manas Bhattacharya.