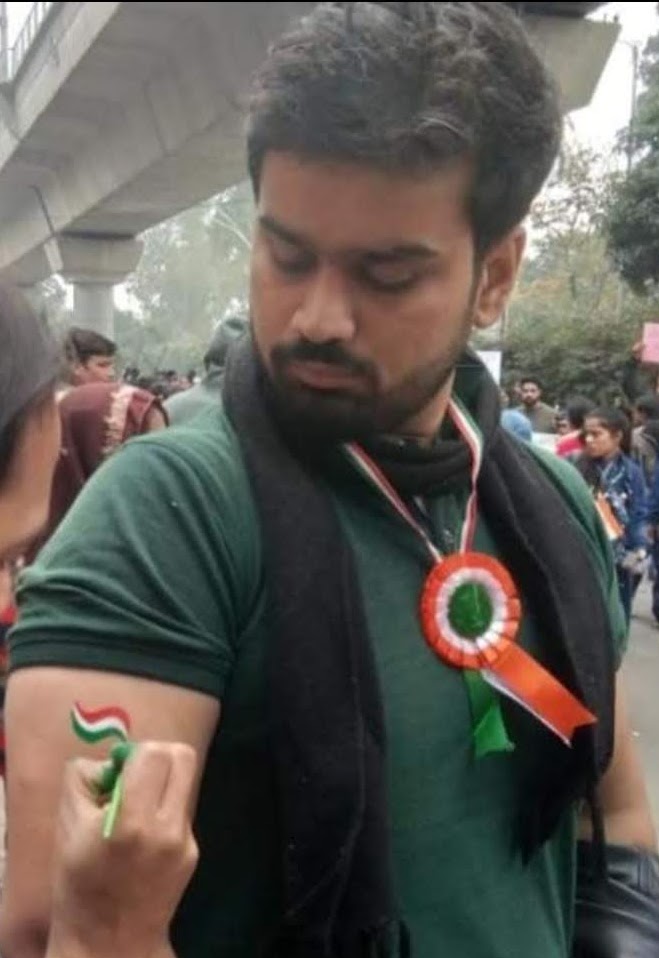 In jail for exercising civil disobedience: A profile of Athar Khan
31 January 2022
Tazeen Junaid is an activist based in Aligarh and writes on issues of gender equity, Indian minorities, and the anti-CAA movement. She is currently pursuing her Bachelor's degree in Literature at Aligarh Muslim University.
Profiles of Dissent is a series centered on remarkable voices of dissent and courage across the world. They are writers, poets, activists, human rights defenders and those who have been incarcerated for speaking truth to power.
"At no time have governments been moralists. They never imprisoned people and executed them for having done something. They imprisoned and executed them to keep them from doing something. They imprisoned all those prisoners of war, of course, not for treason to the motherland […] They imprisoned all of them to keep them from telling their fellow villagers about Europe. What the eye doesn't see, the heart doesn't grieve for."― Aleksandr Solzhenitsyn, The Gulag Archipelago, 1918-1956
A political prisoner is a person who is imprisoned for their belief. Regimes across the globe arrest people for who they are and not for what they have done, thus making the category of the political prisoner into a criminal offense. It is a thought crime: the crime of thinking, acting, speaking, probing, reporting, questioning, demanding rights and, more importantly, exercizing citizenship. It is also a crime of existing in a Black, Brown, Muslim body that can be targeted and punished for who they are, or what they represent.
These inhumane incarcerations do not just target private acts of courage, they are bound together with the fundamental questions of citizenship, and with people's capacity to hold the State accountable – especially States that are unilaterally and fundamentally remaking their relationship with their people.
The assault on the fundamental rights has been consistent and ongoing at a global level and rights-bearing citizens are transformed into subjects of a surveillance State.
In this transforming landscape, dissent is sedition, and resistance is treason.
A fearful, weak State silences the voice of dissent. Once it has established repression as a response to critique, it has only one way to go: to become a regime of authoritarian terror, a source of dread and fear for its citizens.
How do we live, survive, and respond to this moment?
With Profiles of Dissent, The Polis Project works with individuals and organizations across the world to question and critique the State that has used legal means to crush dissent illegally and eliminate questioning voices.
It also intends to ground the idea that, despite the repression, voices of resistance continue to emerge every day.
ATHAR KHAN
Athar Khan is a 26-year-old activist based in Chand Bagh, New Delhi, an area that became a hotspot of violence during the February 2020 Delhi pogrom.
As the eldest son, Khan has always taken care of his family and, in return, everyone admires him. In 2013, he began pursuing a bachelor's degree in Commerce from Delhi University, but canceled admission when his father's business shut down. In 2014, he enrolled for a bachelor's degree in Business Administration from Sikkim Manipal University and simultaneously started a small clothes business to support his family. Following demonetization in November 2016 and the implementation of Goods and Services Tax in 2017, he shut down his business and joined a call center with the hope that a stable salary could financially support his parents and three younger brothers. After his incarceration, his younger brother had to drop out of school to manage the household finances. Now, his younger brother and father manage a small grocery store of spices, which Khan established in October of 2019 with his savings. His two youngest brothers are currently pursuing education.
Khan has a rich family legacy of dissent against oppressive regimes. His grandfather was actively involved in agitations against the Emergency enforced by former Indian Prime Minister, Indira Gandhi. This legacy and his parents' lessons to stand against oppression and side with good against evil molded his political consciousness. In 2012, he became involved in the Nirbhaya Movement aimed at gaining justice for the victim of the 2012 Delhi gang rape and murder case and later participated in electoral politics at grassroots level. Three years later, he campaigned for Kapil Mishra when he was contesting the Karawal Nagar seat of Delhi Assembly for Aam Aadmi Party. He also worked in Mishra's social media team. Mishra used to consider Khan as a younger brother, but would later give the incendiary speech inciting the February 2020 Delhi Pogrom, which resulted in Khan's incarceration.
On 15 December 2019, Khan learned from the media about paramilitary forces besieging the Jamia Millia Islamia (JMI) campus, assaulting students and vandalizing the JMI library. On 16 December, he visited JMI to submit his brother's documents and witnessed a protest against the Citizenship Amendment Act (CAA) for the first time. He interacted with the protestors and felt drawn to the movement. Eventually, he began to join the JMI protest every Sunday, where he came to understand the discriminatory nature of CAA aiming to fast-track nationality for non-Muslim minorities from neighboring countries while excluding Muslims themselves.
Khan joined the Chand Bagh protest site from the last week of December 2019. As the organizers were not highly educated, they asked Khan to communicate with the Police, coordinate with news anchors and supervise other logistical tasks after perceiving him as a capable and educated person impassioned for the movement's cause. Consequently, he became deeply involved in the protest, where he also supervised the stage, which – according to his mother – became "his only crime."
As Khan's responsibilities increased, he started spending days and nights at Chand Bagh. As he became fully committed to the protest, his parents grew concerned for his security as they heard of paramilitary forces detaining protestors in Uttar Pradesh, particularly from Aligarh Muslim University. They worried over the possibility of a lathi-charge at Chand Bagh or of possible illegal police detention and asked him to spend the nights at home, but Khan convinced his parents: "It is important to be there, mother. I'm doing this for all of us."
In the second week of March 2020, officers from the Crime Branch of the Delhi Police visited a house where Khan and his family had previously resided. They reportedly pasted a notice on the door, took a picture, removed it from the door and left. Till date, Khan and his legal counsel do not know about the content of the notice. Their former neighbors informed Khan of this incident on 13 March 2020. His father advised him to voluntarily appear at the Crime Branch, which he did on 16 March with his lawyer. He was then detained, tortured and interrogated and also asked to hand over his mobile phone, which he refused to do. Khan was released the next day, but officers from the Crime Branch and Special Cell picked him up several times for questioning from April to June.
The investigation by the Delhi Police Special Cell of the February 2020 Delhi Pogrom focused on a WhatsApp group called "Delhi Protest Support Group" consisting of anti-CAA protestors. The group contains Khan's texts in support of implementing a Chakka Jaam at Seelampur and Chand Bagh protest sites. Delhi Police has repeatedly mentioned Chakka Jaam as a springboard for violence. The Special Cell summoned several members of the group for questioning and asked Khan to appear at the Lodhi Road Special Cell Police Station in May for the first time. During the questioning, his phone was confiscated, he was interrogated and kept there overnight. When he returned home the next day, he did not talk to his family about the interrogation, but signs of torture were visible on his body and his family remember that he was unable to walk properly.
On the evening of 1 July 2020, the Special Cell summoned Khan for the next day. On 2 July 2020 two hours after he left home, an officer called his father and asked him to collect Khan's bike from the Special Cell as Khan had been detained. When his father asked about the reason behind the detention     , the officer told him to ask the question in Court. Khan, however, was not presented in the Court.
Khan was first detained and then formally imprisoned under FIR 59/2020 by the Delhi Police on 2 July 2020. He was presented before a magistrate and formally imprisoned in Tihar Jail. He could not contact his family for 20 days after the arrest because of COVID-19 protocols. He was also unable to communicate with his legal counsel during this period. His mother recounted: "Those 20 days felt like years, it was terrible." Khan was able to initiate regular communications only after four months of incarceration as the jail authorities had not informed him of the due procedures.
Khan was sentenced to multiple periods of police custody until 16 September 2020, when the Delhi Police filed the charge-sheet spawning 17,500 pages in FIR 59/2020 under various sections of the Unlawful Activities (Prevention) Act (UAPA), Indian Penal Code (IPC), Arms Act and Prevention of Damage to Public Property Act (PDPP) in the court of Additional Sessions Judge Abitabh Rawat in Karkardooma Court. The charge-sheet accuses Khan of conspiring to organize the February 2020 Delhi Pogrom which claimed 53 lives — mostly Muslim from North East Delhi.
The charge-sheet of FIR 59/2020 was filed after the farmers' agitation had begun. It contained a supplementary disclosure statement given by Khan to the Delhi Police on 25 August 2020. In the statement, Khan claims that the Inter Services Intelligence (ISI – the intelligence agency of Pakistan) and three supporters of the Khalistan movement (a Sikh separatist movement) were involved at anti-CAA protest sites. Khan further stated that on 10-11 February, Rizwan Siddiqui, one of his associates, claimed to have met two Khalistan movement supporters—Bagicha Singh and Lavpreet Singh–at the Shaheen Bagh protest site. Siddiqui had also claimed that Bagicha and Lavpreet were supported by ISI, ISI had advised Khalistan supporters to aid the anti-CAA protests, and supporters of Khalistan movement had promised to support the anti-CAA protestors during the riots. In the statement, Khan summarizes Siddiqui's claims and states that the Khalistani supporters had sent a man to the Chand Bagh protest site as their liaison. The man named Jabarjang Singh also gave a speech "against the government." The Indian Evidence Act mandates that such confessions recorded by police officers are inadmissible evidence in Court to eliminate confessions made under duress. Consequently, this statement made by Khan can be only used to prove the contradictions in the case, but cannot be used against him.
On 16 September 2020, Khan was sentenced to judicial custody. On 3 March 2021, a Sessions court in Delhi took cognizance of the offense of sedition under various sections of IPC and UAPA. The Delhi Police had previously filed two additional charge-sheets in relation to the February 2020 Delhi Pogrom. Apart from FIR 59/2020, Khan was also accused in FIR 60/2020 for being part of the mob which murdered Head Constable Ratan Lal during the Pogrom; and in FIR 163/2020 for being part of the mob which looted a showroom. But in both cases, the prosecution has failed to prove that he was actually present when the incidents happened. He was arrested under FIR 163/2020 on 26 December 2020 when he was already incarcerated in Tihar Jail under FIR 59, and was granted bail on 9 July 2021 on account of parity. He was granted bail in FIR 60/2020 on 4 October 2021 also on account of parity. He now remains incarcerated under FIR 59/2020.
The charge-sheet of FIR 59/2020 is filed against 18 people, mostly young Muslim activists who were involved in anti-CAA protests and accuses them of conspiring to organize the February Delhi violence. The 18 accused names range from affluent and relatively well-known activists such as Sharjeel Imam, Umar Khalid, Safoora Zargar, Meeran Haider, Ishrat Jahan, Gulfisha Fatima, Khalid Saifi, Asif Iqbal Tanha, Natasha Narwal, Devangana Kalita to unknown names of grassroots activists such as Mohammed Danish, Mohammed Ilyas, Mohammed Parvez Ahmad, Shadab Ahmad and Athar Khan. Among the 18 accused, Khan has received the least amount of attention from media and human rights groups. His father lamented: "The people for whom my son raised his voice don't care much about his sacrifice."
The lack of attention for Khan's case has recently been an object of speculation, with many assuming      his family's poverty as the reason. His family cannot afford expensive lawyers and the Association for Protection of Civil Rights is currently managing all legal processes. In stark contrast to Khan, most anti-CAA protestors incarcerated after the February 2020 Delhi Pogrom had either social or economic capital alongside support of      political organizations     . The      photo of Khan's mother holding a placard demanding his release widely circulated on social media on his birthday     -8 February 2021 and pushed civil society organizations and activists to make conscious efforts to include him in their campaigns.
On 8 February 2021 in a meeting with his uncle in jail, Khan inquired about what activists are doing regarding the government's plan to restart the process of CAA and National Register of Citizens (NRC). When his uncle told him activists are not protesting against CAA-NRC anymore, Khan wondered: "To kya humari qurbani zaya gayi?" (Were our sacrifices in vain?)
Khan and Asif Iqbal Tanha were incarcerated in Tihar Jail at the same time. The hopes for Khan's release increased when the Court freed Tanha on 17 June 2021 while noting: "The right to protest is not outlawed and cannot be termed as a 'terrorist act.'"
Khan's family believe he was specifically targeted because of his past association with Mishra. His father accuses the Delhi Police of framing Khan under false charges on directions of Mishra. On 5 March 2020, Mishra had tweeted that Khan had been part of a mob responsible for murdering Head Constable Ratan Lal during the February 2020 Delhi Pogrom. However, Khan's father has dismissed the allegation, claiming it was Mishra's attempt to defame Khan.
For the family, Khan is paying for crimes he has not committed. His mother believes he does not deserve incarceration: "Athar is in jail because he is a Muslim while real culprits who murdered people are enjoying their lives," and his father voices the family's beliefs: "My son is innocent. I firmly believe and I know he has not done anything wrong. We sincerely believe in the Constitution, the moral right and the absolute truth and he will walk out free."
On 14 November 2021 – the 500th day of Khan's unjust incarceration in Tihar Jail, his uncle stated: "Athar [has] been imprisoned for last 500 days only because he stood against the discriminatory laws and the fascist nature of the government."
Date of Arrest: 2 July 2020
Charges: Athar Khan was arrested for conspiring to organize the February 2020 Delhi Pogrom and abetting it. The arrest was made under various charges, including Sections 120B (Criminal conspiracy), 124A (Sedition), 212 (Harboring offender) and other Sections of IPC, Sections 27 (Using arms), 16 (Terrorist act) and other Sections of UAPA and relevant sections of PDPP Act filed in FIR 59/2020 by the Delhi Police Special Cell.
While incarcerated, Khan was formally arrested for robbing a showroom during the February 2020 Delhi Pogrom. He was charged under Sections 147 (Rioting), 149 (Member of unlawful assembly guilty of offense committed) and other Sections of IPC filed in FIR 136/2020 by Dayalpur Police Station, Delhi Police.
Khan was also accused of murdering Head Constable Ratan Lal during the February 2020 Delhi Pogrom. He was charged under Sections 302 (Punishment for murder), 144 (Joining unlawful assembly armed with deadly weapon) and other Sections of IPC, and Sections 3 (Mischief causing damage to public property) and 4 (Mischief causing damage to public property by fire or explosive substance) of PDPP Act in FIR 60/2020 filed by Dayalpur Police Station, Delhi Police.
Updates: Khan's legal counsel is planning to apply for bail in the UAPA case. His family claims: "Mostly, Muslims are charged under the draconian UAPA–if I explain in simple words–his bail can be easily denied due to government pressure." He was earlier lodged at Tihar Jail which is located far from the Karkardooma      Court–where his cases are heard. Because of the distance and resulting traffic congestion, Khan would often arrive later than the appointed time for his court hearings thereby, forcing the presiding judge to wait. To solve this complication, Khan was recently shifted to Mandoli Jail complex, which is closer to Karkardooma      Court. On 16 November, he called from Mandoli Jail to tell his family that he was verbally abused with religious slurs, stripped naked and physically assaulted by jail authorities.
Location of work: New Delhi.
Excerpt from a statement Athar Khan gave at Chand Bagh to Dilli Aaj Tak
Reporter: How will you explain your demands to the government? You are saying that there should be a dialogue. How will that happen?
Khan: We are ready to have a dialogue. We say: "Hume yuva hai sanvaad karenge, na ki ghoosa laat karenge." (We are young – we will do dialogue, we will not do violence) It is the government which is doing "ghoosa laat." (violence) It is the government who is doing lathi charge. We are sitting here to have dialogue. If any representative or any public speaker of the government comes and talks to us, we are ready to talk. We only have one demand, that [is regarding] the lethal combination of CAA and NRC.
The government has undoubtedly retreated [from implementation of CAA-NRC]. They had said that they won't retreat one inch [but] they have retreated. They said in the parliament that they have no intentions of [implementing] NRC. They have retreated and they will retreat more. Our demand is to the government to give a written assurance of having no intentions of implementing NRC. NRC will not be implemented in this country. The lethal combination of CAA and NRC will end.